Writing a marriage biodata is difficult!
Writing biodata for marriage is hard. Really hard.
Why?
According to Psychology Today, writing about yourself for any reason (and that includes marriage biodata) is hard because we do not know who will read our profile and who our competition is (such as in a matrimonial website).
That's not all.
When we write about ourselves in a biodata format for marriage, we are essentially seeking approval from an unknown person in the form of a positive response!
Don't we all want to get desirable men and women who fit our expectations to make a beeline to your doorstep?
The bottom line is writing a marriage biodata is not an easy job!
Marriage biodata has yet another issue. Creating a great impression the first time someone sees your biodata.
According to a scientific study, first impressions are formed in 39 milliseconds based on the limited information that's available for us to judge a person!
The challenge with arranged marriages is that people often come to a conclusion based on the biodata or an online matrimony profile.
Unfortunately, the so-called easy biodata formats actually fall short in a big way.
They are ugly, poorly formatted, and are designed to eliminate people and not attract positive responses.
Our approach to creating easy biodata formats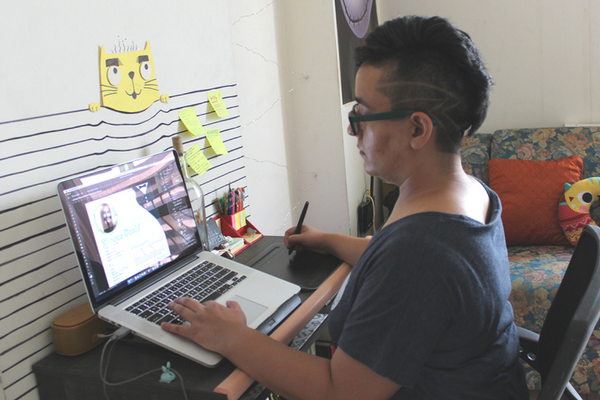 Considering the fact that the marriage biodata is a de facto representative of an individual, we decided to create easy-to-use and simple biodata formats based on the following criteria.
a. Attractive biodata format: The goal for every biodata template we created was that they needed to stand out from the crowd and attract attention.
b. Easy to scan information: Our easy biodata formats are all designed to present information in an easy-to-read format. All key data points are grouped together logically for quick assimilation.
c. Simple biodata formats: We created beautiful marriage biodata templates and made it really simple for customers to add their information and download or print it.
1. Basic Biodata – Simple biodata format, maximum impact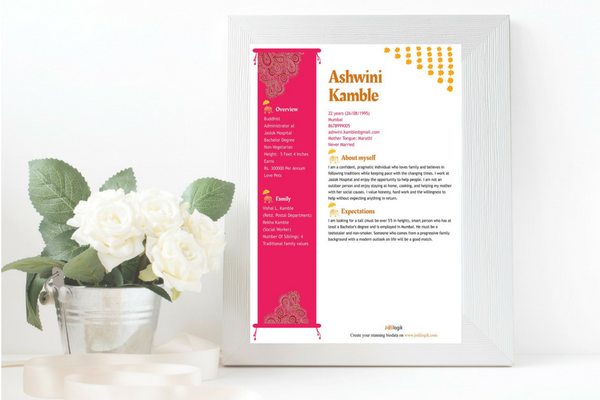 The basic biodata template is anything but basic. It provides a simple yet elegant option to create an impressive marriage biodata in minutes.
The choice of a scroll to anchor all the key information about the person, namely their religion, education, profession and family gives the reader an opportunity to look up critical information at a glance.
The scroll design was chosen to represent an invitation to read details about a prospective match very much like sharing important information in ancient India!
The mandala patterns at the top and bottom are yet another tribute to traditional Indian fabric patterns commonly seen in silk sarees.
On the top, the basic biodata template has a marigold flower decoration seen in Indian weddings! In fact, the biodata is designed to look at like an altar!
That's not all.
Elephant motifs have been included to anchor text descriptions about the person and their expectations. This design element borrows the idea of a grand wedding procession of kings and royalty from the past.
To help people who choose not to include a profile photograph, the basic biodata template doesn't require a photograph. Rest assured, you will get a response asking for your photo!
2. Easy Comprehensive – Complete biodata that's easy!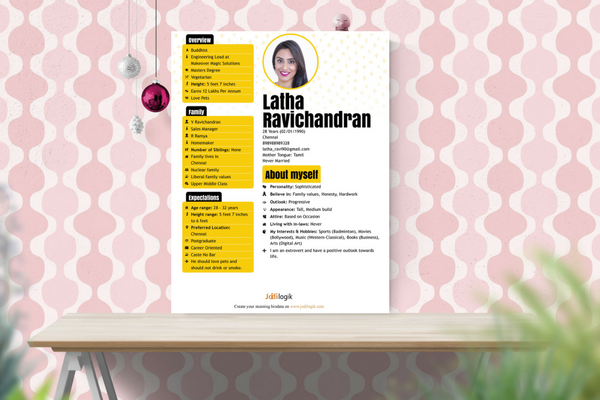 The name says it all.
We not only designed an easy biodata format, but also a truly comprehensive format that highlights everything about the person and their expectations without having to write lengthy paragraphs!
The design for our easy biodata format is what we called the contemporary genre. It is bright with adequate white spaces to make sure it is not tacky. The high contrast headings draw your attention to the various sections of the biodata.
One more thing.
Who said contemporary biodata designs should not be fun? We used gold flake patterns in the background to add some pizzaz to the design.
What is special about the easy biodata format that you won't see in other templates in our library?
Using the easy comprehensive format gives you the advantage to describe yourself using keywords. Your attitude, beliefs, outlook on life make your personality and you can describe it without having to frame complex sentences!
That's not all.
You can clearly call out your partner expectations using keywords.
Do you have more to say than what the template offers?
This easy biodata format has the flexibility to accommodate a couple of lines in your own words about yourself or your expectations!
3. The formal biodata template – Precise and to the point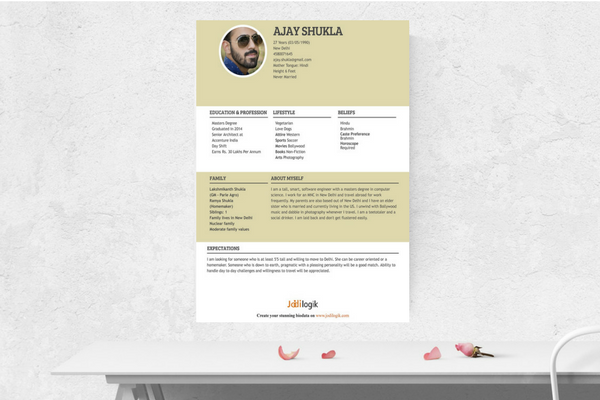 For those that don't like to show off too much and consider their personality to do the talking in a face-to-face meeting, we designed the formal biodata template.
What makes it formal?
Instead of using fancy motifs and symbols that have religious meaning, we created this template to present facts about the person and their expectations in an elegant layout.
While most of the key data points can be easily added to the template by simply selecting from drop-down options, there is adequate space to write about themselves and their expectations.
The choice of colours is also muted.
However, the design provides a clear visual separation of different categories of information.
Family and about myself sections are bundled together as these two topics are closely intertwined. Education, profession, lifestyle, and beliefs are all bundled together in one row yet they are clearly demarked for easy reading. Finally, the expectations section is called out separately.
Why are our biodata templates easy to use?
All our easy biodata formats are designed to quickly add your personal information for print or download.
Here is how you can do it.
Head over to Jodi Logik and create your account.
Once you have created your account, make sure you choose to access the print biodata option.
Choose a biodata format that you like from our print template library.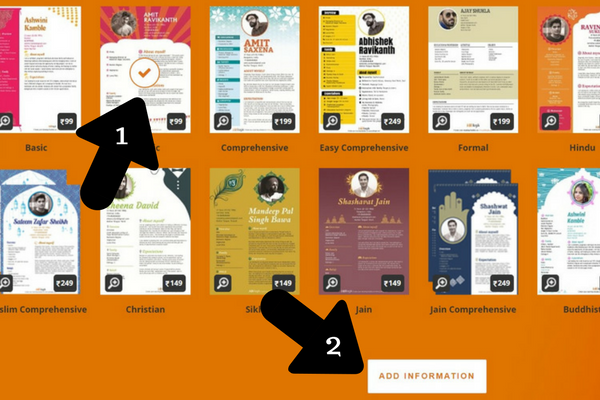 Add your information. Every biodata template has a different set of requirements. Don't worry, many data elements are optional.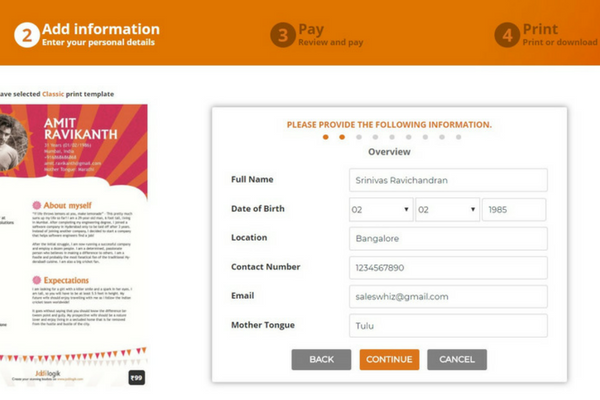 Preview your biodata before purchase.
If you are happy with the biodata, make a payment (our prices are super reasonable) and download or print.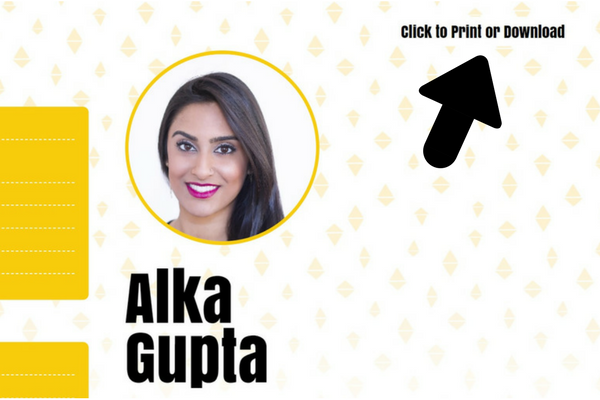 So what happens when you have to update your biodata?
We made it very easy for you to update your biodata.
All you have to do is to log into your account and click on the UPDATE button next to the template you have purchased under "My Print Copies".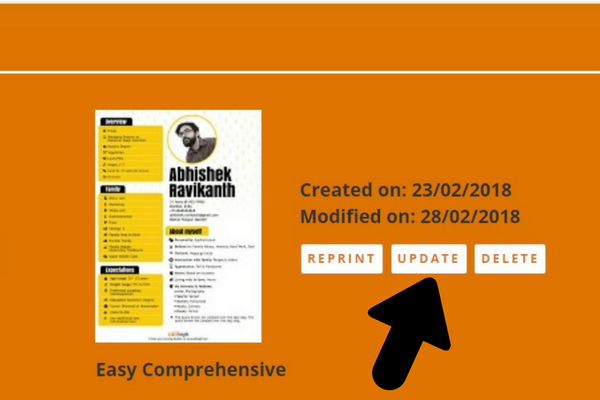 Review the information in your biodata to make the required changes.
Proceed to print or download. This time, there is no need to make any payment!
Read this next