Makeup Tips for Wheatish Complexion
Makeup tips for wheatish complexion seem to be a popular topic in India. We investigated this a little more as there is no such word ('wheatish complexion') in the English dictionary.
When we look around, Indians do have a complexion that varies between fair to dark coloured. What is interesting is when you are fair or dark skinned, it's easy to figure out the right makeup techniques. But the problem comes up when you have different shades of dark or fair as most Indians seem to have.
If you were to go to a wedding or observe actresses or even actors in television or movies, you would see people whose face looks like it has been dipped in a vat of whitewash. The same applies to the bridegroom and some male guests (some movie actors) as well.
So what is a wheatish complexion?
According to this response on Quora,
A wheatish skin tone is generally referred to as less than fair, quite brownish you can say, but not dark.
According to Wheatish Complexion (there is even a website for it!),
The use of the word, "wheatish" (although derived from the word: WHEAT meaning grain) here is to represent a very particular and desirable shade of skin colour that is not exactly brown and not nearly pearly white.
Here is a snippet from the Hindu,
Going through the matrimonial columns, one would get the impression that Indians are extremely fond of wheat — for most people are looking for a partner who has a 'wheatish' complexion. What they mean by this is that they are looking for someone who is somewhat light skinned; someone who isn't very dark. 'Wheatish' is an Indianism; native speakers of English do not use it. The few dictionaries that include 'wheatish' define it as a word used in India to mean 'light brown'.
Still confused about wheatish skin? Here is an image that will make things very clear for you.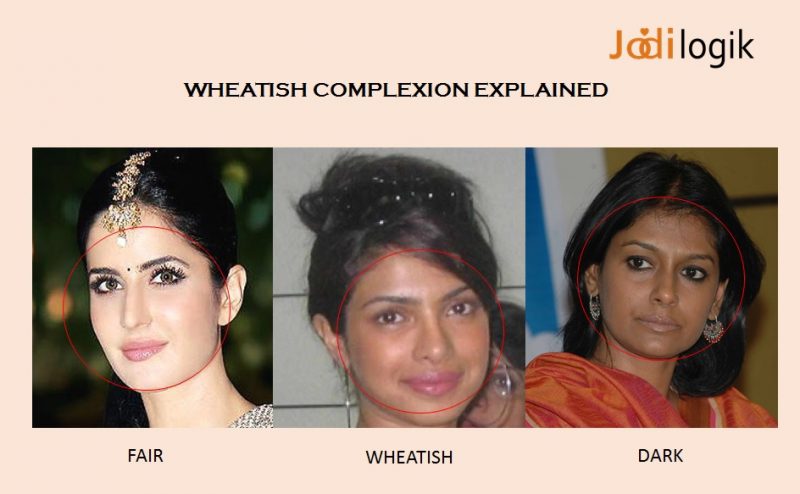 If you are someone that has a wheatish complexion, our 14 makeup tips for wheatish complexion will certainly help you look great and feel like a Million Dollars.
Why do Indians have wheatish skin colour?
The wheatish skin colour that most Indians have is a result of millions of years of human evolution.
According to the Journal of Human Evolution, the skin colour we have is directly connected to the need for human beings to protect and have an adequate amount of Vitamin B (folate) and Vitamin D in our bodies.
As India is relatively closer to the equator when compared to people who live closer to the poles, Indians have developed a darker skin colour or a wheatish skin tone to block out the sun and thus preserve the folate levels in the body.
People with fairer skin in Europe and Americas are able to absorb more sunlight and maintain adequate vitamin D in their bodies.
This theory also provides an explanation for the question "Why are North Indians relatively fair when compared to the South Indians who have a darker skin tone that ranges from a wheatish skin to dark skin colour?"
What exactly is the colour of the wheatish skin?
Colours are typically expressed in hexadecimal code or as a combination of red, green and blue colours. The wheatish skin complexion as expressed in hexadecimal code is #f5deb3.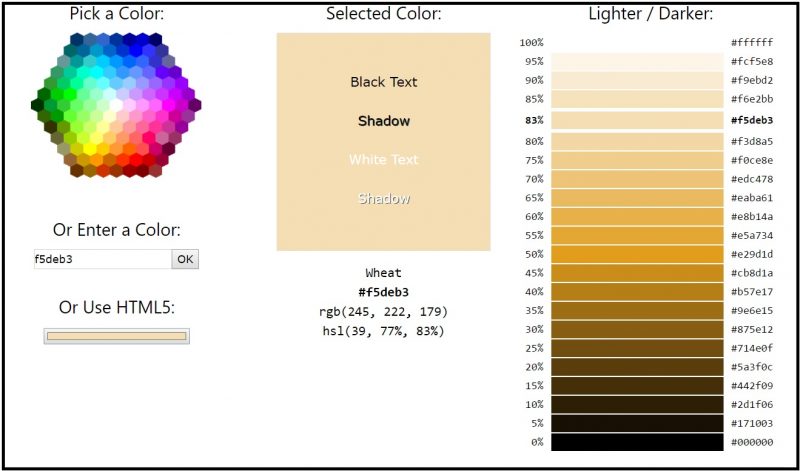 However, not all Indians fall into one specific wheatish skin tone. Wheatish skin tones include a range of colours (could be either darker or fair) that centre around the colour code #f5deb3.
Wheatish complexion Vs Dusky complexion
While we may be coming to grips with the charms of the wheatish complexion or a wheatish skin, there is yet another phrase that's liberally used to denote people with a skin colour that's neither dark nor white. i.e dusky complexion.
Dusky complexion is not different from the wheatish complexion. They are all the same! While this is a debatable topic, most makeup experts will agree on one thing – having a dusky complexion or a wheatish complexion helps you hide flaws and blemishes on the skin much better when compared to those that have a fair complexion.
14 Makeup Tips for Wheatish Complexion
Our makeup tips for wheatish complexion includes expert tips and how-to videos that you can follow to get that perfect look!
1. Cleansing, toning, and moisturising
Before cleansing the face, wash your hands properly. Use a headband to keep any hair away from the face. Start the cleansing process by splashing some water on the face and neck first. Put some face cleanser on the fingers or a sponge, and use gentle upward circular motions to apply the cleanser on the face and neck. Avoid scrubbing too much, for it can stretch and irritate the skin, especially the eye area. Wash it off.
After cleansing, use a water-based toner on the skin and follow with a moisturiser suitable for your skin type which will help seal the moisture and provide nourishment to the skin.
2. Get your skin ready for makeup
Makeup primer is a base for the foundation or facial makeup that allows it to go on smoother and last longer. Formulas are available in cream, gel, and powder.
Primer preps your skin for the perfect foundation application by filling in fine lines and smoothing pores, and it also keeps your makeup looking fresh all day. Consider it the key to making your skin makeup-ready.
3. Water-based foundations work well
Maintaining a natural look is the latest trend in makeup. Unless you have extremely dry skin, the best choice for your foundation will be water-based.
Wheatish skin tones are relatively oily, and hence, cream-based foundations will look heavy and greasy on you. The foundation we will recommend is the Mac Studio Fix Liquid Foundation Shade No. NC 42.
4. Choosing the right foundation
The best way to find the perfect foundation that matches your wheatish complexion is to try three shades of foundations – one shade which is lighter than your skin tone, the second which is very close to your skin tone and the third which is a shade darker than your skin tone.
Swatch the shades, one after the other on your jaw line and see which shade matches your skin tone. Try the shade which matches your skin tone on one side of your face to see if it accurately matches the skin tone.
Here is a handy tip. If you are unable to find the correct shade, buy two shades of foundation – one lighter and one closer to your skin tone. Mix both of them and use.
5. Choosing the right concealer
A concealer is much needed when dealing with discolorations, blemishes, and dark circles. Go in for a concealer that is a shade or two darker than your skin tone, depending on the coverage level.
It is best to opt for a full coverage foundation, as it minimises the flaws to a great extent. You can use Studio Fix Fluid by Mac or Makeup Forever HD Foundation.
6. Don't forget the neck
If you are applying a full-face foundation, make sure to blend it down your neck, as it tends to be a few shades lighter than the face. This helps in giving you an even look throughout. To blend the foundation well, use a buffing/stippling brush.
7. Using the powder brush
Dust some powder all over the face to seal the look. Make sure you tap the powder brush lightly, to remove any excess powder. The powder also matts the skin.
Do not opt for transparent powders as they are white in colour and may look a little ashy on certain areas.
8. The right colour for blushes
Opt for blushes in shades of corals/deep plums, that add warmth to your cheeks. These shades make your skin look radiant if you have a wheatish complexion.
https://youtu.be/1NP06SSsxi0
9. Get that chiselled look
To get a chiselled look, contour your face using a foundation that is a few shades darker than your skin tone. Click here to learn more.
10. Using highlighter and bronzer
Use a gold coloured highlighter above the outer corner of the cheeks and below the eyes. Use a slight amount of bronzer below the cheek bone.
11. Using eyeshadows
For eye makeup, use rose-gold eyeshadow for the entire lid, and a dark brown eyeshadow on the crease line and then blend it in, using a pen/smudger brush. The eyeshadow palette is Inglot customised eyeshadow palette.
12. Use the right eyeliner
For that perfect contouring, use eyeliners in shades of green, blue and brown. Avoid anything in neon colour.
13. False eyelashes
Make sure you wear false eyelashes to enhance your eye makeup. You read about some of the popular eyelashes here.
14. Choosing the lipstick
Lipstick shades for wheatish complexion include shades of purple, like berry, burgundy, plums or wine. A good lipstick shade for Indian wheatish skin is NARS Charlotte Oxblood shade lipstick.
If you are opting for bright or neon shades of lipstick, then pair the lipstick with a darker shade of lip pencil. Line the lips with the pencil and fill in the colour as a base for the lipstick. This helps the lipstick to stay longer and prevents it from feathering.
Makeup tips for wheatish complexion – Dos and Dont's
1. Although wheatish complexion looks great, it tends to appear washed out and patchy if not taken care of. So, do not skip the daily cleansing and moisturising routine.
2. Remember to exfoliate regularly to achieve an even-toned complexion, to give a smooth finish to your makeup.
3. Before applying makeup, remember to wash your face with an exfoliating face wash that is suitable for daily use.
4. While buying foundation, check the tester on your forehead or jawline, rather than your wrist, to get a clearer idea!
5. Use lots of mascara to make your eyes stand out.
6. Going overboard with the bronzer can take your look from tanned to charred.
7. Stay away from brown, maroon, brick or mahogany lipsticks, as these colours can make your face look darker and pale.
8. Lastly, remember that it all comes together if you are confident in your own skin. Looking like a star is what we all aim for, and it is not too difficult then.
Did you love our makeup tips for wheatish complexion? Please like this post!
More blog posts you will love
---