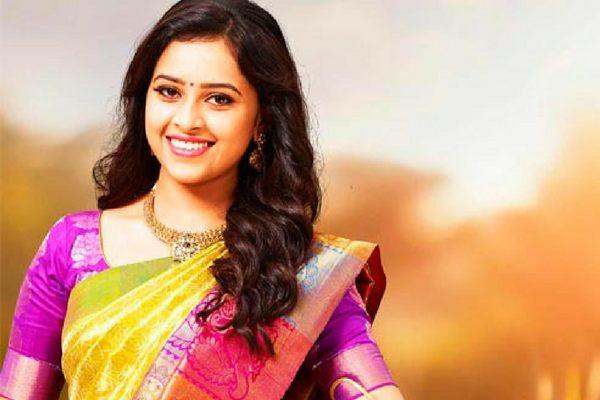 South Indian bridal sarees are popular for a reason!
South Indian bridal sarees define the bride in any south Indian wedding. The saree colour may reflect any of the colours of the rainbow from violet to a deep vermillion red or even be in the moonlight white favoured by the Keralite bride. The saree length, draping style and the accompanying jewellery may vary widely, but the saree is as much an essential part of the wedding as the groom!
But why are south Indian brides such sticklers for the tradition?
The culture of the most conservative city in the south, Chennai will help us understand.
Wake up around 5 AM in Chennai and head to one of its many beaches, you are bound to see at least a few women in a saree and sporting Nike shoes getting their morning exercise. The saree clad women would declare, the airflow around the midriff helps them keep cool in hot Chennai!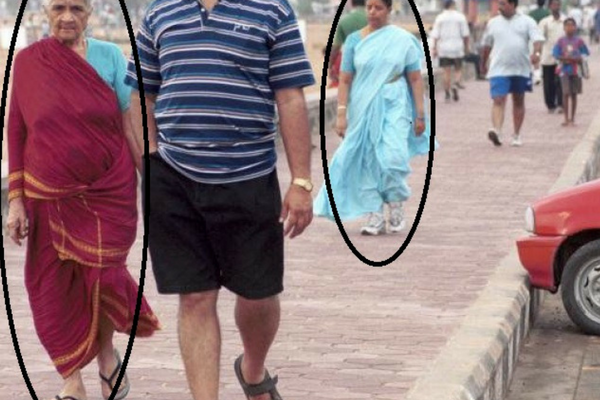 After enjoying the cool air, take a bath and head to one of the traditional temples – Kapaleeswarar in Mylapore, Ratnagirishwaarar in Besantnagar, Mardeeswarar in Thiruvanmiyur. You will find the Goddesses in the temples resplendent in a 9-yard saree and amongst the devout, many saree clad women, some even in a 9-yard saree.
Walk into any office employing a large number of women, say a local Bank on a Friday. You could be forgiven for thinking you have walked into a mela (fair/market) of some sort – each of the women will be resplendent in sarees, flowers and bangles.
Tired of the cultural onslaught, head to a night club in the evening. You will find at least one woman in a lacy saree looking especially sexy and gorgeous!
The story would repeat from city to city, only the locations would change. In Bangalore, it would be the Lalbagh or the Cubbon park for exercise. In Mysore, it would be the Brindavan gardens and the Chamundeswari temple.
So when the saree is great from the beach to the nightclub via the temple, why forego saree on the most important day of the bride's life?
Every major region in south India – Kanchi, Arni, Mysore, Uppala, Mangalagiri, Chettinad, Gadwal, Pochampally, Nellore – competes to produce the most unique yet traditional south Indian bridal saree. And to cap it all off, unlike the Christian gown or the heavy north Indian lehengas, the south Indian bridal saree can be, and should be, worn on all special occasions long after the actual wedding!
And whether you have maintained a svelte figure or expanded from a 200 ml coke bottle to a 1000 ml coke bottle, the south Indian bridal saree drapes every figure beautifully. No wonder the south Indian bride continues to swear by the saree since the days of Indus Valley civilisation!


Traditional south Indian bridal sarees
The south has as many traditions as there are regions, and one region's tradition is another region's sacrilege. The Telugu bride is most often seen in a white saree with a red border, the kind you would see on a picture of Goddess Saraswathi. No matter what the religion is, you will not find a south Indian bride in white saree either in Andhra Pradesh or Kerela. The white saree always has red or a gold coloured border.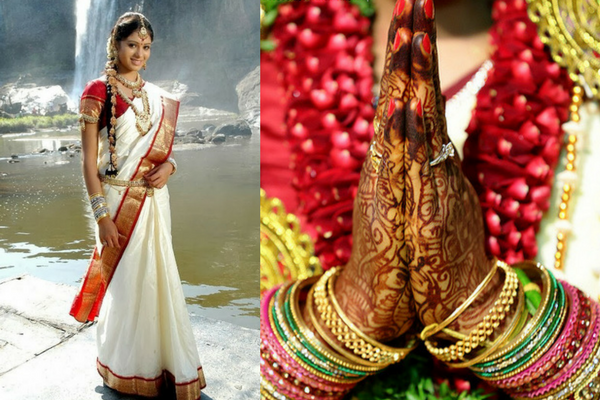 Wearing white is the ultimate sacrilege in most parts of Tamil Nadu, especially Kongunadu, where the bride can be draped in any colour except white or off white.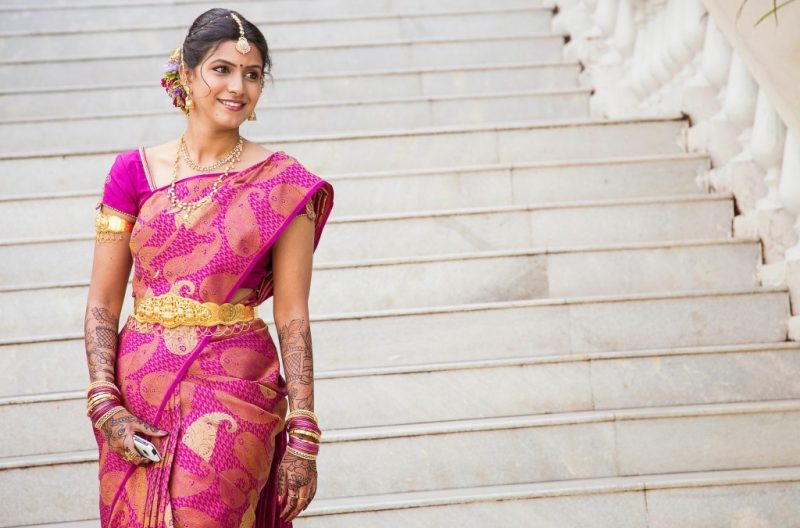 But the Kannada bride agrees with the Telugu bride and wears a white 9-yard saree with a deep red border and green bangles (as seen below).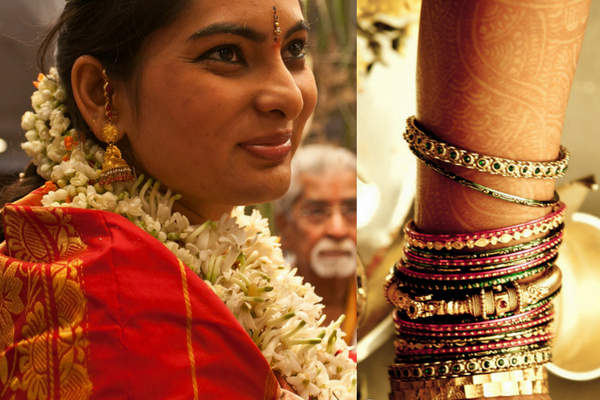 The Iyer bride, on the other hand, has worn the same deep maroon 9-yard silk saree with a gold border for generations. Seen below is an Iyer bride.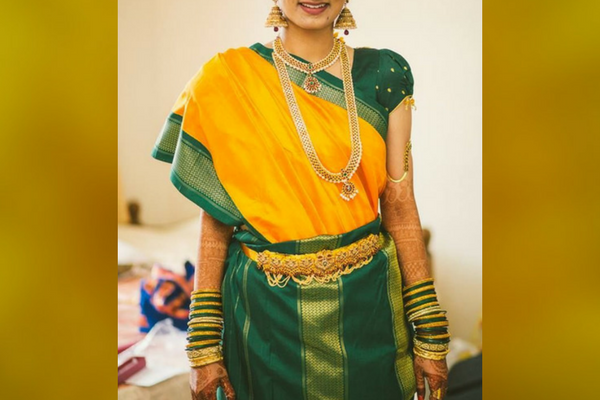 She will wear the same saree at her son's Upanayanam, at her Grihapravesam and even her daughter's wedding! And the best thing about choosing a saree over every other bridal wear option? It will always fit just right!
The Kerala bride stuns in a white saree with gold border. The saree remains white, whether the bride is a Hindu or Christian. The Muslim bride of Kerala goes for the more familiar maroon colour.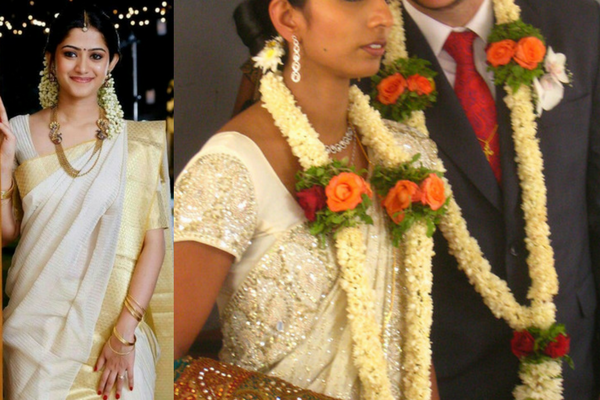 The accessory choices range from simple, delicate to styles rivalling those seen in Tirupathi!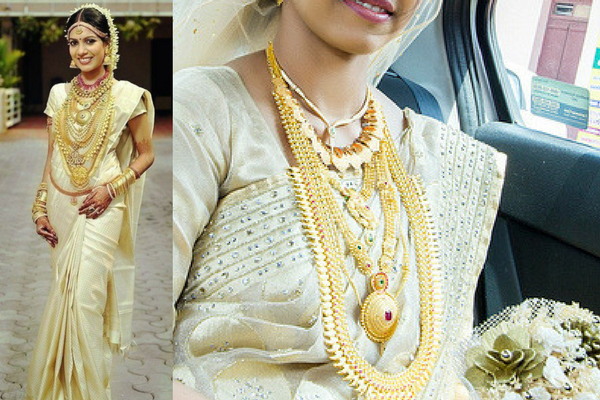 The Kodava bride wears a maroon sari of varying complexity, at its simplest, it looks a lot like the Iyer wedding saree. It is draped differently, though.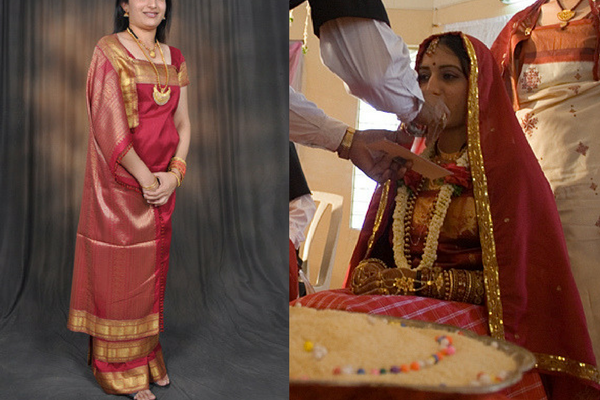 South Indian bridal saree draping style
The saree draping style followed commonly all over India, the Nivi style, was apparently a 19th-century innovation of Maharani Indira Devi of Cooch Behar in the 1900s.
South Indian bridal sarees are worn by each community in their traditional styles. The Iyers of Tamil Nadu drape a 9-yard saree in the traditional 'madisar' style. I have seen my sister race around on a scooter in traffic rule-less Pondicherry, I assure you this style is very movement friendly.
The Iyengar style is very similar, the Pallu goes over the other shoulder.
Kodavas drape it in a style where the pleats are pinned at the back and the pallu comes to the front over the shoulder.
The Kannadiga bride also goes in for a 9-yard saree very similar to the Maharashtrian style. A lot of Karnataka traditions dovetail neatly with Marathi traditions.
South Indian bridal saree designs
The de facto standard for bridal sarees is Silk, since even Indus valley days. In those days it was limited to a select few, now it is ubiquitous. In fact, South India leads the way in silk production.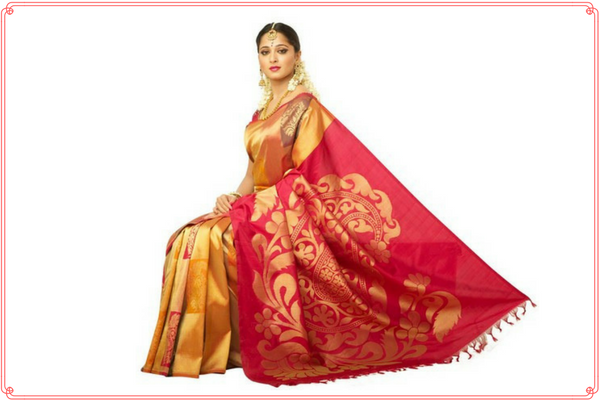 Kancheepuram leads the way for south Indian bridal silk sarees. The silk, from mulberry silkworms, comes from south India and the zari from Gujarat. In genuine traditional Kanchi silks, the body, border and pallu are all woven separately and then joined together in the final saree. The pallu may feature elaborate scenes from the Mahabharata or a Raja Ravi Varma painting.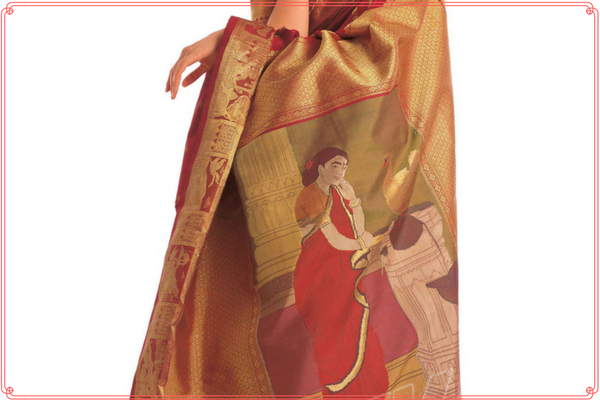 Arni silks are native to the Thiruvannamalai district of Tamil Nadu. Arni boasts the distinction of weaving the first national flag hoisted atop the Red Fort in Independent India! Chettinad Cotton sarees is famous for their contrasting colours, they also make silk sarees in the same fashion. Thanjavur silk sarees once boasted royal patronage. Dharmapuri, Salem, producers of mulberry silk, also weave their own sarees. The story of South Indian bridal sarees is dominated by Kanchi, relegating other regions in Tamil Nadu to the background.
Retail chains like RMKV, Pothys, Chennai Silks offer a dazzling array of choices and innovations. Each of them also come up with eye-catching banners, catchy jingles and intriguing concepts for sarees. RMKV has set a record by making a single saree with 52 colours! Pothys has woven 1000 different popular flowers into saree patterns.
These stores also push the boundary of South Indian bridal sarees by incorporating North Indian style embroidery into the sarees!

Karnataka is the leading producer of silk in India and it shows in Mysore silk saree. These sarees typically have less zari and more silk, making it light and easy to drape. Mysore silks are only sold through KSIC.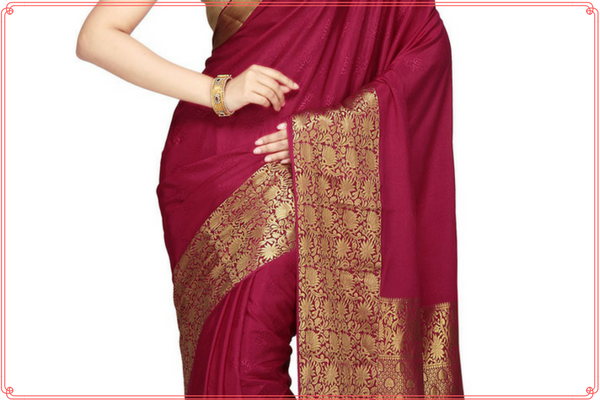 Pochampally in AP is famous for their ikat dyeing technique. In the Ikat dyeing techniques, bundles of yarn are tied together tight in the pattern desired, then the due is applied to the yarn. The wrapping may be modified and the process repeated for more elaborate patterns. This yarn is then woven into a fabric. The difficulty in aligning the dyed yarn correctly during weaving gives rise to the typically hazy look of the Ikat prints. This technique is used on silk yarn to produce smooth, light bridal sarees.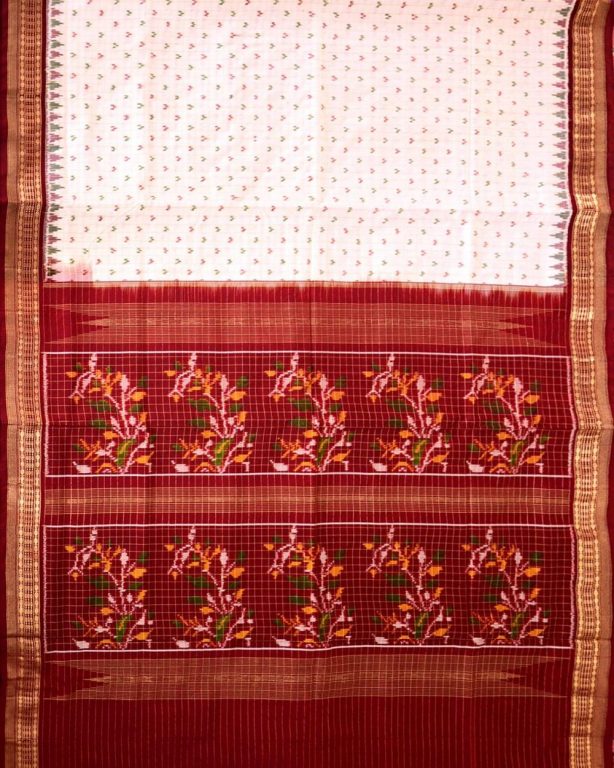 Gadwal sarees from Gadwal in Telangana once boasted royal patronage. The pallu is silk, body cotton and border Zari in these sarees. These separately woven sections are then joined together in one breathtaking saree.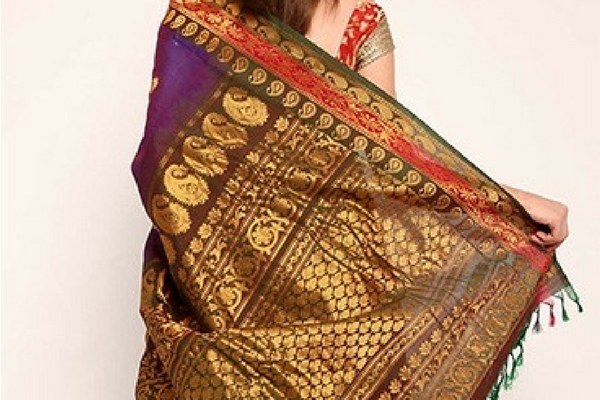 Venkatagiri sarees are produced in the Nellore district of AP, they once wove cotton with a sari border exclusively for the Venkatagiri Rajas. Changing social norms resulted in the weavers importing silk yarn from the south and adapting their weaving techniques to south Indian bridal sarees.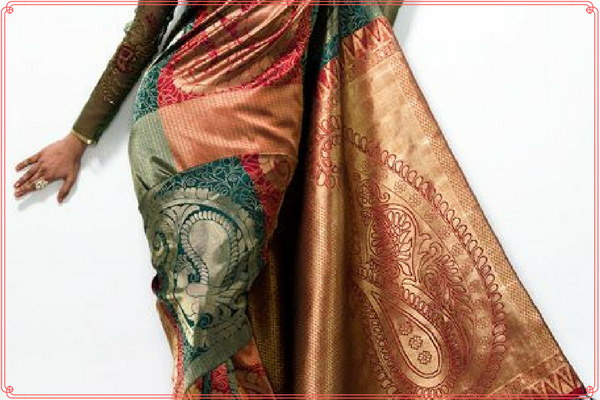 Eco-friendly south Indian bridal sarees
The modern impetus to spare other lifeforms from suffering for our pleasures has led the movement towards ahimsa silk. The silk is woven from cocoon discarded by the worms, as they mature into moths and fly away to freedom and adventure.
And the innovator who came up with the idea of letting the silk worm live and use the discarded cocoon to make yarn? Kusuma Rajaiah, a South Indian. Who else but a native can understand how hard it is for us to abandon the idea of silk and go with plant-based fibres. Seen below is an Ahimsa bridal saree.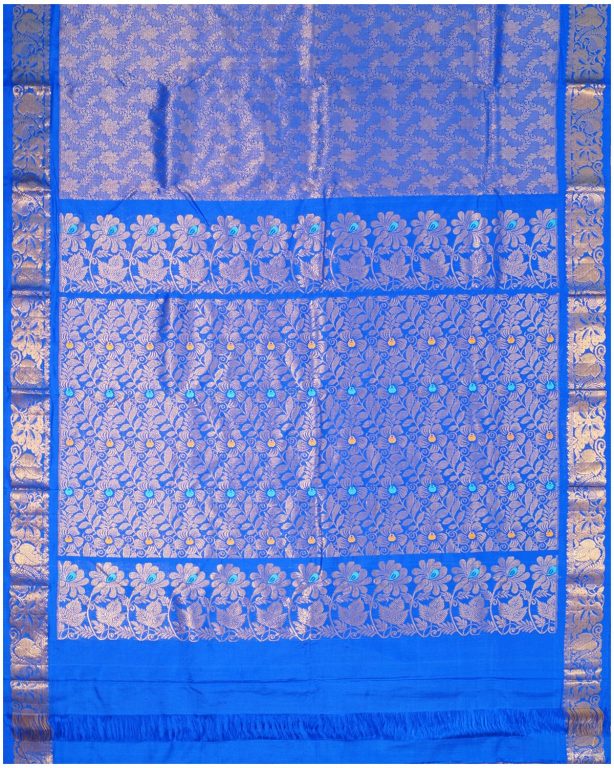 Interestingly, examining silk fibres from Indus valley under a microscope suggests it was made after the moth flew away from the cocoon. This makes Indus valley, in 2400 BC, the first producer of ahimsa silk!
Kanchi weavers are said to be descendants of Sage Markanda who himself wove tissue from a lotus stalk. It is then logical to want to weave exquisite south Indian bridal sarees from plant fibres, isn't it? Cotton, Banana Fibre, Bamboo Fibre, Aloe Vera, Jute all fit the bill. People even weave fabrics from weeds!
Cotton is the most common of course. Mangalagiri, Pochampally, Chettinad all traditionally produce fabulous cotton sarees. Walk into any Fabindia store, you are sure to find at least one cotton saree fit for a bride.
On the other hand, producing cotton fabrics consumes a lot of water and cotton is buffeted by the Monsanto scandal. And there are a lot more innovative options.
As a nation, we are bananas (but not a banana republic, thankfully), especially in the South. We eat banana fruit, banana stem, banana flowers, eat on banana leaves, why not wear Banana? Banana Fibre is extracted from the banana bark, the outer covering of banana stem.
At the Anakaputhur Weavers Cooperative Society, banana fibres are mixed with cotton and silk threads and sold at Rs 1500 for banana cotton sarees and Rs 3000 for banana silk sarees.
Aloe Vera is omnipresent these days – Moisturisers, Juices, Medicines. Aloe Vera has also woven its ways into sarees.
Bamboo fibres are fast rising in popularity for their breathability, silky texture and softness. They need the addition of cotton for durability, though. Here is an exquisite bamboo saree.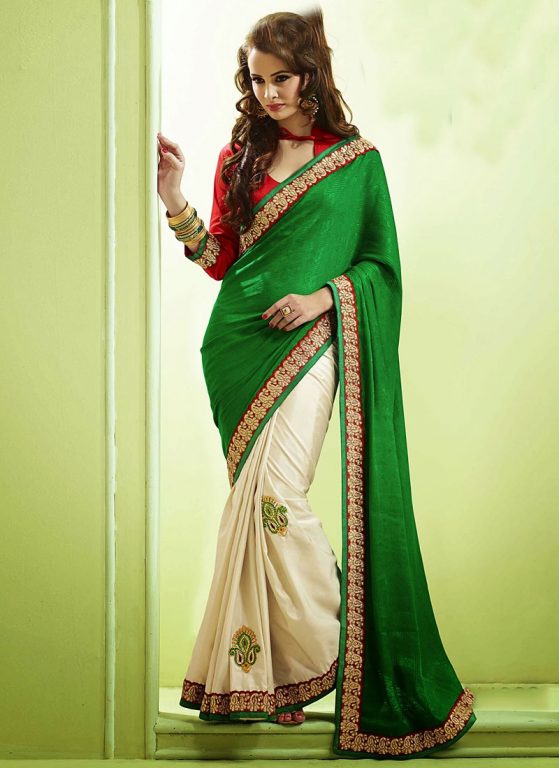 Vétiver or Khus is added to our drinking water, is woven into screens to keeps us cool in summer. The fibre extracted from this root is also woven into exquisite sarees. Seen below is a saree woven using vetiver fibres.
And speaking of Kancheepuram and Sage Markanda, it is possible to extract yarn from even a lotus stem! It is practised in Myanmar, but, perhaps, it is not very productive.
Levi has come up with jeans made with cotton and recycled plastic bottles. Saree cannot be far off, can it?
5 tips for buying your south Indian bridal saree
There are a few tips to keep in mind when shopping for the south Indian wedding saree.

Zoom on your bridal style: Skim through websites and fashion magazines and form a mental picture of the look YOU want. Start with a Pinterest search to give you some ideas. Go to Pinterest.com and search for "South Indian Bride." Here is what you will see.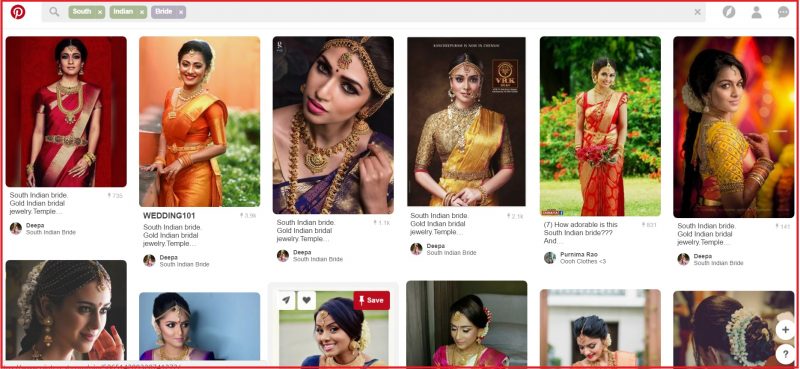 Save the pins you like or explore the curated boards from other Pinterest users. Zero in on the style you like and keep looking till you get a shortlist of at least half a dozen South Indian bridal sarees.

Where to window shop: Picture may be worth 1000 words, but it cannot capture reality in all its hues. Here are some great places to window shop and compare prices depending on where you live.
Chennai: Thiyagaraya Nagar (aka T Nagar) is the hotspot for South Indian bridal sarees in Chennai. Legendary saree chains vie with one another for your attention and you will find the latest and the greatest bridal sarees!
Mumbai: Matunga and Dadar are great places to shop for South Indian bridal sarees in Mumbai. Marine Lines, SV Road and Juhu also have a variety of stores that sell bridal sarees.
Bangalore: Commercial Street, MG Road, Jayanagar and Malleshwaram have a variety of bridal saree shops you can choose from. For more details, you can read this article.
Hyderabad: Banjara Hills, Jubilee Hills, Basheerbagh and Panjagutta are some of the places where you can shop for your bridal sarees in Hyderabad. More details can be found here.

How to buy your bridal sarees: Shop a few months in advance. At least 2-months lead time will be required to get your accessories and blouse shopping in place. When you go to a store, here is a suggested approach to shop bridal sarees.
Explore different saree types (Kanchivaram, Mysore Silk, etc) based on your budget. Shortlist one or two sarees from each type before selecting the sarees to purchase.
The lighting at the store may be dimmer than the light you will have at the marriage hall. Make sure you shop for sarees during the day and take the saree out of the store to make sure you know exactly what you are buying.
When you shop for expensive bridal sarees make sure you know what the store return policy is and thoroughly inspect the sarees before purchasing them.
For dark or dusky women, sarees in a dark colour like dark pink, dark purple, maroon or green suits them best. Choose saree colours based on your complexion.

Don't forget the accessories: Keep your wedding jewellery in mind when narrowing your choices, you want them to complement your saree.
When buying your South Indian wedding sarees, remember to keep in mind your hairstyling, bangles, blouse, jewellery and the bridal makeup that will complete your style. The bridal saree is just one piece of the puzzle. Here are some general guidelines when choosing accessories for your bridal saree.
If the wedding saree you picked has a lot of embellishments, keep your accessories muted. Heavy jewellery will not go well with an elaborately designed wedding saree.
Just remember to wear the right bra while taking measurements for a blouse, so that it does not pop out over the shoulders or at the back!
If you are wearing a saree with a colourful border, it is advisable to wear a long chain so that the pendant steers clear of the border design on the saree.

Don't forget the traditions: When it comes to the Muhurtha Pattu, the saree worn at the actual Tamil wedding ceremony, bow to tradition. The same applies to other regions as well.
Have the future in-laws come along, and let them pick out a few sarees.
Lead them around to your choice of saree rather than outright rejecting suggestions and going with what you have in mind. It is never too early to curry favours and establish boundaries.
Keep our traditions alive. If time and budget permits visit a weaving town and buy directly from the weaver. These sarees are made by handloom, the cost is going to be higher than a similar factory product. Alternatively, go for sarees sold by KSIC/Co-Optex/Dastkar.
A word of caution when it comes to non-silk fibres – sometimes they need to mix silk into the fibre for durability/texture. If you are set against silk, check fibre composition before buying.
Andal goes into raptures describing the Lord coming down to take her hand in marriage in Vaaranam Aayiram, but she doesn't say anything about her own bridal saree or jewellery. Strangely moving, isn't it?

Featured Image: Neha Viswanathan on Flickr
Suggested reading
Create your free, customised biodata for marriage on Jodi Logik.