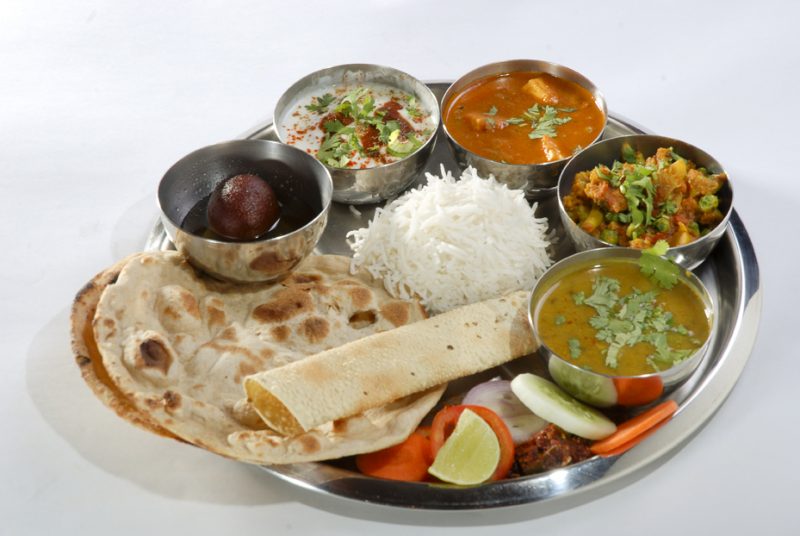 Thali – What's great about it?
Thali is by far the most popular lunchtime meal in Indian restaurants. One of the most frustrating experiences in Indian restaurants is the fact that there are way too many menu items to choose from. Deciding on the items to order is a painful experience :). The thali is the perfect meal for people who can't decide! It also neatly brings together the mind-boggling array of dishes that every regional Indian cuisine offers.
Here are five great reasons why you should try a thali meal at an Indian restaurant:
You can never lose: In one swoop, you can try all the regional delicacies on a plate. By far, this is the biggest advantage. You will find at least two or three items from the Thali that is to your liking.
Balanced food: Believe it or not, the different tastes, textures, and ingredients in a thali provide a perfectly balanced meal that has proteins, carbohydrates, salts, and other nutrients.
Gastronomic adventure: The easiest way to savour the diverse regional cuisines of India is to go for the regional thali. Almost every state and every region of the country has its own version of thali!
Seasonal variations: Even if you love a thali from a specific region, the dishes that comprise the thali will vary according to the season! It never gets boring with any thali.
Promotes sharing: The idea of having a large variety of dishes in cups makes it easy for sharing food with your friends and family. After all, food is more enjoyable when you have people to share!
Not convinced? Our list of 15 mouth-watering thalis below will change your mind and make you hungry!
15 amazing thali meals from around India
Let's dive straight into exploring all the fantastic regional thali variations from around India.
1. Tamil Nadu
In Tamil Nadu, thali meals are served on plates as well as on a banana leaf. Considered to be the birthplace of the elaborate sappadu (meal), most restaurants in Tamil Nadu offer a vegetarian thali that has sambar, rasam, poriyal. kootu, kara kozhambu, pappadam, keerai, payasam, to name a few. Click here for some interesting recipes for a Tamil Nadu thali!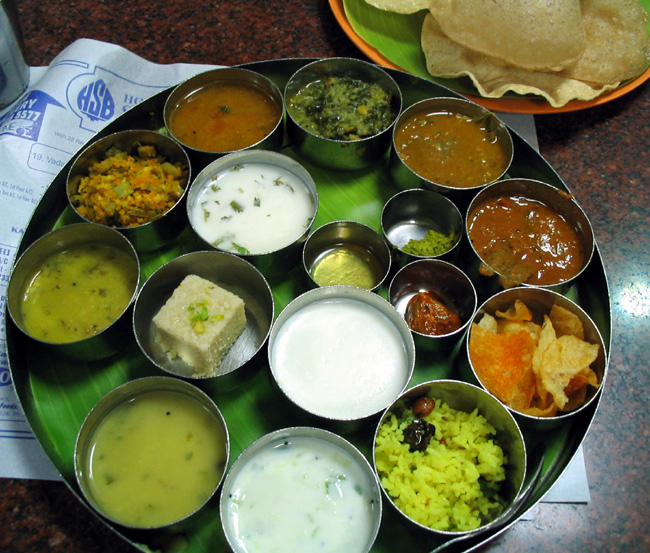 2. Chettinad
The Chettinad cuisine has a distinctive place in the gastronomical map of India. The Chettiars of South Tamil Nadu live an arid region and many of their dishes involve sun dried meats and salted vegetables. To get your fill of a Chettinad meal, visit the Anjappar chain of restaurants.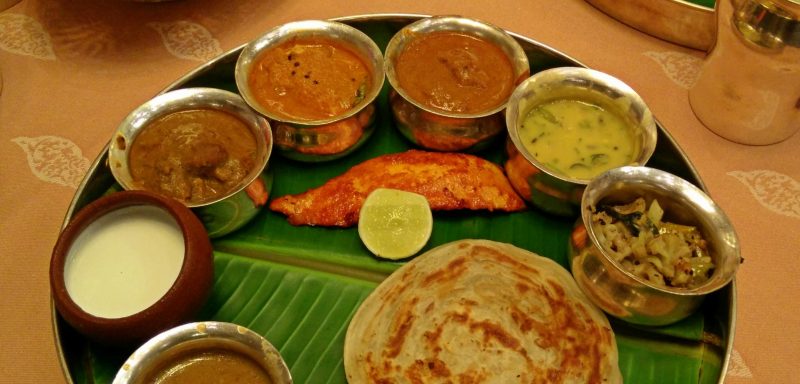 3. Andhra
The Andra cuisine is known to be spicy and full of flavour (this is actually a cliche as most Indian regional cuisine falls in this category!). The avakai (mango) pickle, brinjal preparations, a variety of cooked dals, dried lentil powders (podis) are considered staple items. Andhra food is also diverse. Rayalaseema, coastal Andhra, Telangana have their own regional dishes that are more in tune with the climate and what grows there.
4. Kerala
True to its name as the 'land of spices', Kerala cuisine offers amazing thali options that span vegetarian as well as non-vegetarian dishes. The coastal areas of Kerala are known for their seafood delicacies while the plains are known for their vegetarian items. Rich in coconut oil. jackfruit, and of courses spices, the sadya is an epic thali served on a banana leaf for special festivals like Onam.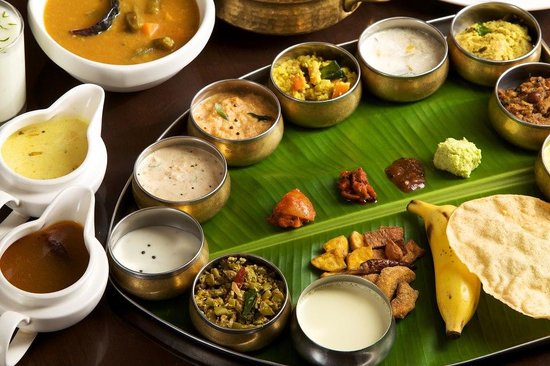 5. Karnataka
The Karnataka thali has a similar variety of dishes you will find in a South Indian thali. However, regional variations in how the items are prepared as well as completely new items make it unique. For example, the rasam of Tamil Nadu becomes saaru in Karnataka and acquires a sweeter taste due to the use of jaggery. North Karnataka has a distinct cuisine and one of the most interesting items I look forward to is the mirchi bajji!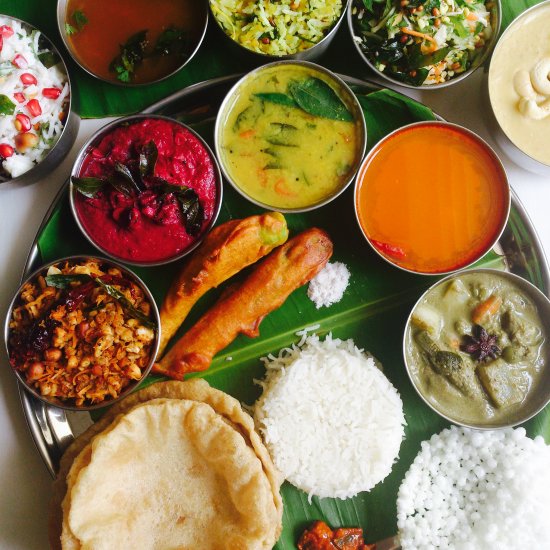 6. Maharashtra
The cuisine in Maharashtra is considered to be simple reflecting the economic condition of people there. Meat is rarely used, but seafood is common in coastal regions. Here is an interesting insight on a typical Maharashtrian thali meal:
The order in which the thali is presented is also given utmost importance. When arranging a meal, consider thali as a clock, the number 12 position is salt, to its left is a lemon wedge, and then to the left are an array of chutneys, pickles (Lonache) and salads (koshimbeers). To the right side of salt are different vegetables like paatal bhaji(vegetable curry), paale bhaji (leafy greens), suki bhaaji (dry stir fry), usal(sprouts), Amti (daals). Cooked white rice is moulded in a small mound called bhatachi mood, with a bright yellow plain daal (varan) anointed with a dollop of clarified butter (toop).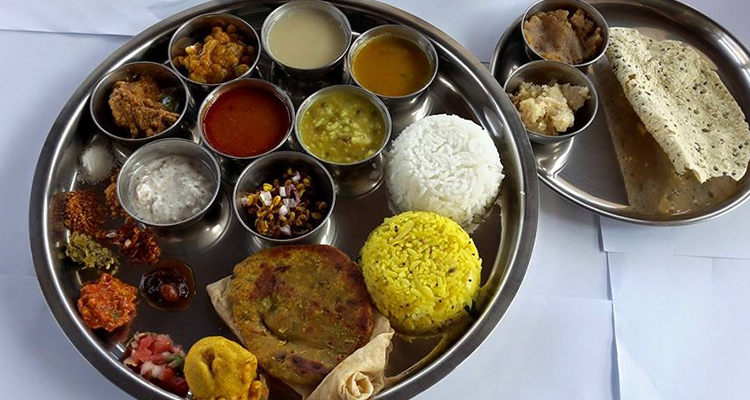 7. Punjabi
The Punjabi cuisine is known for its liberal use of dairy products such as butter, ghee (clarified butter), and paneer (cottage cheese). Since Punjab is the bread basket of India, wheat is a key ingredient and the naans cooked in tandoor ovens are world famous.Perennial favourites include sarson ka saag, aloo paratha, dal tadka, and chole. Of course, non-vegetarian items such as butter chicken are popular too! Capping off a Punjabi thali with hot jalebis is something worth trying!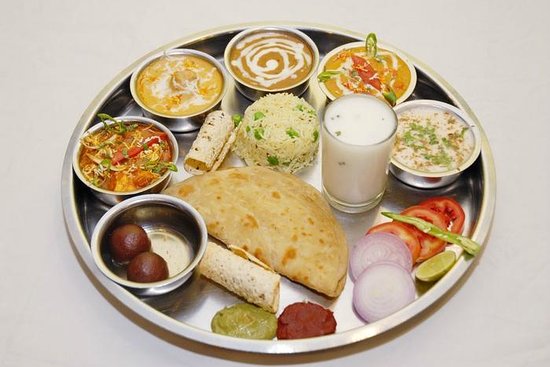 8. Bengali Thali
There is something fishy about Bengali cuisine! Fish is an essential item along with rice and lentils in any Bengali meal. But that doesn't mean there is the lack of vegetarian dishes. Here is an assortment of vegetarian items that can find a place in the thali – Ucche Bhaja, Begun Bhaja, Aloo Poshto, Cholar Dal, Chanar Dalna, Aam Pora Sherbat, and the sweet Rosogolla! Here is a unique set of recipes if you want to try authentic Bengali dishes.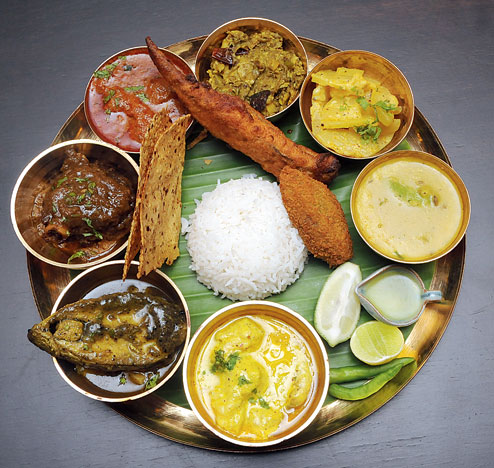 9. Rajasthani
The Rajasthani cuisine is shaped by the barren desert conditions of the state. The need to preserve food for a long time and the usage of milk in place of water have defined the Rajasthani cuisine. The Marwari thali is popular throughout India and is from the Marwar region of Rajasthan. Check out this page for a complete list of Rajasthani items that go into the thali. The Rajdhani chain of restaurants is a great place to try out traditional Rajasthani dishes.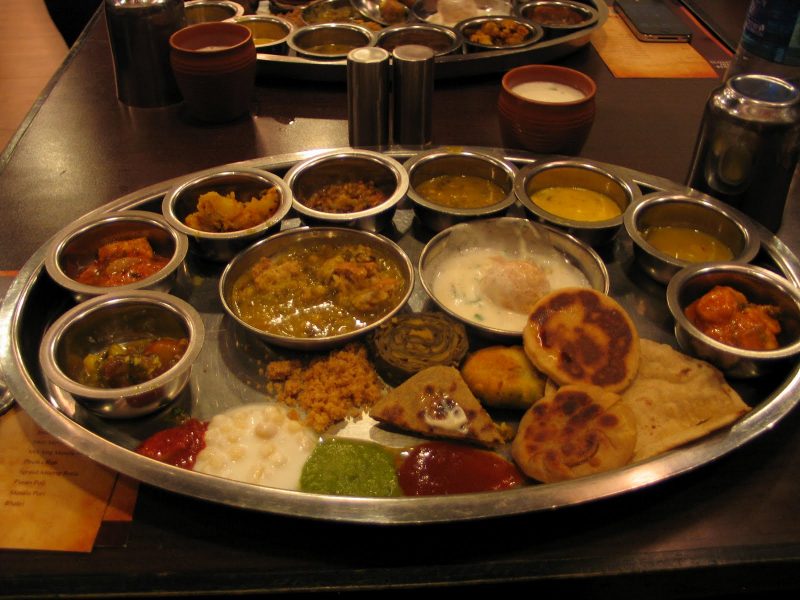 10. Oriya (aka Odisha)
Here are a couple of interesting titbits about the Oriya cuisine and the thali.
The ingredients used in Oriya cuisine typical to the region are plantains, jackfruit, and papaya. The curries are also garnished with dried raw mango (ambula) and tamarind. Coconut is also used in several dishes. Panch phutana is a blend of five spices which is widely used in Oriya cuisine. It contains mustard, cumin, fenugreek, aniseed, and kalonji.Garlic and onion are also used but is avoided in temple regions. Turmeric and red chilies are also commonly used.


Oriya thali consists of a main course and dessert. Traditional bread is served as a main course for breakfast and rice is served for lunch and dinner with the classic dalma and varieties of vegetables. Sweets are enjoyed after every meal and there are varieties of milk based sweets being enjoyed here.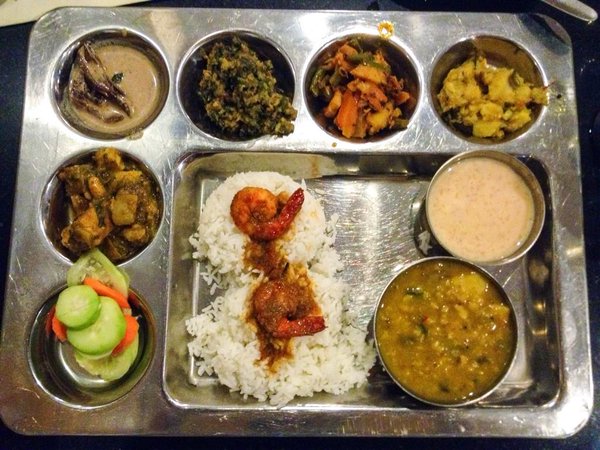 11. Assamese
The Assamese cuisine and flavours are based on the fact that fermentation and drying are commonly employed to preserve food. Fish is a key ingredient and poultry is also widely included in Assamese dishes. Here is a typical list of items you will find in an Assamese thali: Steamed Rice – Bhaat, Xaak Bhaaji – Dry green leafy vegetable, Daal – Dail or Daali, Khaar – A kind of veg / non veg item, Bhaaji – Dry veg, Torkari – wet veg, Maasor Aanja – Fish Curry, normally sour (tenga aanja), Mandxor Jol – Meat or Chicken, Chutney, Pitika – a side dish, kind of a mash, and Asaar – achar or pickle.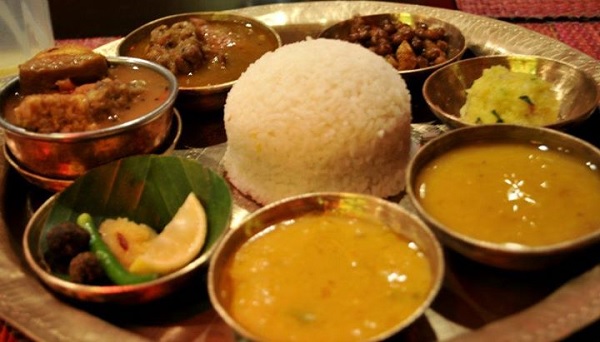 12. Goan
Goan cuisine is all about concocting dishes from coconut, fish, kokum, rice, and vegetables. Goan cuisine is influenced by the Portuguese who introduced pork and beef. The Hindus have also developed their own variety of food items. Some of the popular Goanese dishes include Humann, Suke, Kalputi, Shak, Varan, Tondak, Solachi Kadi to name a few.

13. Kashmiri
If you are a goat, you will probably steer clear of Kashmir! Kashmiri's love their goats and there are over 30 mutton varieties in their cuisine. The Wazwan is a special meal that includes three dozen varieties of meat dishes served on platters that are shared by a group of people. But if you are a vegetarian, you do have some options. Kashmiri Dum Aloo, Methi Chaman, Rajma Gogji, Gogji Nadir, Chokh Vangun, are just some of the vegetarian options!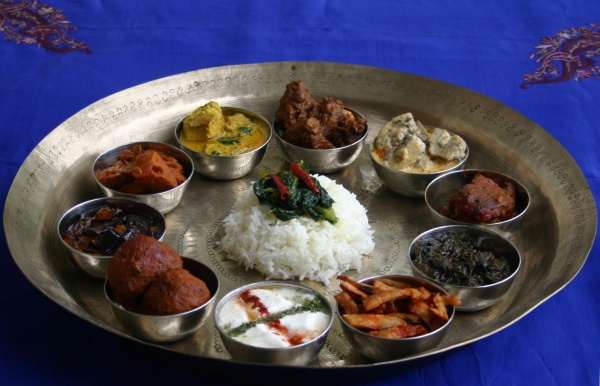 14. Gujarati
The Gujarati thali is probably one of the most popular choices in a restaurant! This is probably one coastal state in India that does not count seafood as a staple diet. This is because of the influence of Jainism. North Gujarat, Surti Gujarat, Khatiawad, and Kachchh are four distinct regions with their own flavours and recipes. Gujarati thalis come with Dhokla, Khadi, Aamrus, Phulkas, and a host of tangy vegetables. One distinct feature of Gujarati cuisine is the mix of sweet, spicy and tangy flavours.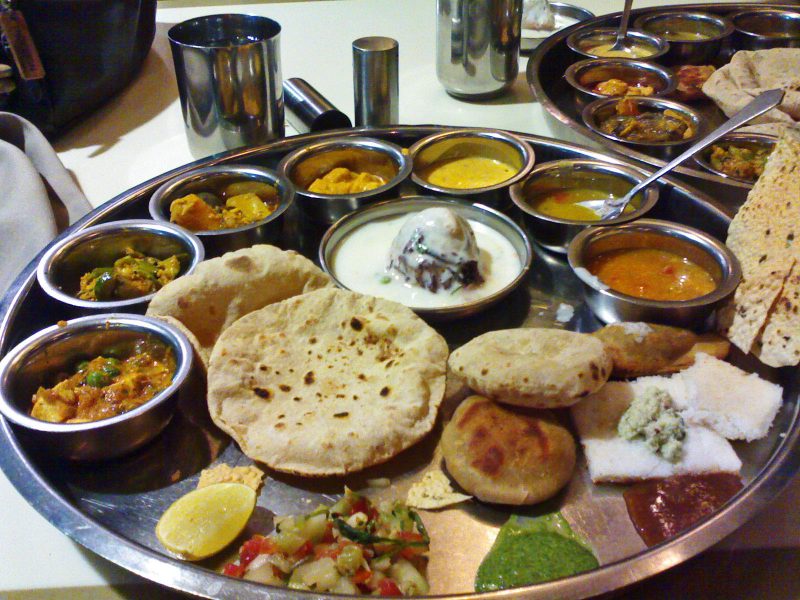 15. Chattisgarh
Chattisgarh is a tribal region and there are plenty of tribal dishes along with local variations of mainstream dishes that most people are familiar with. Angakar roti, paan roti, chusela, dehati vada, muthia, fara are some of the items that go into their thali. Here is an interesting dish – Chapra is a special chutney made by the tribal population of Chattisgarh. This chutney is made of dried red ants and their eggs!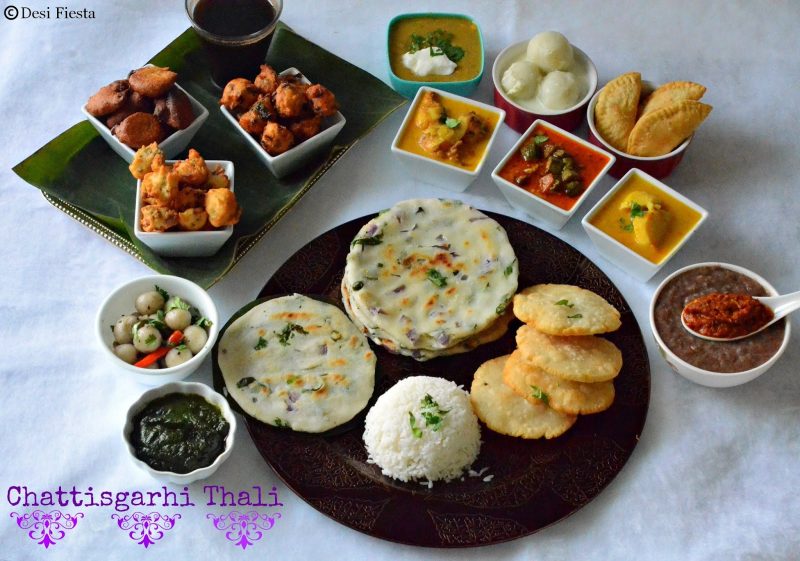 Read this post next!

Are you a food lover? Showcase your love for food through your Jodi Logik profile.