Arranged marriage background check explained
To do or not to do an arranged marriage background check? That's the question we have answered in this post!
There seems to be a growing awareness of the need to conduct a background check before arranged marriages. Just as arranged marriages is an integral part of the Indian culture, background checks before marriage have its roots in the yesteryears!
In the earlier times, before an arranged marriage was finalised, the background check of brides and grooms was done secretly via relatives and neighbours discreetly. There wasn't much hype over this issue and it was considered a usual part of the marriage proceedings.
Today, there are several modern methods available for conducting an arranged marriage background check and we will explore how you can make sure you are not marrying a con artist!
A background check is a thorough verification of a person's credentials. Usually, background checks are done before important events like hiring a new employee, issuing a visa or getting married. The purpose of the background check is to verify the authenticity of the claims made by an individual and to establish the genuineness of character and identity.
In case you are about to get married or engaged and it is all arranged by the elders in your family, then you might want to conduct a background check on your future partner. There are several ways to conduct an arranged marriage background check and several reasons as to why you should conduct such checks.
Why should you do background checks before arranged marriage?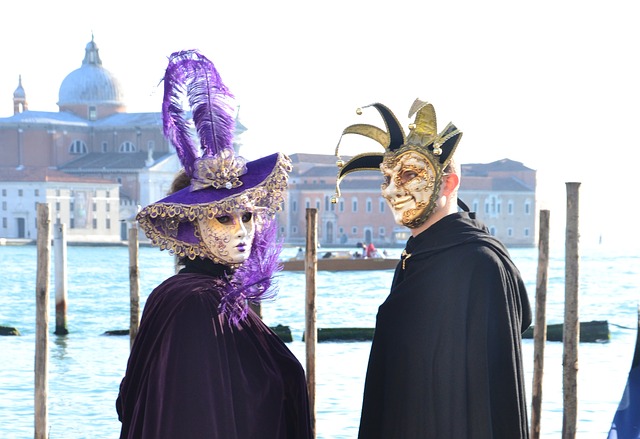 Marriage is a lifelong bond of trust and commitment. Before entering into this bond, both partners should be completely sure about each other's characters, credentials, and personal details. An arranged marriage background check is the best way to make sure your plans for a happy married life doesn't turn into a nightmare. Marrying someone with a lot of baggage is no fun and a background check can make sure you are reasonably sure about your decision. Here are four reasons why you should do background checks before arranged marriage.
1. Debt Traps and dowry
Some men run up huge debts and then try getting married in order to get financial help for debt resolution! In desperate attempts to get respite from their vicious cycle of debts, these people can stoop to the level of torturing the bride physically and violently for dowry. An arranged marriage background check can easily unearth crucial financial information pertaining to the prospective bride/groom.
2. Abusive behavior
People with a history of sexual abuse, violence, and paedophilia often get married to put up a respectable front in the society. But their reality is totally different and perhaps nightmarish. No one would want to be a victim of such subhuman violence post marriage. Thus, it is extremely important to ascertain whether your partner has a shady background. An arranged marriage background check, in this case, could turn out to be a life saver.
3. Criminal record
Running your would-be partner's name through police files to ascertain whether he/she has a criminal record might sound far fetched but it is actually much needed. It is not unusual for a person to gain respectability through marriage despite a criminal record.
4. Previous marriages and divorces
If you have reason to suspect that your partner was married and/or divorced in the past and your partner has not come clean, you might want to know the truth before marriage. Marriage and divorce records are public documents which can be easily accessed. You need to be sure of your partner's single status to ascertain that bigamy is not being committed!
Real life stories of heartbreak and betrayal!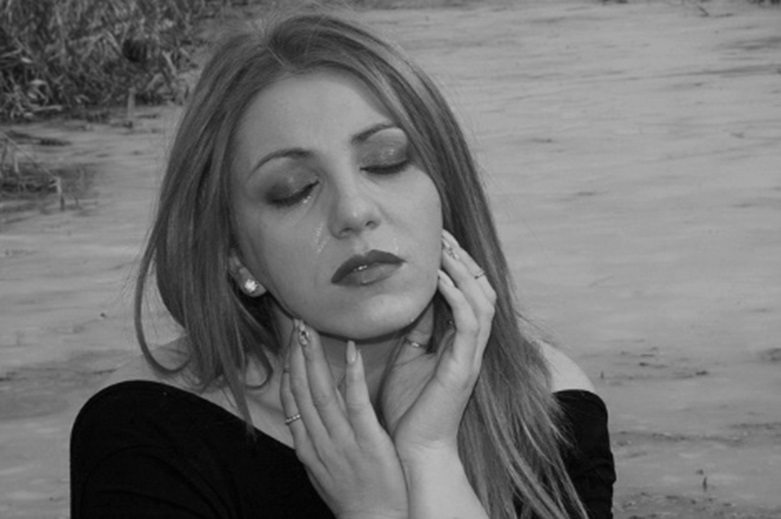 Here are some real life stories that drive home the importance of conduction an arranged marriage background check.
Almost married an 'already married'!
Siddhi was prepared to get hitched to the 'ideal partner' whom she knew for the last three years. However, a background check revealed that the guy in question was already married but was still continuing the relationship with Siddhi!
Soaring NRI dream comes crashing down!
Satwant Kaur was brimming with hope and delight when she got married. She had managed to hook an NRI husband who worked in Italy and she desperately wanted to leave her native Punjab. A few days after the wedding she got to know that Sarwan Singh (her husband) had no intention of taking her to Italy. Kaur's in-laws started making exorbitant dowry demands and threats. Kaur fled back to her parents within 4 years (by that time she already had a 3-year-old daughter). This is a typical example of an NRI scam which could have been avoided by running a background check.
Investigation unearths hush-hush 'abortion' realities!
Raghuram says that his brother had received a marriage proposal and was told that the girl in question was recovering from a minor operation. However, Raghuram and family grew suspicious as the girl's family was unwilling to share details. They then decided to hire a detective. Investigations revealed that the girl actually had an abortion and the doctor had been tipped to keep the matter hush. In this case, the detective saved his brother from a bad marriage decision.
DIY arranged marriage background check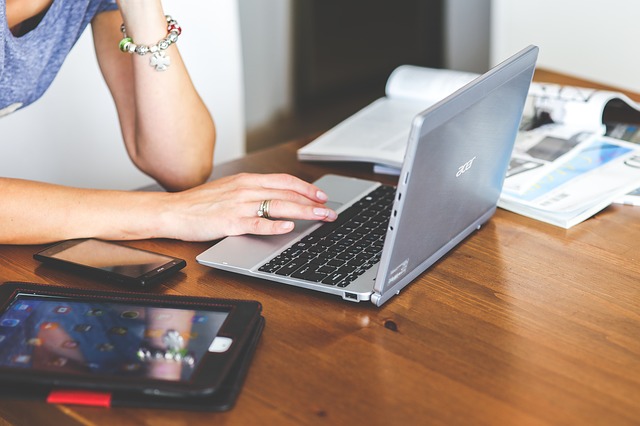 Conducting an arranged marriage background check is not a rocket science! Anyone can do it with simple DIY hacks. You will be surprised with the amount of information you can unearth about your prospective match. We have lined up simple and practical ways to snoop around 🙂
Online background checks
The Internet is a great resource when it comes to verifying background information and conducting checks. Here are a few simple ways to find out you are marrying someone genuine.
1. Twitter, Facebook, Google Maps verification
Type in the name of your prospective partner in Google and browse through the social media profiles. Look for wild pictures, provocative poses or suspicious posts and tweets. You can also look through friends lists to check the kind of company he/she keeps.
You can use Google Maps for visual verification of address. Simply ask for the local address of your prospective partner and do a Google search using Google maps. The satellite view should show you the apartment or a house. If you see a vacant ground then the address is probably incorrect.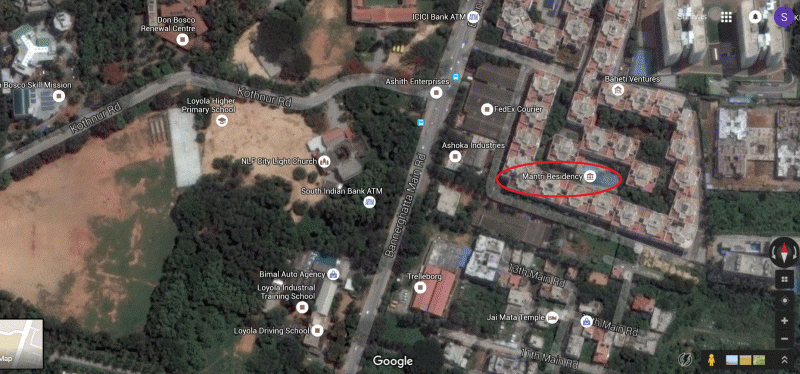 Please be aware that Google is not always accurate with addresses in India.
2. LinkedIn verification
Use LinkedIn to find out if your prospective match actually works for a genuine company. A professional should, at least, have more than 50 LinkedIn connections and some good recommendations as well. Not having 50 connections is not a red flag, but the credibility of the person goes up if they have an active LinkedIn profile.
Offline verification
A majority of arranged marriages in India are done via a middleman who is essentially the mediator. In fact, this has been a practice since time immemorial. In some cases, the mediator is a relative who has enough information about both parties. If the marriage proposal has come via the mediator then the arranged marriage background check should start off with the mediator.
If the marriage proposal has come through some marriage bureau then it is best to assimilate all details and appoint a family member/ trusted friend to verify the details. Here is a list of all that you should look into.
1. The check on the school/college records can give you a hint of the kind of person you planning to marry and make sure their educational background checks out. You will be surprised at what you can find by just dropping into the school!
2. Neighbourhood grocery shops will tell you about the general reputation, sociability, and friendliness of the family and if they have a lot of pending dues!
3. The local police station is a good place to approach to glean information about any criminal records or misdemeanours.
4. An incognito visit to your fiance's office will let you know about the authenticity of work details, reputation at work, and career prospects.
5. Informal family to family interactions should be treated as opportunities to understand the prospective in-laws' culture, expectations and values. Look out for red flags during the course of your interaction with your prospective spouse and in-laws.
Hiring professional detective agency
If you have decided on hiring a professional detective agency for conducting the background check on your spouse then there are some things you should keep in mind. While professionals have better tools and techniques to unearth accurate facts, the number of detective agencies in India is sharply increasing every year and it is difficult for you to choose the right agency. Here is an interesting video on India's Love detectives!
Here are some pointers that can help you hire the right detective agency for performing background checks before marriage.
1. Look for credible private investigators
In case you are hiring a private detective who is working solo then do choose a detective who has a credible rating or is allied to a professional circle like APDI (association of private detectives and investigators).
2. Opt for a reputed agency
In case, you are approaching an agency then you should go for the one that has a good reputation in the market. You could also approach an agency after getting positive recommendations about that agency from your circle of trusted friends and colleagues. Look for news articles on detective agencies to unearth names of leading agencies in your city.
3. Do a thorough research on the agency
Check the website of the agency you are about to hire and read online reviews. You can also call them up to get a better idea of how they operate. However, no professional detective agency will share the names of ex-clients!
4. Find out the hiring costs
Not all agencies will fit in your budget. Just make sure you know what you are signing up for. It is better to communicate your budget to the agency and understand whether they would be able to meet your requirements within your budget. Typically, detective agencies charge somewhere between Rs 25,000-Rs 40,000 for pre-marriage background checks.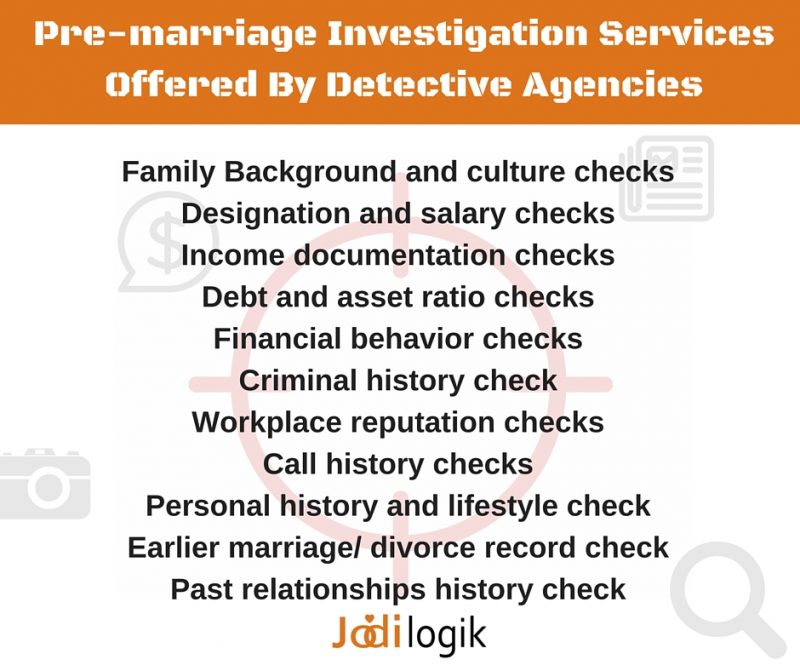 Perspectives on background checks before marriage
Though the idea of running an arranged marriage background check is now becoming increasingly common, most prospective brides and grooms seem to have a mixed view about the idea. While almost everybody is okay with asking around friends and relatives about prospective partner and doing a little virtual investigation on their own but when it comes to hiring a PI (Private investigator) for the same, many express reservations.
Rasike Uberai says "Social networking sites are the best sources of verifying background information and one can also seek the help of friends and relatives. However, one should also have a clean record while making these investigations as it is very likely that the other party is also making its own investigations."
Jayesh Lalwani says "If the matchmaker isn't able to provide sufficient information about the suitability of prospective partner and family then there is something seriously wrong."
Here is what a prospective bride's parent had to say – "Nobody can be trusted nowadays. I verified the background of the prospective groom for my daughter as I wanted to be completely sure about his character. However, it's quite embarrassing to follow somebody as there are chances of getting caught. Hiring an expert is a much better option!"
Do you have interesting stories to share about background checks before marriage or have a comment? Use the comment feature below to share your thoughts.
Other awesome resources
---
Insist on seeing a Jodi Logik profile before meeting anyone! Create yours for FREE.