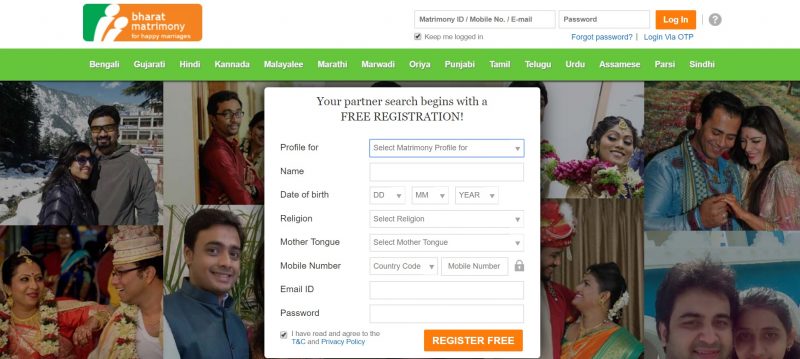 Getting the most out of Bharat Matrimony
Bharat Matrimony has become synonymous with online matrimony in India and among NRIs around the world. Bharat Matrimony has 300 community-based portals catering to every major community in India. It has one of the largest user bases of customers looking to find a soulmate online.
If you are in the market for finding a suitable match through an arranged marriage and you plan to use or already using Bharat Matrimony in your bride search or groom search, read this article to get the most out of your membership.

Before you read about Bharat Matrimony, watch this video to find out what mistakes you should avoid on matrimony sites so that you get more responses.
Bharat Matrimony – Search Features
You can search for a bride or groom on Bharat Matrimony in six different ways. Let's review all the different search options.
Bharat Matrimony ID Search
You can use ID Search to directly jump to a profile you may be interested in. ID Search is useful if you have received the profile ID from your contacts or family members and you want to check them out.
You can access the profile ID search feature by clicking on the Search menu item and click on Search by ID. Enter the Bharat Matrimony Profile ID in the text box to find the profile.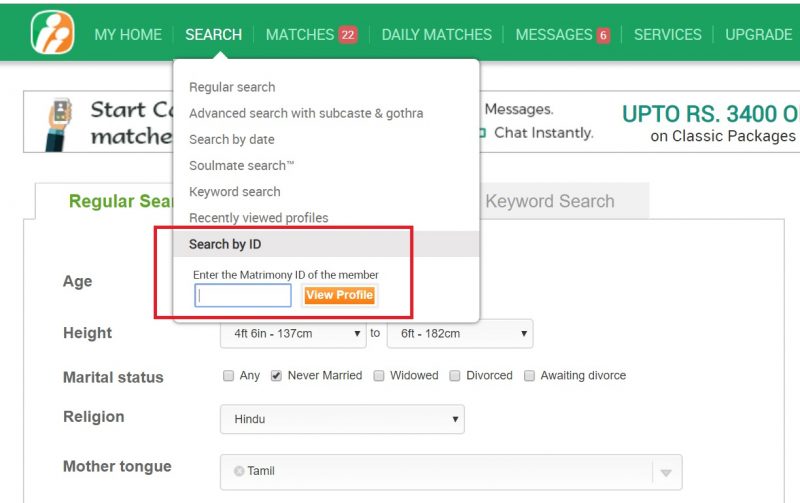 The same search box is available on the right side of the screen as well.
Regular Search
Regular Search can be used as the first step immediately after creating an account.
Click on Regular Search from the Search menu item on the top of the page.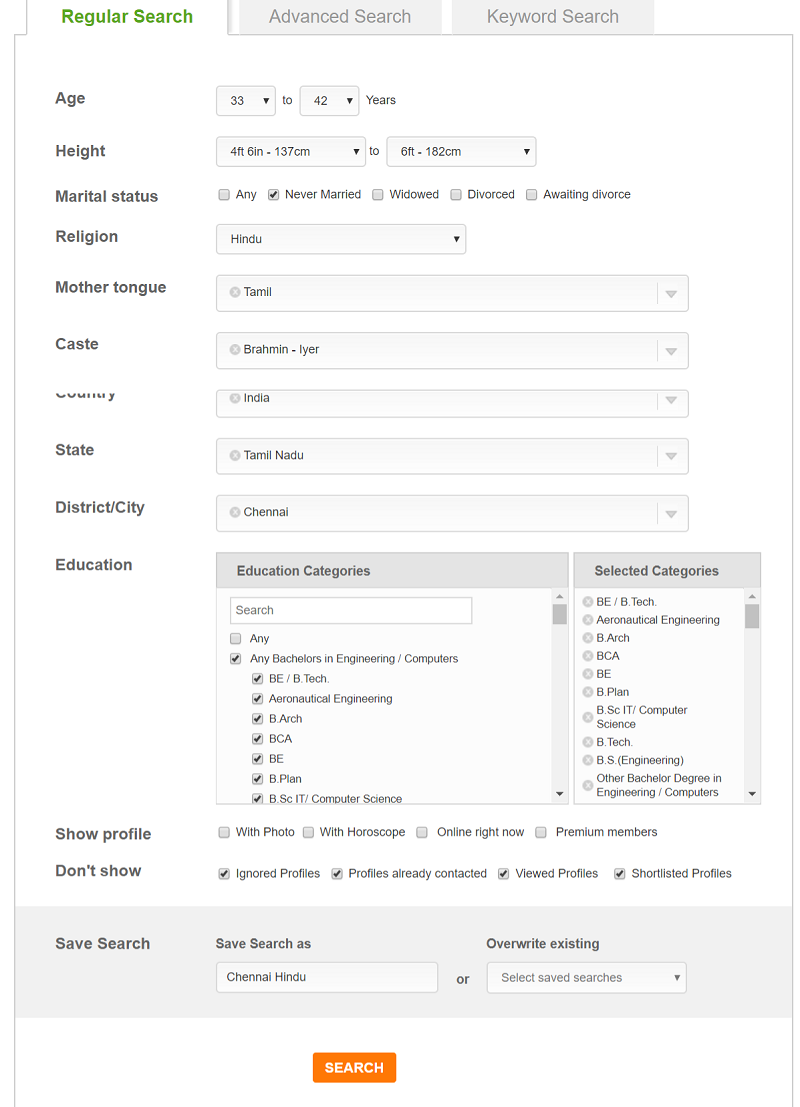 The search parameters for Regular Search includes all the basic information you will probably use to shortlist suitable matches. These include age, height, marital status, mother tongue, religion, caste, location, and education background.
Advanced Search
Bharat Matrimony Advanced Search adds more filters to the Regular Search. Additional details include horoscope details, gothra, income, occupation, habits, personality and interests.

In addition, you can use a free-form search using keywords in the search box.
Using keywords like "Good looking", "well-settled" (as suggested by Bharat Matrimony) is definitely not recommended as most profiles will include these keywords.
Instead use the keywords to include specific background information, interests or lifestyle choices that are not available in the Advanced Search. For examples, "adventure sport", "IIM", "IIT".
Remember, the more parameters you choose, the fewer the search results. Just relying on Advanced Search is not a great idea as it limits your choices.
Bharat Matrimony has branded Advanced Search as "Soulmate Search". Interestingly, it shows as a separate menu item under the search menu but leads you back to the Advanced Search page.

When you reach out to matches on Bharat Matrimony, the chances are you may be requested to share your marriage biodata. Use Jodi Logik to create your biodata for marriage. Choose from our library of hand-crafted biodata templates to create a great first impression.

Keyword Search
Bharat Matrimony has a free-form keyword search feature that allows you to search for any phrase or a combination of words.
Keyword Search works only for keywords separated by commas. If you try advanced search operators like using double quotes or any other search operation you might use on Google, search functionality doesn't work and you will see a blank page.

So when should you use just the Keyword Search feature without the Advanced Search?
If you are looking for specific words that are not included in the search parameter, you can use the keyword search. However, Bharat Matrimony is not a dating site and the search results may not be suitable for you as all parameters other than the keyword may not be suitable for an arranged marriage.
A better way to use the Keyword Search would be to search for vital statistics and basic requirements. However, both Regular Search and Advanced Search feature have these filters.
Example, you can search for "28 years, Chennai, tall, MBA" and hope to get relevant results.
Search by date
This feature allows you to view new matches created on certain dates. The matches are divided into viewed and not viewed matches so you can focus on newly created matches.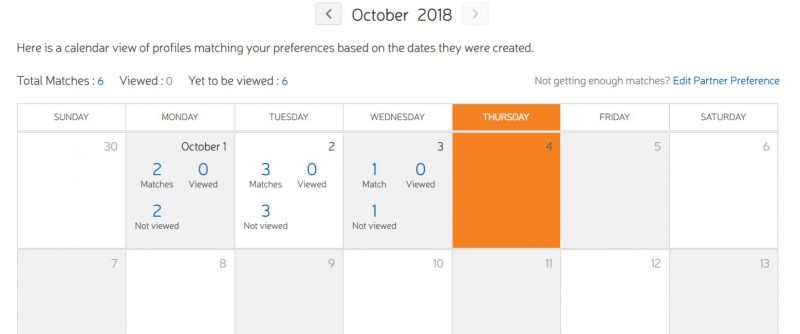 This feature is especially helpful for people who haven't found suitable matches after having reviewed all the profiles relevant to them. This feature is a time saver as you can stay on top of suggested matches as their profile gets created.
Our experience in running Jodi Logik tells us that new users are receptive to messages and the chances of getting a response are higher when the account is relatively new.


Bharat Matrimony Hacks
How to use the Matches feature on Bharat Matrimony
Bharat Matrimony's matching algorithm is fairly straightforward. It just looks to match all the parameters you have selected under partner preference to create your profile. It even gives you a matching score.
Here is an example: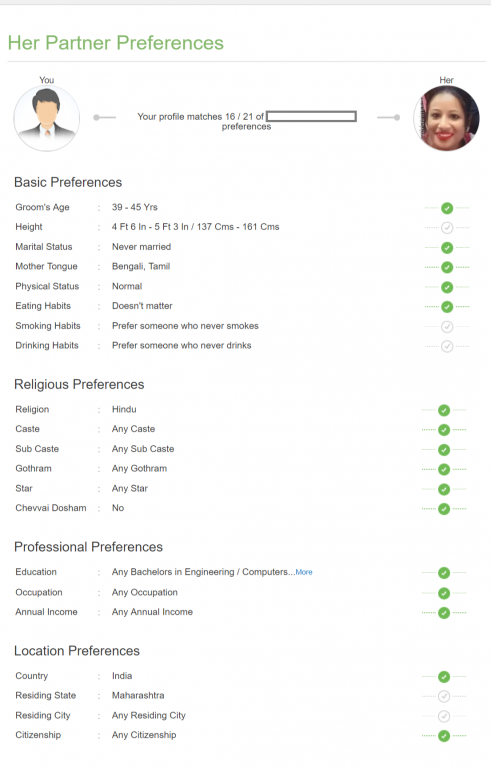 There are several ways you can use the matching process to your advantage.
1. Use Mutual Matches to get a list of profiles who have the same basic partner expectations. In other words, the matching score is high based on partner preferences. This can be a good starting point for shortlisting profiles.
2. Use Extended Matches feature to broaden your search if Mutual Mathes doesn't yield the desired results. Extended Matches will automatically include profiles who may have added additional partner preference details that you might have categorised as doesn't matter.
3. Members looking for me lists matches based on personality, interests, and hobbies. We really do not see how this feature can provide anything of value as the same functionality is available through the search feature. Save your time by just ignoring this feature completely.
There are a bunch of vanity features that don't really add any value to the users. These include Who viewed my profile, Who shortlisted me, Who viewed my mobile number.
Make profile available to non-members
Did you know you an allow people who are not registered members of Bharat Matrimony to view a summary of your profile?
This little-known feature is available to supposedly allow you to share the member ID of someone you may be interested with family and friends and they can view the summary details by using the member ID.
Here is how you can do that.
Hover on the profile icon on the top right corner of the page and select "Settings" after you are logged in.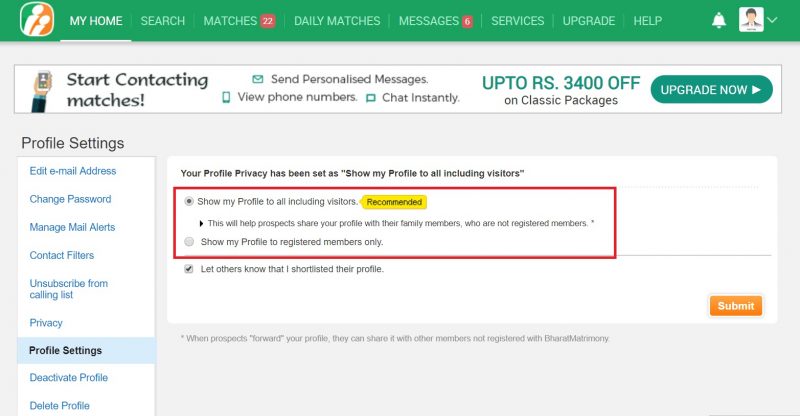 In the settings page, select Profile Settings and make sure "Show my Profile to all including visitors" which is your default settings.
If you are not a member, here is how you can view the profile of any Bharat Matrimony member who has enabled profile access to visitors.
Go their homepage – www.bharatmatrimony.com
Scroll down below the form that's meant for creating a new account with Bharat Matrimony.
Click on the "Search by ID" link that's barely visible and enter the Bharat Matrimony member ID to view a summary of the profile.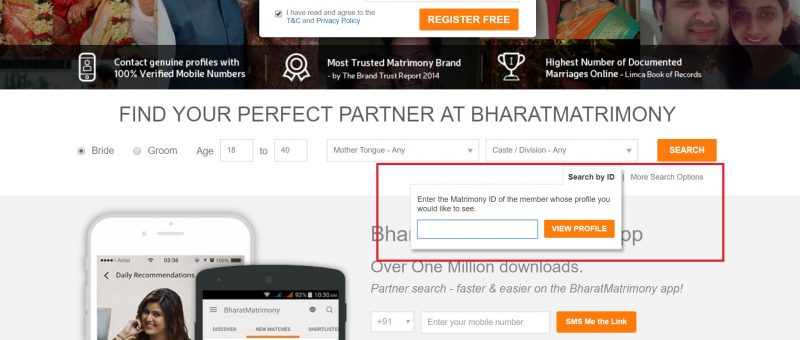 If you want to view the full profile, you need to become a member or log in.
You can also search for profiles by clicking on the "More search options" link that's right next to "Search by ID" to view summary information of the profiles based on basic search parameters.
Get a better price discount for membership plans
Bharat Matrimony is very aggressive in pushing it's paid plans. As soon as you visit the pricing page, you will get a chat message from a salesperson and a phone call within a couple of minutes to ask if you are interested in upgrading to any of the paid plans.
Sometimes, you will notice that they are offering "Extra Benefits".
Don't hesitate to ask for the details and haggle with the sales agent to get additional discounts. Check out the conversation on the screen below.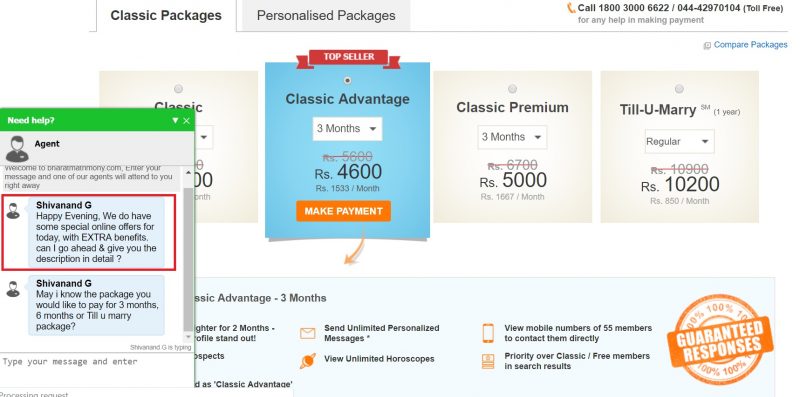 Bharat Matrimony sales agents are authorized to offer a price discount and can increase the number of contacts that can be made available under the membership plan. Don't be shy, just ask for more!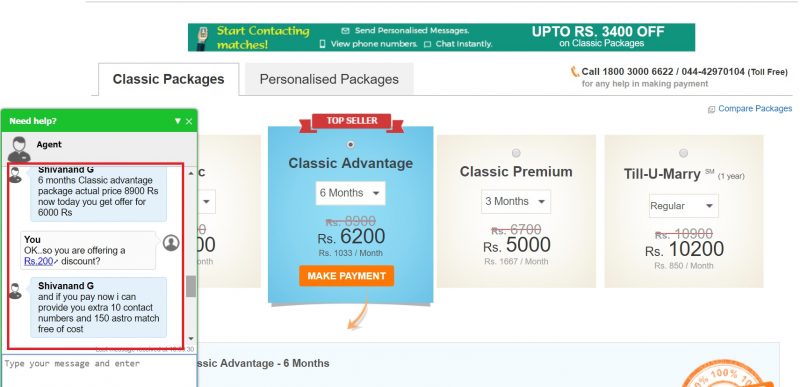 Warning: The sales agents on chat refuse to take no for an answer and will keep asking you to pay immediately.
Stop pesky calls from Bharat Matrimony telemarketers
Bharat Matrimony is really aggressive in getting you to upgrade to any one of their paid membership plans. So don't be surprised if you receive calls from their telemarketing team asking you to upgrade.
They are are not well trained and can get to your nerves fairly quickly. If you don't want to receive such calls, you can get off their calling list by following these steps.
Log into your account.
Hover on the profile icon on the top right corner of the page and select "Settings"
Now click on the "Unsubscribe from calling list" option from the left side of the screen. Select "Do not call" in this screen as shown above.
Please note that the telemarketing will call you when you visit the pricing page even if you have selected "Do not call".

Bharat Matrimony Charges and Fees
The membership plans for Bharat Matrimony is divided into two categories:
a. Classic Packages
b. Personalised Package
Classic Packages
There are four types of membership plans under Classic Packages.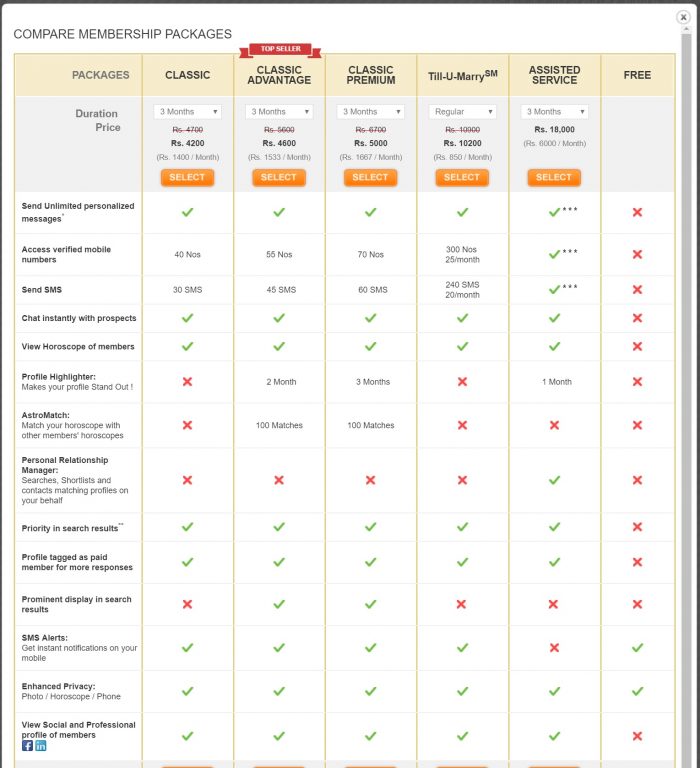 1. Classic: While this is the plan with the lowest cost, you will miss out on profile highlighter, AstroMatch, and prominent display in search results. These features are available in the more pricier plans.
2. Classic Advantage: This is the plan Bharat Matrimony wants you to go for and they claim this to be their "Top Seller". However, we recommend you go for the Classic Premium plan as the benefits you get are significantly more for a small incremental price. If you choose this plan, consider choosing the 6-month plan instead of the 3-month plan as the price per month is significantly lower.
3. Classic Premium: This is our recommended pick if you believe you are convinced about Bharat Matrimony and want to take a plunge with their premier plans.
4. Till-U-Marry: This membership plan is deceptively named. If you think you can pay a one time fee till you get married, that's not the case. This is a yearly plan with a limit of 100 personalized messages per day. The fees are payable once every year. The only people who should probably go for this option are those who believe they are extremely picky about who they want to marry and don't mind spending the better of the day contacting prospective matches!
All the Classic Packages are available for a 6-month duration as well. When you are signing up for a premium membership for the first time, there is no logical reason why you should sign up for the 6-month plan.
You should assume that you will find a match within 90 days. Of course, you can go for the 6-month plan if you are really not sure about your chances of finding someone within 3-months.
Personalised Package
There is only one membership option under Personalised Package and it's called the Assisted Service. This is a "white-glove" service and comes at a hefty fee. There is a 3-month and a 6-month plan to choose from.
Bharat Matrimony will assign a relationship manager who will do all the work for you and set up meetings with prospective matches as well. In summary, Bharat Matrimony will assign a person who will act your personal marriage broker.
Should you go for the Assisted Service?
If you fall in any one of the below categories, Assisted Service may be relevant for you:
1. You are a parent and don't know how to use Bharat Matrimony to search or contact matches online.
2. You don't have the time to go through search results and send interests.
3. You have a lot of money to throw around and are used to having a small army of people to run errands for you.
Other then these reasons, there is really nothing special a relationship manager can do that you cannot do on your own.
Read this next