Why should you create a Shaadi.com profile?
Shaadi.com is a leading online matrimonial website for Indians worldwide. Having a Shaadi.com profile is seen as a commonsense step that young people are expected to take if they plan on going through an arranged marriage. In fact, "Shaadi profile" is synonymous with an online marriage profile irrespective of the matrimony site you choose to sign up for!
Here is why creating a Shaadi.com profile can be of immense help to find your match.
1. Shaadi.com has one of the largest databases of men and women (over 35 Million users) looking to get married.
2. Shaadi.com is one of the earliest entrants in the online matchmaking industry and most people are familiar with it.
3. Shaadi.com's large database of users is helpful if you are looking for matches within a specific community, caste or region.
4. Even their free subscription option allows you to create your matrimonial profile, express interest, and get responses from interested parties.
If your family and friend's circle is limited and you are not in a position to find prospective matches through your family, signing up for Shaadi.com is a no-brainer.

Before you read further. Watch this short video to find out common mistakes to avoid in matrimony sites.
Essential Steps to create your Shaadi.com profile
Once you have made up your mind about creating a Shaadi.com profile, it's time to swing into action to create your profile.
This is the most exciting part of the journey in finding someone who you will eventually get married to. However, if you do not pay attention to the following steps, you will hurt your chances of finding your match.
Step 1: Create your free Shaadi.com account
Creating a free shaadi.com account is very easy. Just follow these steps.
Visit Shaadi.com and fill out basic information to identify yourself and your objective (Example: man looking for a woman and the age group and belonging to a specific religion and mother tongue).
Fill out your email address, create a password, and indicate if you are creating a Shaadi.com profile for yourself or for someone else.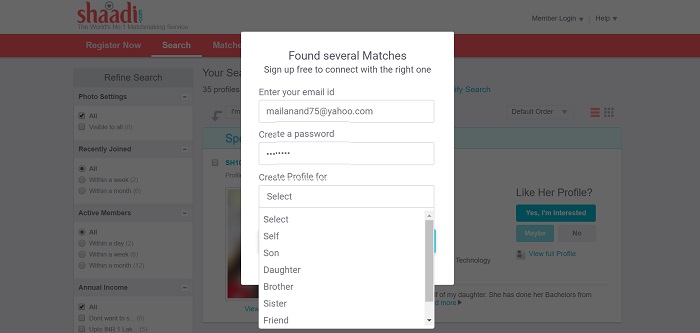 Finally, indicate your, name, location and date of birth to sign up.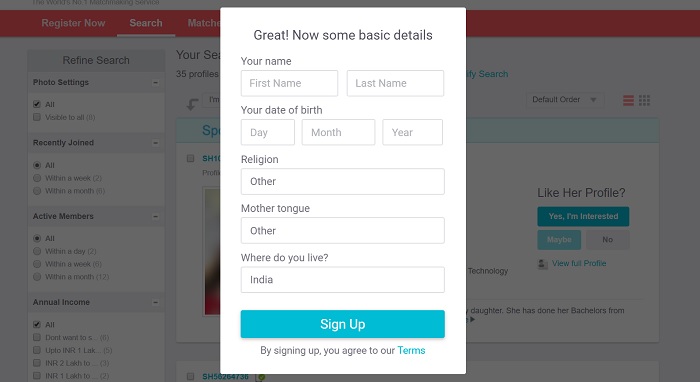 Once this is done, you will receive a welcome email. Save this email so you can access all important information for managing your Shaadi.com account later.
Step 2: Navigating the Shaadi.com profile builder
Immediately after your account is created, Shaadi.com takes you straight to a guided profile builder.
In the first page, you are asked to indicate where you live, your marital status (never married, widowed, divorced, awaiting divorced, annulled) and your community as well as subcommunity. This is where you can choose caste no bar if you are not keen on community-based matches.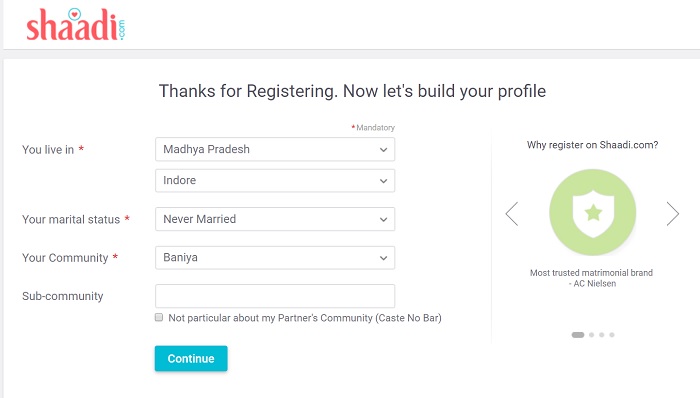 In the next screen, you will be asked to add details about your education and profession. Indicating your income level is mandatory as Shaadi.com uses your income level as a key matchmaking parameter.
However, you have the option to hide your income range if you don't want to disclose this information to people visiting your Shaadi.com profile.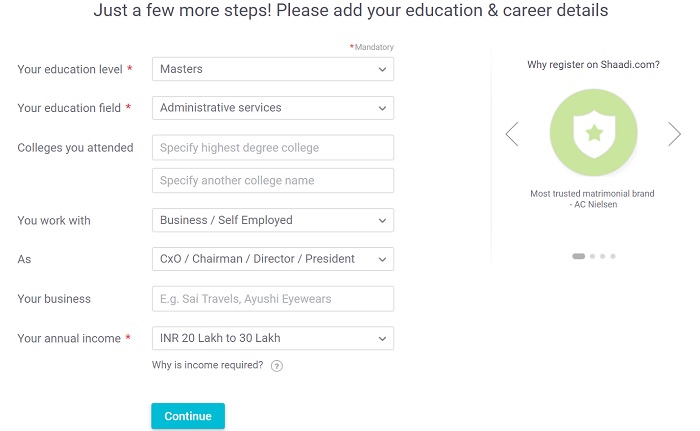 Finally, you will be asked details about your food habits, habits (smoking, drinking), height, body type, skin tone, and mobile number.
Your mobile number needs to be verified by punching in the code that Shaadi.com will send to your phone number. This is a mandatory step and all Shaadi.com profiles (including free registrations) require a valid phone number.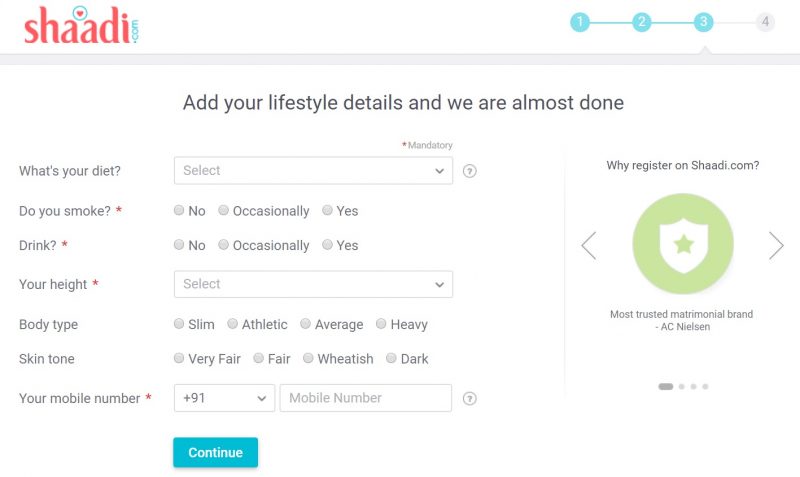 Shaadi.com requires you to verify your phone number to make sure its members are not creating fake profiles. While this is a good practice, members can still create a fake profile. After all, only the person creating the profile knows the truth.
Finally, you are asked to describe yourself for your Shaadi.com profile. They have a couple of options to help you complete this task.
Option 1: Write something on your own along the lines of the example content already provided. Make sure you write down the sample content seen on the screen because it will go away if you click on the text field!
Option 2: Use their nifty tool to come up with a write-up by answering addition one-word answers to describe your background. We will explain this option in more detail later.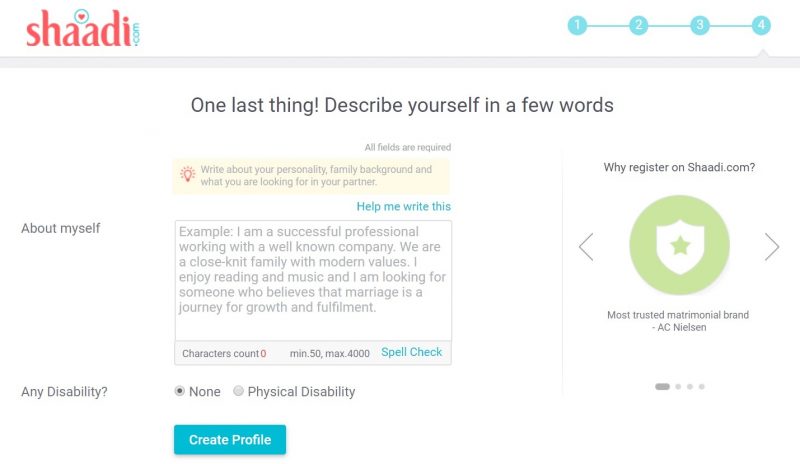 That's it. Creating a free account and a basic Shaadi.com profile is as easy as eating a warm gulab jamun in one go. It's all designed to be user-friendly and you can't make a mistake.
However, most people stop with the above steps and pray that by magic their soulmate will find them on Shaadi.
This is a big mistake. Read more to maximise your chances of getting responses to your Shaadi.com profile.
Understanding basic navigation on Shaadi.com
Before you jump into maximising your chances of finding your soulmate, here is a brief visual guide on how to navigate through your Shaadi.com profile, searches, recommended matches, inbox and privacy controls.
When you log into your account, the default landing page is your dashboard under My Shaadi main menu.
The dashboard provides a comprehensive view of everything you should know! You can see:
Additional information can be added to your profile
Messages sent by other Shaadi.com members
List of members who visited your Shaadi.com profile
Members who might have recently updated their Shaadi.com profiles
Members who are currently available for chat, and a lot more.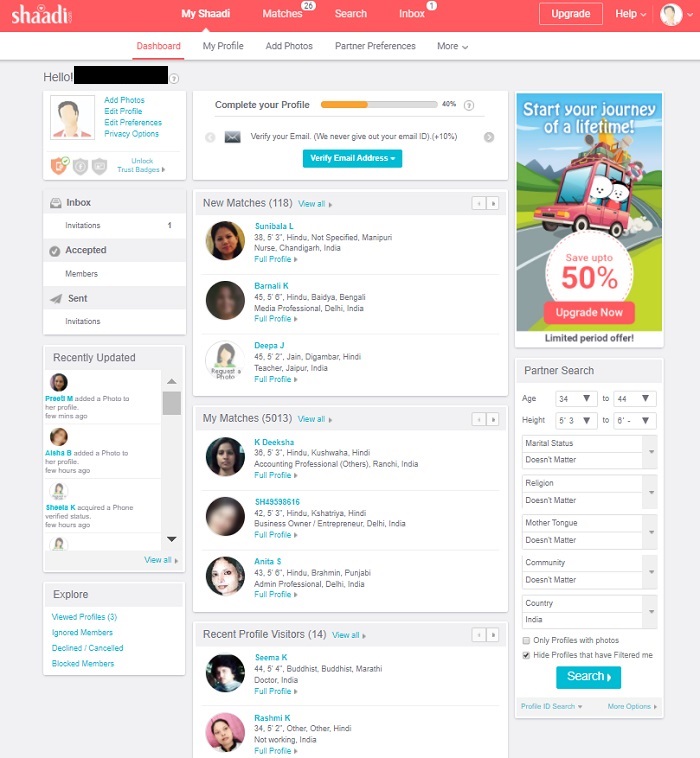 If you navigate to My Profile under My Shaadi, you will see your complete profile with an option to edit any of the sections. You can also add your photographs here or navigate to Add Photos page as it has more options to add your photos.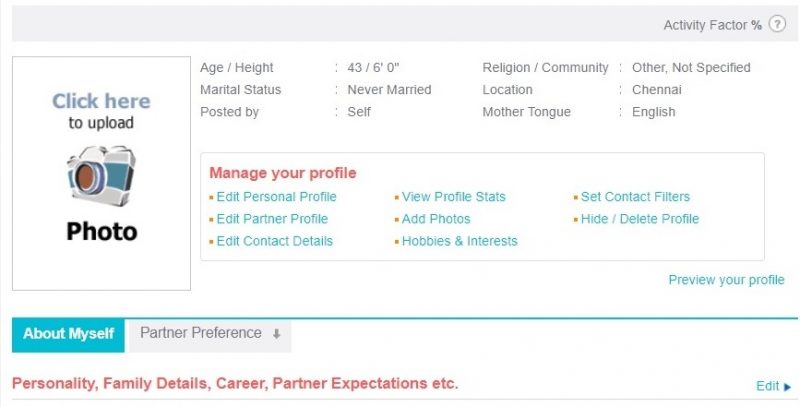 There is another way you can add photos to your Shaadi.com profile and that's through the My Photos page.
My photos is a specialised page for adding up to 20 photographs. You can upload the photos from your Facebook account or from your computer. remember, all the photos are screened by Shaadi before it goes live.
This page also allows you to make the photo visible only to people you have expressed interest in or have accepted an invitation to connect along with premium members of Shaadi.com.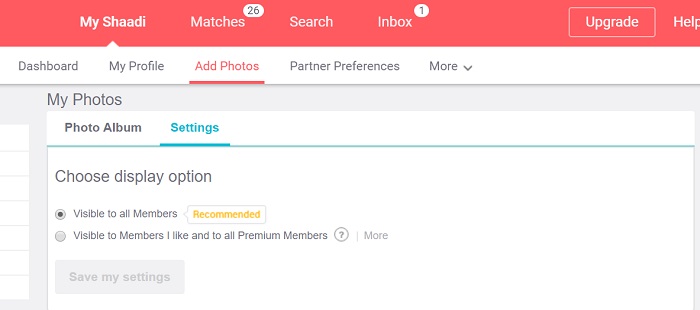 The detailed partner preferences page is where you can specify all your expectations. This information is used for matchmaking and hence it is very important that you take the time to provide all the information.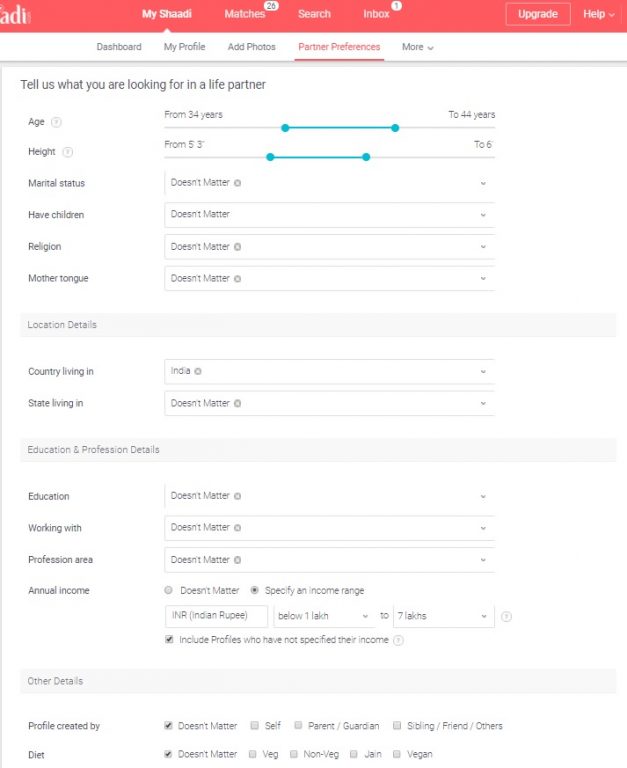 That's not all, you have other advanced options as well available under My Shaadi. These include options to change your contact settings, track all your purchases, change your privacy settings, and view the activity feed of your potential matches. Some of these features are explained in-depth below.
Under Matches, you have 6 types of matches:
Recommended
Preferred
Discover (this is just a summary of members who recently viewed your Shaadi.com profile members who match your requirements and recently upgraded to a premium membership status and recently joined members),
Broader (members who may be a match but not as closely aligned to your preferences)
Reverse (members whose partner preferences match your profile)
2-way (profiles where both of you match each other based on partner preferences).
Finally, Shaadi.com has extensive search features.
In addition to basic and advanced search features, you also have the option to look at members who are available for chat and members who may have a physical handicap or HIV+, called "Special Cases".
Shaadi.com also allows you to save your search criteria and you can create 5 separate search combinations and save them under "Saved Searches".

Now, that you have an understanding of how to create your Shaadi.com, it's time to maximise your benefits of being a member of Shaadi.com.



Let's review our advanced steps and tips.
7 tips to get more and better responses on Shaadi.com
Once your free account is created on Shaadi.com and your Shaadi.com profile is up and running, do the following things to make the best out of your profile.
Remember, no pain, no gain!
#1 Adding a proper profile photograph
Shaadi.com will remind you several times to add your profile photo if you choose not to add your photograph. Before you add your photograph, make sure your photograph(s) follow the guidelines provided by Shaadi.com.
A blurred or side profile is not accepted.
Group photos are a big NO.
Photos that show you drinking or smoking may also be rejected.
Last but not least, obscene photographs or uploading some random celebrity photo can cause termination of your account.
Once you upload your photos, it is reviewed at the backend by the Shaadi.com team before approval.
Remember, adding a photograph is a key requirement if your goal is to get the best possible responses for your Shaadi.com profile. In fact, Shaadi.com claims that your chances of getting a positive response or more invitation to connect with other members go up dramatically if you add a proper photograph.
But what exactly is a proper profile photograph?
Here are some tips you can follow:
1. Get the help of a professional photographer or a photo studio to take a properly lit profile photo against a white background.
2. Aim for at least 4 different profile photos. One of them should be straightforward, while others could be in a natural setting with your face clearly visible and preferably without shades (sunglasses).
3. Men and women should approach profile photos differently. Women should consider using the S pose while men should use camera angles that are in line or above their eye level.
4. Women shouldn't try to tuck their chin in and men should avoid the folded hand with a tilted head pose.
5. if you are taking photos in an outdoor setting, pick a cloudy day. Diffused light is always better than direct sunlight.
For more in-depth tips, check out our comprehensive blog post on 17 tips to help you take an awesome matrimonial profile photograph.
The bottom line is adding a profile photograph helps make any matchmaking platform offer a better user experience for all its users. Also, if you are serious about getting married, nobody is going to say yes to you without looking at your photo.
#2 The right way to create Shaadi.com profile description
Remember, we highlighted two options for writing about yourself in the profile builder screen? Let's look at both the options and understand what works better.
The first option is to describe in your own words who you are, what you do, your personality and lifestyle.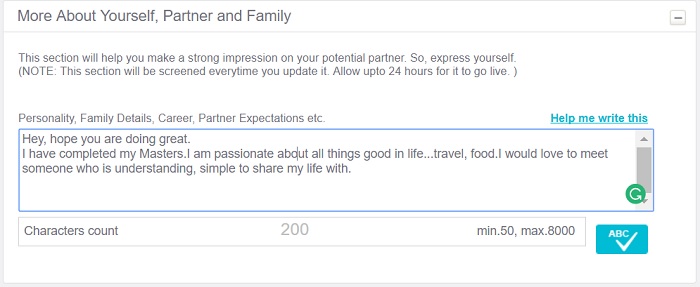 This is a difficult approach but helps you create your own identity and stand out from the rest of the crowd. After all, you don't want your Shaadi.com profile to read like just about every other profile on Shaadi.com!
Follow this template to write about yourself.
Vital Stats – height, weight, body type etc.
Where you work and what you do for a living.
Your passion/hobbies. Please be specific. If you love movies, indicate what type of movies and probably your favourite movie of all.
Your personality and your personal goals.
A couple of lines about your immediate family, what they do and your family values.
Any other important fact that you would like to disclose (divorced, health condition if any).
Need samples to copy? click here to read realistic about myself samples for matrimony profiles and click here to read samples to describe your family.
Shaadi allows up to 8000 characters to write anything about yourself, your family and your expectations. So why not also use this space to write about your partner expectations?
To write about your expectations, please follow these guidelines:
Describe who you are looking for. Example: College-educated, tall, career-oriented woman.
Describe his or her personality.
Indicate what he/she should be ready to accept. For example, I travel a lot hence she should be able to manage the household independently.
What kind of household is he or she is expected to move into?
Any other deal breakers – Example: He should be a non-smoker. Social drinking is OK.
For realistic partner expectations samples, you can read our comprehensive articles for men and women.
If you are too lazy to write all of the above, you can take the easy way out (which puts you at a serious disadvantage). Just click on the tiny "Edit Profile" link from the top left corner of the dashboard page to get to the edit profile screen and scroll down to the section where you can write about yourself.
Now click on the "help me write this" link to open the profile writer.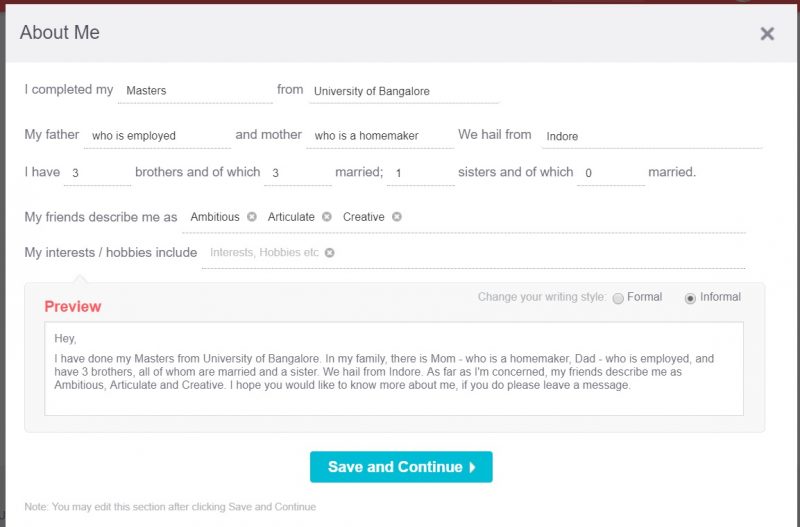 This opens up an automated profile writer which allows you to just fill in the blanks and it will construct a coherent paragraph. You also have the option to switch between a formal language style and an informal tone.
If you are uncomfortable expressing yourself in the English language, you should definitely use the "help me write this" feature. However, this feature limits what you can express and doesn't give you an opportunity to stand out from the thousands of other Shaadi.com profiles.

When you connect with matches on Shaadi.com, you may be asked to share your marriage biodata. Don't just share a Word document, use Jodi Logik to create your biodata for marriage. Choose from our library of biodata formats to pick a template that works for you.

#3 Unlocking all the trust badges
Most matrimonial sites, including Shaadi.com, are aware of the dangers of letting unverified profiles to ruin the user experience for genuine users. Hence, there are checks and balances to ensure that the identity of users are established without doubt.
When you create a Shaadi.com profile, you can establish your identity not only by verifying your cellphone (which is a requirements to create an account), but also by connecting your Shaadi.com profile to your Facebook ID and by submitting any of the Government approved identification cards such as the driver's license, PAN Card, Aadhaar card or Passport.
To enable the trust badges, click on the "Unlock trust badges" from the top left corner of your Dashboard page under My Shaadi.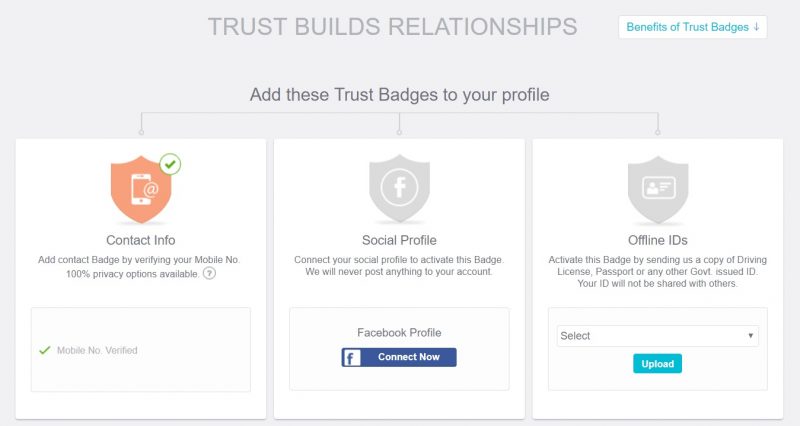 In addition to giving greater credibility to your Shaadi.com profile, earning all the three trust badges qualifies you to be presented to premium members of Shaadi.com who have hired a personal relationship advisor for their search.


#4 Adding family details to your Shaadi.com profile
Considering the fact that a large percentage of Shaadi.com members are actually relatives of the prospective bride or groom, it pays to put in some extra effort to add details about your family. Having a detailed family background can improve your chances of being shortlisted by relatives of prospective matches.
Here is how you can add detailed information about your family background on your Shaadi.com profile.
Click on the edit profile link on the Dashboard from under My Shaadi. In the profile edit page, navigate to the "Family" section. Add all the details shown here.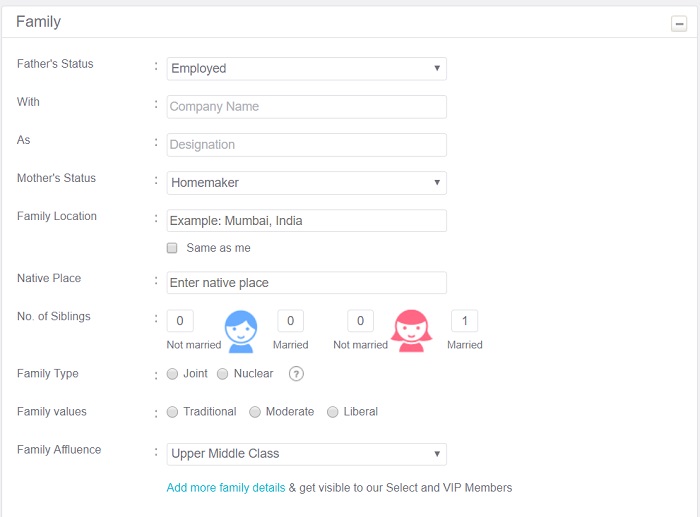 But don't stop here. Go one more step by adding more family details by clicking on the "add more family details" link at the bottom of this section.
Clicking on this link open up another tab on your browser with a detailed form.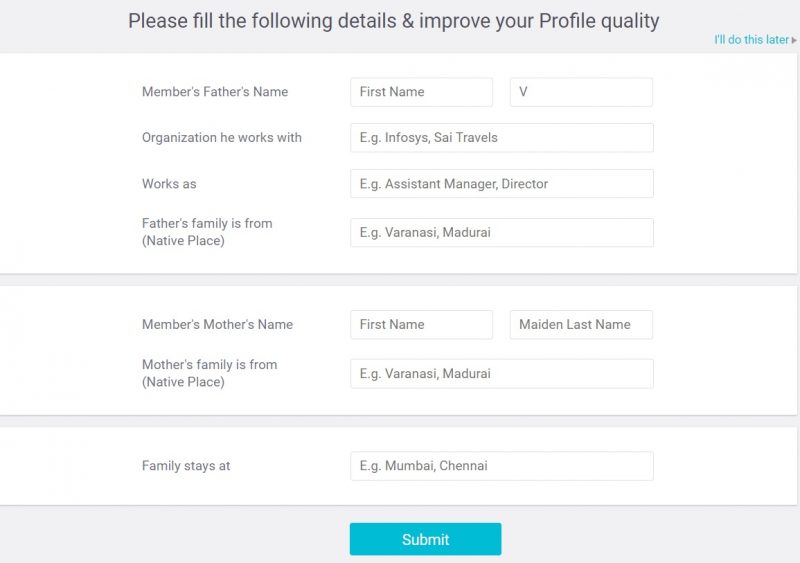 Adding more information about your family qualifies your profile to be matched with VIP members in addition to giving you greate credibility and respect among the relatives of prospective matches.


#5 Making use of powerful search features on Shaadi.com
The search feature in Shaadi.com is worth spending time on as it allows you to have a shortlist of matches who meet your expectations. However, you also need to think about how you are meeting the expectations of the prospective matches if you would like to improve the chances of getting a possible response.
To effectively search for matching Shaadi.com profiles who are most likely to respond to you is to make one fundamental decision:
Would you like to appeal to parents and relatives of the prospective bride or groom or would you rather have direct interaction with a prospective groom or bride who is managing their account?
The way you write about yourself and your expectations should be different based on your decision!
Let's take a look at a couple of Shaadi.com profile examples to understand the differences above.
Here is a profile written to appeal to parents/relatives of prospective matches.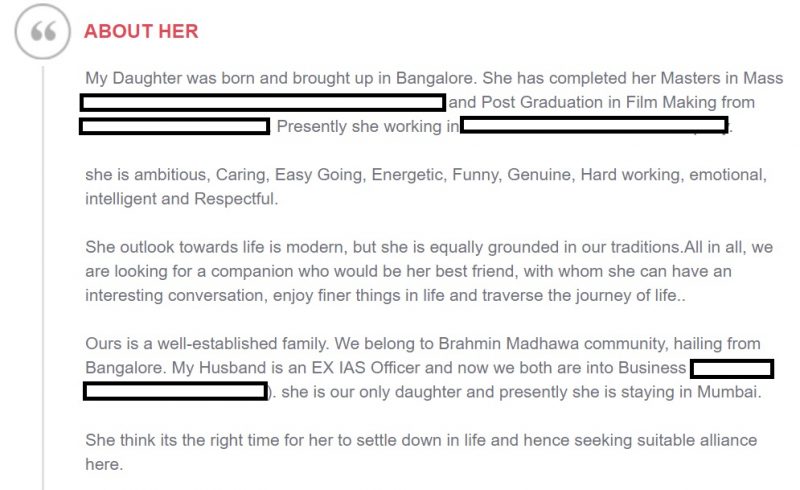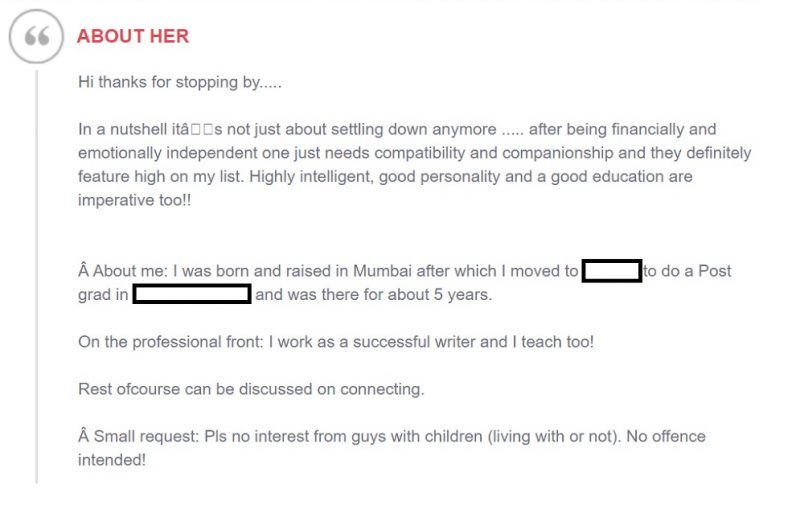 And here is a Shaadi.com profile written to appeal to individuals who are active on Shaadi.com.
Now you may also wonder, what if want to appeal to both?
The answer is "possibly yes"! You can appeal to parents as well as individual users of Shaadi.com provided the individual users to have the same expectation as most parents do.
Understanding basic search features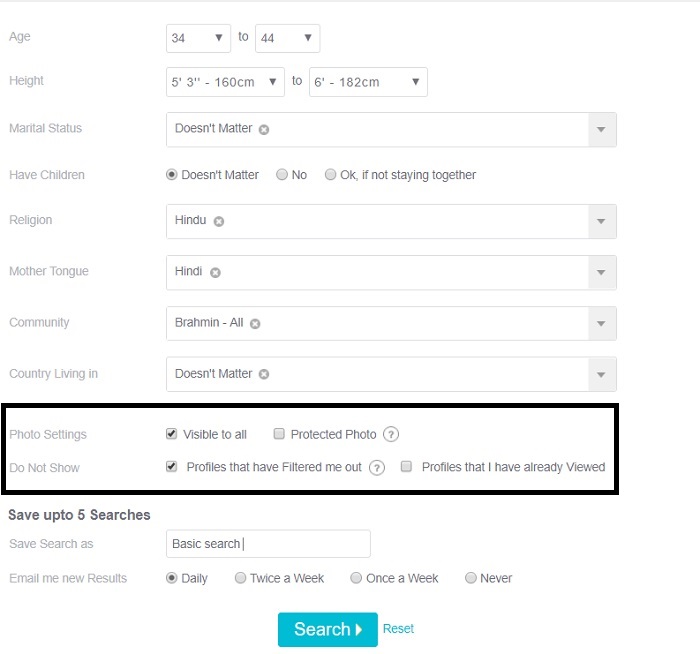 We recommend you start with the basic search feature on Shaadi.com.
When using basic search, please member to keep the "profiles that have filtered me out" checked as you don't want to waste your time reviewing profiles of people who are not interested in you.
Add details only if you think they are deal-breakers. For others, leave it as "doesn't matter".
Here is an example of a deal-breaker. If you are very particular about marrying someone from a specific religion, indicate it. For some us "Country living in" may not matter and can be marked as "doesn't matter."
The idea of using the basic search on Shaadi.com is to have a broad shortlist of matches that will help you decide if you even need to use the advanced search features!
Also, set the photo settings to "visible to all" so you can make up your mind before you send an invitation to connect with a shortlisted match.
Use the saved search feature by adding a name to your basic search. In addition to keeping the search parameters intact, the saved search feature allows you to get emails of new Shaadi.com profiles that qualify for the search parameters.
Advanced search feature
If basic search feature doesn't yield you profiles that interest you, use the advanced search feature which allows you greater flexibility in finding prospective matches.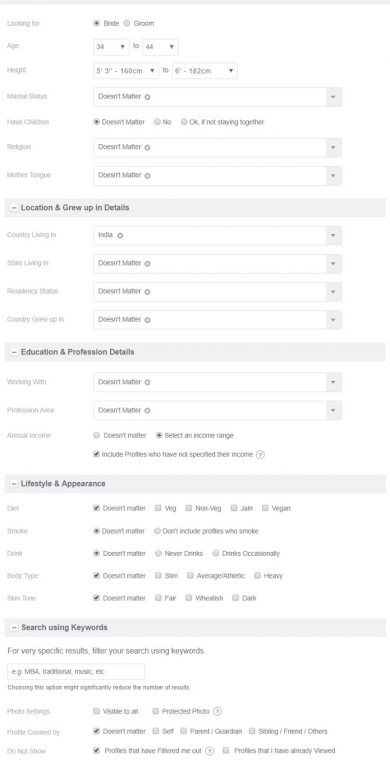 When you use the advanced search feature, you have the option to set preferences for basic details, location details, education & profession details, lifestyle, keywords.
Create 4 different advanced search settings using "Save search as" by choosing search parameters in the following sections
1. location details.
2. education and profession section.
3. Lifestyle or keywords section (use one not both).
4. Create a search combination that uses all of the above.
In summary, you will now have the options to start interacting with profiles you may shortlist from the different search combinations and figure out which combination is yielding you better matches.
Do not forget to select one of the "Profile created by" checkboxes so that you can find matches who are more likely to respond to your request to connect.
#6 Leverage premium features
If you would like to view photographs all the Shaadi.com profiles, including those that are hidden by the profile owner, and you would like to chat online or get contact information of matching Shaadi.com profiles, you should certainly upgrade from the free membership to any of the premium membership options available.
Here is a comparison chart of the various additional features that you can unlock when you upgrade your membership.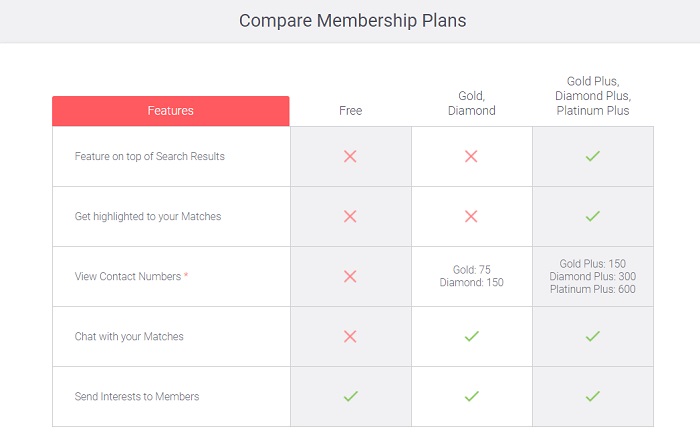 Remember – Gold Plus, Diamond Plus and Platinum Plus memberships will give you two additional benefits. Your profile gets to the top of the search results if it is included in any other member's search results and your profile is highlighted to prospective matches as a Shaadi.com recommended profile.
Also, there are limits to how many contact information details you can unlock depending on the membership you choose.
Shaadi.com offers the personalised membership plans that include access to all the premium features along with a relationship advisor who will help you pick the right matches.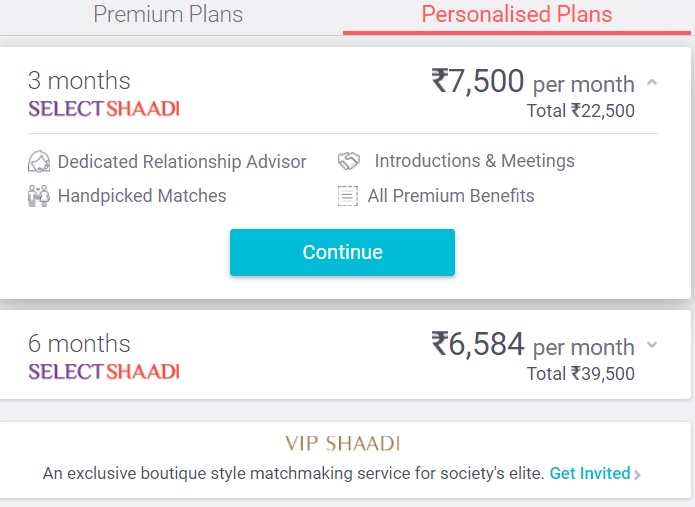 We will recommend premium features only if you are in a hurry and want to find a suitable match quickly. You should definitely try using the free membership option first before choosing to upgrade.
Also, Shaadi.com offers discounts and special pricing to free members. So wait for the price reduction before upgrading.
The real question you should be asking yourself is would upgrading to premium membership help you?
Just answer yes or no to the below questions:
1. Are you in a hurry to find your match?
2. Is your profile complete and you have photographs uploaded?
3. Do you see a large number of matching profiles and finding it difficult to shortlist?
If the answer is yes to all the three questions above, a premium will help you as increase your chances of getting shortlisted and get more inbound messages.
#7 Know the privacy settings of your Shaadi.com profile
Last but not least, you should definitely learn to use your privacy settings to have a better experience in using Shaadi.com and avoid hurting your chances by mistake.
To access your privacy settings, visit your dashboard by clicking on My Shaadi on the top of the page. From the dashboard screen, click on the "Privacy Options" link on the top left corner of the page.
Here are a few tips you can use.
1. In the privacy options screen, always keep the phone settings as "Visible to all Premium Members". This will make sure interested parties (who are premium members) can call you.
2. Keep annual income as "Visible to all members" as it will make sure people who shortlist you have considered this information as well. Note that Annual income is a mandatory matchmaking criterion used by Shaadi.com
3. Keep visitor setting as "Let other members know that you have visited their profile". When this setting is chosen, every Shaadi.com profile that you visit is notified about you and the chances of them looking at your profile are probably helpful to you as well.
4. For shortlist setting, our recommended choice will be "Let other members know that I have shortlisted their profile." This is similar o the visitor setting except that you are sending out a message to the other party that they are on your shortlist. Showing positive intent is good for improving your response rates.
5. Keep your profile privacy to "Visible to all, including unregistered visitors (Photo and name will not be visible on profile)." This will allow people who do not have a Shaadi account to view basic details about you without login or having to create an account on Shaadi.com.
Bonus Tip – How to delete Shaadi.com account
There are two options to remove your Shaadi.com profile. A temporary "Hide" option is available to hide your profile from other members and a permanent "Delete" option to remove your Shaadi.com profile for good.
Click on the profile icon in the top right corner of the Dashboard page and click on "Account Settings".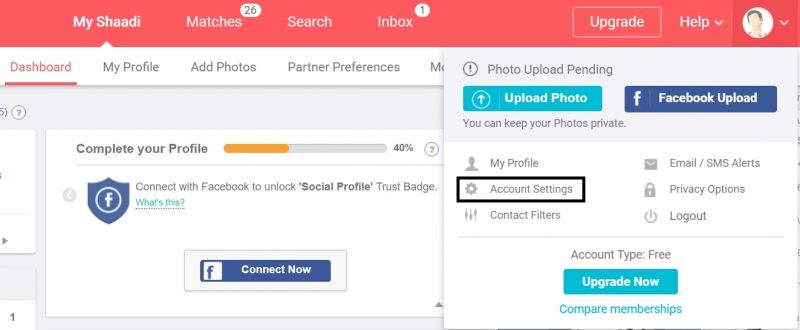 In the Account settings page, you have the hide and delete options to choose from.

The hide option is very useful if you are in conversation with a prospective match and you believe marriage is imminent but not finalised. Once your search for a bride or groom on Shaadi.com is successful, you can delete your Shaadi account.
Read this next