The significance of the Hindu marriage biodata format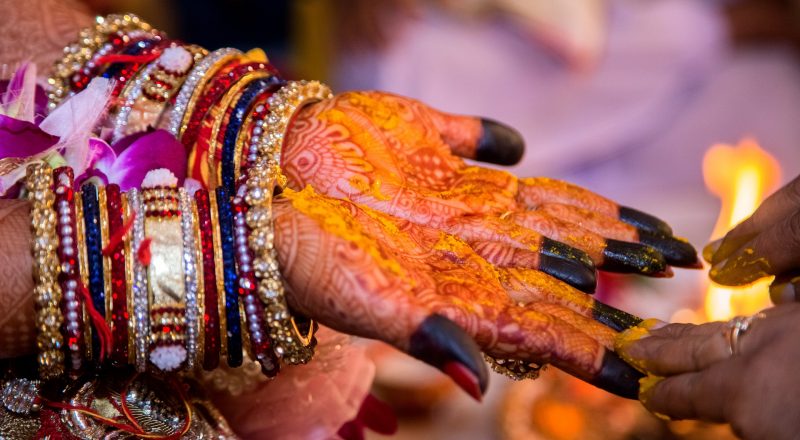 The Hindu marriage biodata format is an important document that helps Hindus transition from Brahmacharya (being a bachelor) to a Grihastha (householder). This transition is part of age-based lifestyle changes that followers of Hinduism are expected to go through.
Hindu marriages are not just a sacred union of two people but a coming together of two families. The Hindu marriage biodata format is hence seen as a reflection of the status of the family and the background of the boy or the girl. Families take immense pride in showcasing their lifestyle and the expectations they have for their boy or girl.
What makes the Hindu marriage biodata format unique?
There are several unique features of a Hindu marriage biodata format.
1. Most Hindu marriage biodata formats have a symbol or icon that denotes the religious as well as the auspiciousness of the journey they have undertaken to find a bride or a bridegroom. Hence there is usually a symbol of Ganesha, Swastika or in some cases, the name of the primary deity. For example, if the family is a devotee of Vaishno Devi, they may begin the marriage biodata with "Jai Mata Di" which is a popular chant among the devotees.
2. Unlike Christianity, where an association with the Chruch plays a central role in finding suitable alliances (matches), Hindus find matches within the boundaries of their caste or sub-caste. For example, a Brahmin Iyer family in South India will give first preference to girls/boys from other Brahmin Iyer families. Sometimes, when suitable matches from within the sub-caste are hard to come by because of late marriage or in the case of high net-worth individuals or highly qualified individuals, families may show flexibility with the sub-caste.
3. Horoscope matching or astrological match is yet another unique feature in Hindu marriage biodata formats. In some cases, all the data from the boy or the girl's horoscope chart (that's prepared by the family's astrologer) is included as a separate document along with the marriage biodata. The marriage biodata format may still contain some basic data from the horoscope for immediate qualification (such as the date and time of birth, gothra, and birth star).
4. In several communities (such as the Maheshwaris or Rajputs) a detailed description of the family background is also included in the biodata for marriage. The names and the backgrounds of the paternal as well as maternal grandparents, aunts, uncles along with their profession and location is included. Names and professions of the siblings along with the names and professions of their spouses and number of children in their families are all called out in some cases.
Our handcrafted Hindu marriage biodata templates
The process of creating the Hindu marriage biodata template started with summarising the understanding of the Hindu religion visually. This involved creating a mood board that captured the colours, iconography, textures, art, the architecture of the Hindu religion.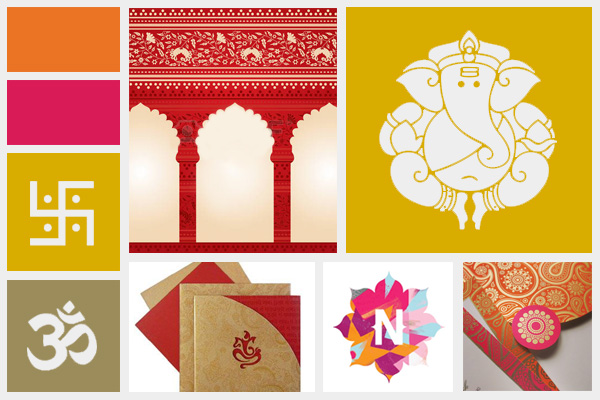 We wanted to use rich colours such as orange and magenta for creating a festive mood. The orange colour also depicts marigold flower which is always present in the Hindu weddings. Different shades of pink, red and magenta were used to create harmony and balance.
Here is the Hindu biodata format we created.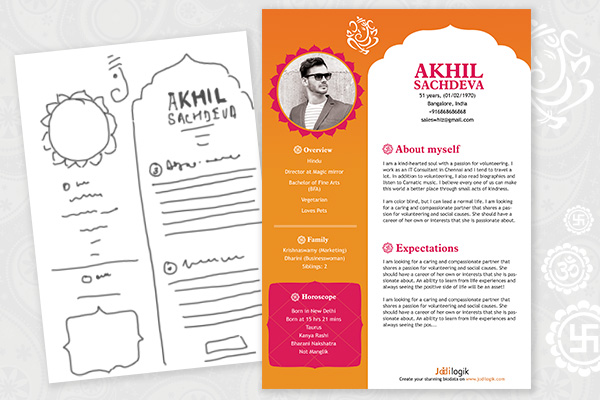 The white area showing the arch is inspired by Rajput architecture. The Hindu temple design follows a geometrical design called Vastu-Purusha-Mandala, hence the mandala around the profile picture. Symmetry is shown through the arches which also depict the grand entrances to ancient temples. Critical information like birth time, moon sign, sun sign are visually depicted in form of Janampatri (Indian horoscope).
We also created a 2-page biodata for marriage format as well that includes additional mandala patterns and a page number indicator in the footer. This format provides generous space for including details about your family members.
Sample Hindu marriage biodata format for boy
This is a sample marriage biodata for a Hindu boy who is from a conservative, middle-class background.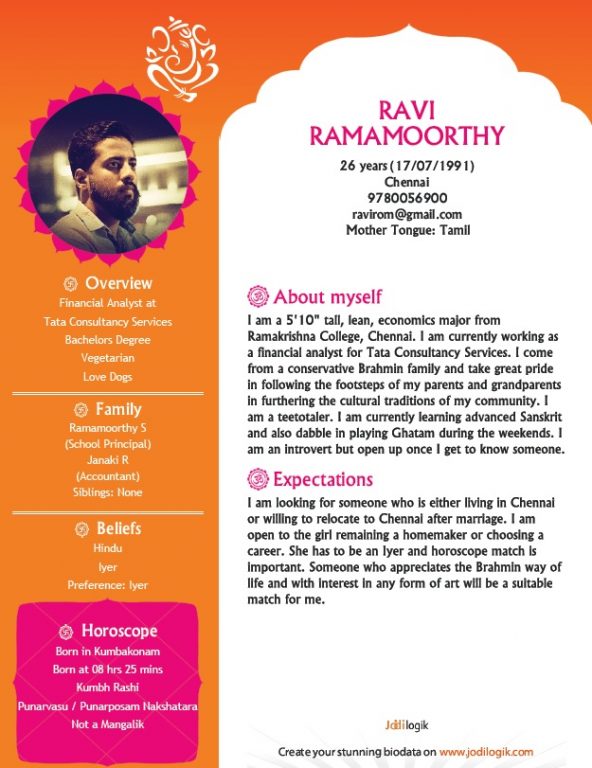 About Myself – Copy & Use
I am a 5'10" tall, lean, economics major from Ramakrishna College, Chennai. I am currently working as a financial consultant for Tata Consultancy Services.
I come from a conservative Brahmin family and take great pride in following the footsteps of my parents and grandparents in furthering the cultural traditions of my community. I am a teetotaler.
I am currently learning advanced Sanskrit and also dabble in playing Ghatam during the weekends. I am an introvert but open up once I get to know someone.
Expectations – Copy & Use
I am looking for someone who is either living in Chennai or willing to relocate to Chennai after marriage. I am open to the girl remaining a homemaker or choosing a career. She has to be an Iyer and horoscope match is important. Someone who appreciates the Brahmin way of life and with interest in any form of art will be a suitable match for me.
Detailed Hindu Marriage Biodata Format (Male)
Some Hindus, especially those in North India, prefer to include additional details about the extended family in their marriage biodata.
Here is a 2-page, detailed sample biodata format of a boy.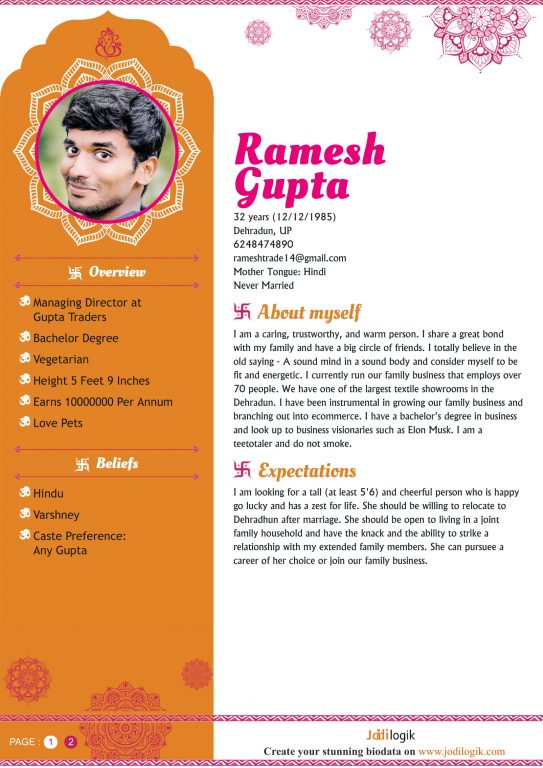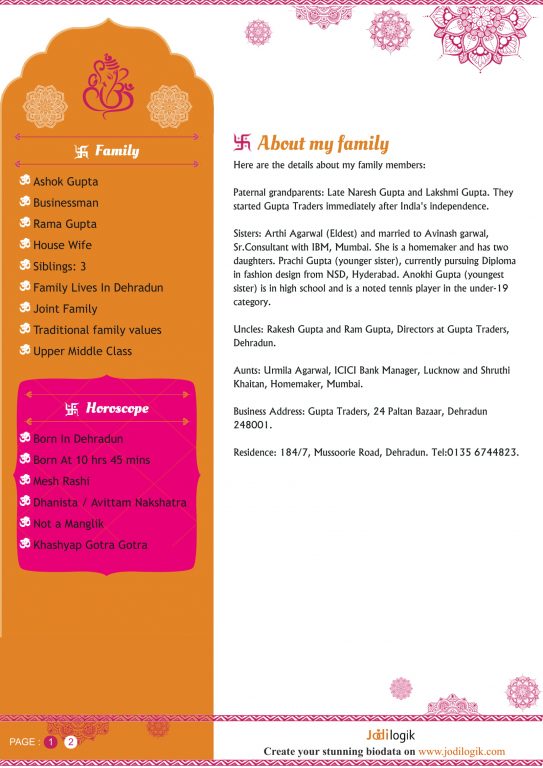 About Myself – Copy & Use
I am a caring, trustworthy, and warm person. I share a great bond with my family and have a big circle of friends. I totally believe in the old saying – "A sound mind in a sound body" and consider myself to be fit and energetic.
I currently run our family business that employs over 70 people. We have one of the largest textile showrooms in the Dehradun. I have been instrumental in growing our family business and branching out into e-commerce.
I have a bachelor's degree in business and look up to business visionaries such as Elon Musk. I am a teetotaler and do not smoke.
Expectations – Copy & Use
I am looking for a tall (at least 5'6) and cheerful person who is happy go lucky and has a zest for life. She should be willing to relocate to Dehradun after marriage. She should be open to living in a joint family household and have the knack and the ability to strike a relationship with my extended family members. She can pursue a career of her choice or join our family business.
About Family – Copy & Use
Here are the details about my family members:
Paternal grandparents: Late Naresh Gupta and Lakshmi Gupta. They started Gupta Traders immediately after India's independence.
Sisters: Arthi Agarwal (Eldest) and married to Avinash Agarwal, Sr. Consultant with IBM, Mumbai. She is a homemaker and has two daughters. Prachi Gupta (younger sister), currently pursuing Diploma in fashion design from NSD, Hyderabad. Anokhi Gupta (youngest sister) is in high school and is a noted tennis player in the under-19 category.
Uncles: Rakesh Gupta and Ram Gupta, Directors at Gupta Traders, Dehradun.
Aunts: Urmila Agarwal, ICICI Bank Manager, Lucknow and Shruthi Khaitan, Homemaker, Mumbai.
Business Address: Gupta Traders, 24 Paltan Bazaar, Dehradun 248001.
Residence: 184/7, Mussoorie Road, Dehradun. Tel:0135 6744823.

Watch this short video to learn about simple tips that can get you more responses for your marriage biodata.

Sample Hindu marriage biodata format for girl
Here is a sample biodata of a Yadav girl who has just completed her degree.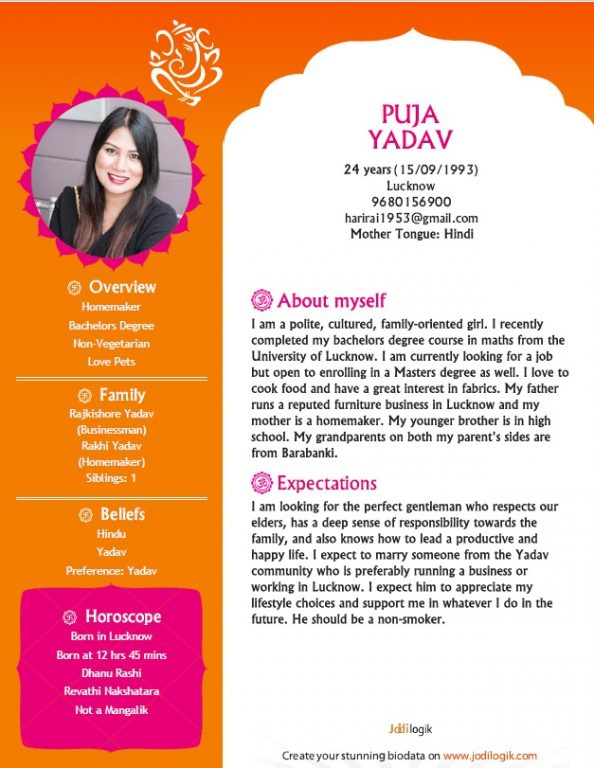 About Myself – Copy & Use
I am a polite, cultured, family-oriented girl. I recently completed my bachelor's degree course in maths at the University of Lucknow. I am currently looking for a job but open to enrolling in a Masters degree as well. I love to cook food and have a great interest in fabrics. My father runs a reputed furniture business in Lucknow and my mother is a homemaker. My younger brother is in high school. My grandparents on both my parent's sides are from Barabanki.
Expectations – Copy & Use
I am looking for the perfect gentleman who respects our elders, has a deep sense of responsibility towards the family, and also knows how to lead a productive and happy life. I expect to marry someone from the Yadav community who is preferably running a business or working in Lucknow. I expect him to appreciate my lifestyle choices and support me in whatever I do in the future. He should be a non-smoker.
Detailed Hindu marriage biodata format sample (Women)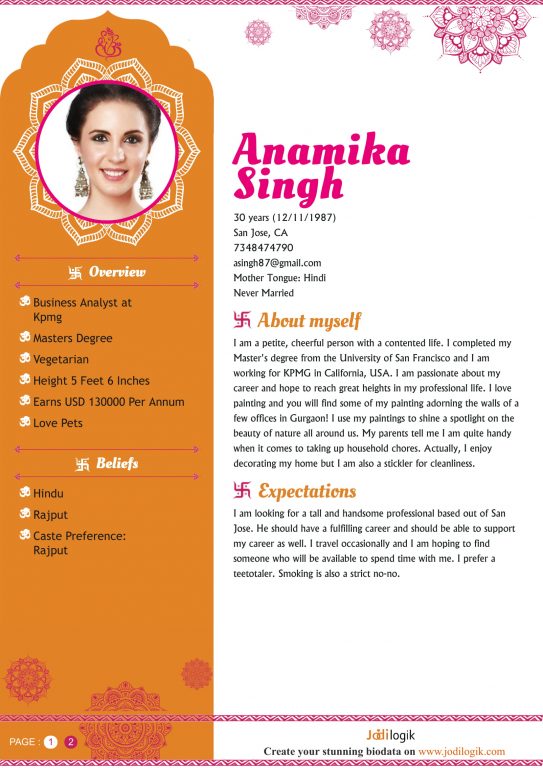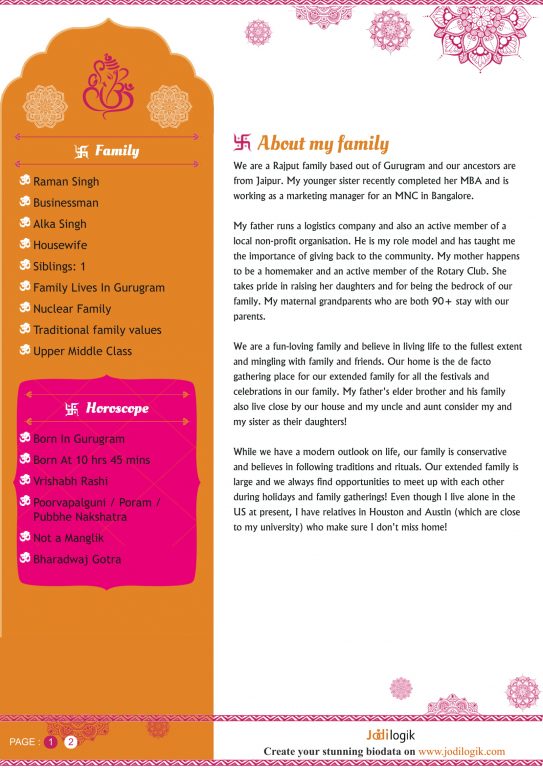 In this sample, instead of just listing the names and the professions of the extended family, you will find that there is a realistic description of the girl's relationship with family members. This will give any prospective match a glimpse of the girl's attitude towards her family members.
About Myself – Copy & Use
I am a petite, cheerful person with a contented life. I completed my Master's degree from the University of San Francisco and I am working for KPMG in California, USA.
I am passionate about my career and hope to reach great heights in my professional life. I love painting and you will find some of my painting adorning the walls of a few offices in Gurgaon! I use my paintings to shine a spotlight on the beauty of nature all around us.
My parents tell me I am quite handy when it comes to taking up household chores. Actually, I enjoy decorating my home but I am also a stickler for cleanliness.
Expectations – Copy & Use
I am looking for a tall and handsome professional based out of San Jose. He should have a fulfilling career and should be able to support my career as well. I travel occasionally and I am hoping to find someone who will be available to spend time with me. I prefer a teetotaler. Smoking is also a strict no-no.
About Family – Copy & Use
We are a Rajput family based out of Gurugram and our ancestors are from Jaipur. My younger sister recently completed her MBA and is working as a marketing manager for an MNC in Bangalore.
My father runs a logistics company and also an active member of a local non-profit organisation. He is my role model and has taught me the importance of giving back to the community. My mother happens to be a homemaker and an active member of the Rotary Club. She takes pride in raising her daughters and for being the bedrock of our family. My maternal grandparents who are both 90+ stay with our parents.
We are a fun-loving family and believe in living life to the fullest extent and mingling with family and friends. Our home is the de facto gathering place for our extended family for all the festivals and celebrations in our family. My father's elder brother and his family also live close by our house and my uncle and aunt consider me and my sister as their daughters!
While we have a modern outlook on life, our family is conservative and believes in following traditions and rituals. Our extended family is large and we always find opportunities to meet up with each other during holidays and family gatherings! Even though I live alone in the US at present, I have relatives in Houston and Austin (which are close to my university) who make sure I don't miss home!
Would you like to download the biodata format for Hindu marriage like the samples above in PDF format? Here is how you can get the same Hindu marriage biodata template.
Click here to sign up for Jodi Logik.
Once you login to your account, click on PRINT BIODATA button.
Select the Hindu template or any other template you like.
Add your information and preview.
Make a payment and download your stunning biodata in PDF format.
Note: The content for sample profiles is meant for personal use only and cannot be used for any commercial purpose or by any organisation that stands to profit from it directly or indirectly in any form. All template designs belong to Jodi Logik. They are meant to be used by customers of Jodi Logik and cannot be used for commercial purposes.
Hindu Marriage Biodata in Word Format (FREE)
Are you looking for a free Hindu marriage biodata in Word format that you can download and customise?
We created a simple biodata format that in Microsoft Word that you can download for free.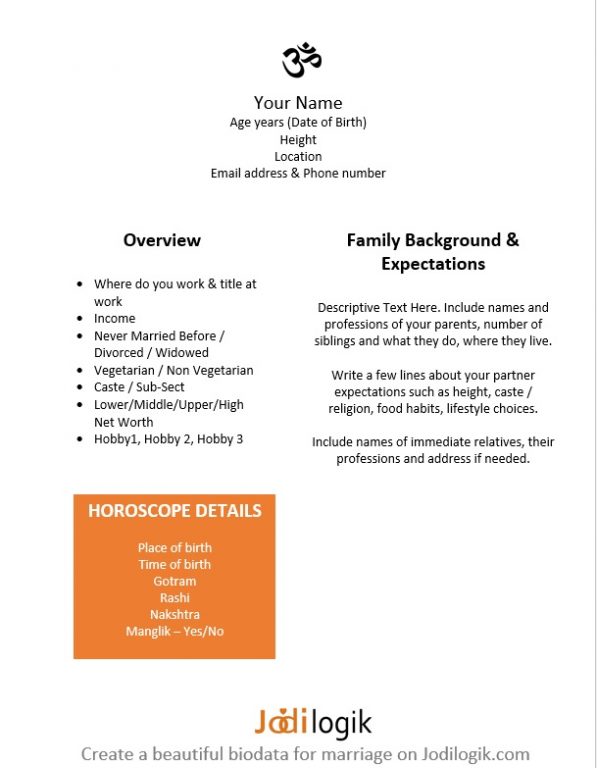 Hindu marriage biodata format – download Word document.
Do you have suggestions on additional information you would like to see in a Hindu marriage biodata format? Email us with your feedback at info[at]jodilogik[.]com.
Read this next
Do you need more marriage biodata samples? We came up with nine different samples that you can copy and reuse for your marriage biodata.