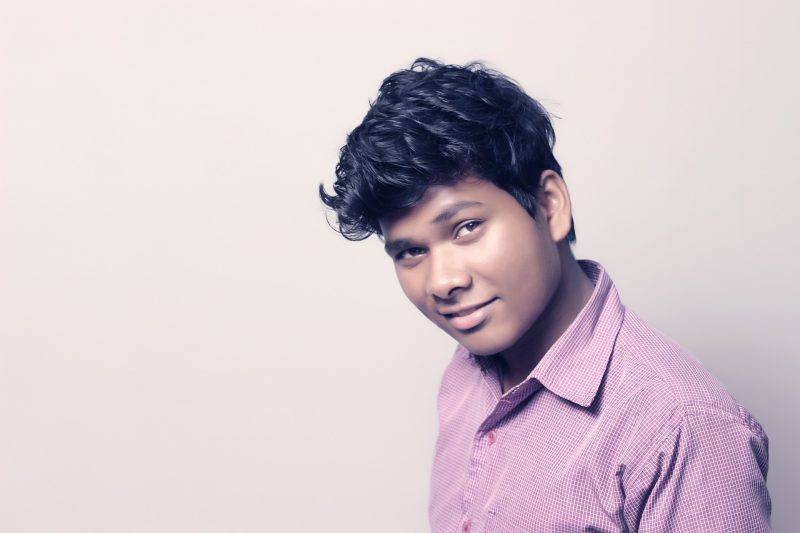 Challenges of writing a handicapped matrimony profile
As per the 2011 census, about 2.21% of the total population of India is disabled. If you consider the disabled population above 20 years of age and below 40 years, there are about 8 million Indians in the marriageable age group who are either married or looking to get married.
Writing a matrimonial profile for handicapped individuals is a challenge.
Here is a profile of a handicapped girl in a matrimony site.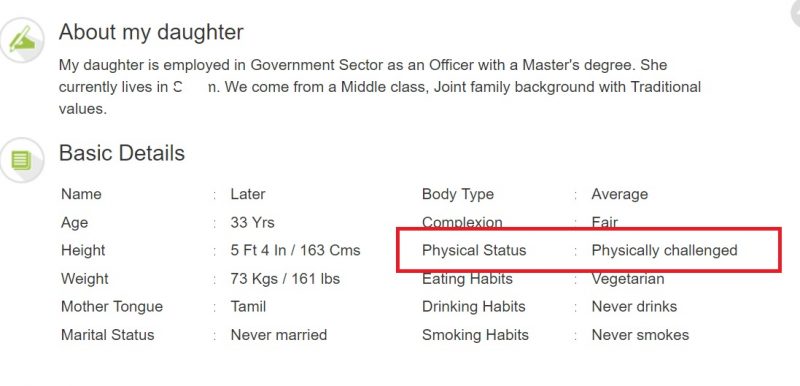 Notice there is no information about the physical disability in the profile description.
Here is another profile of a handicapped bride.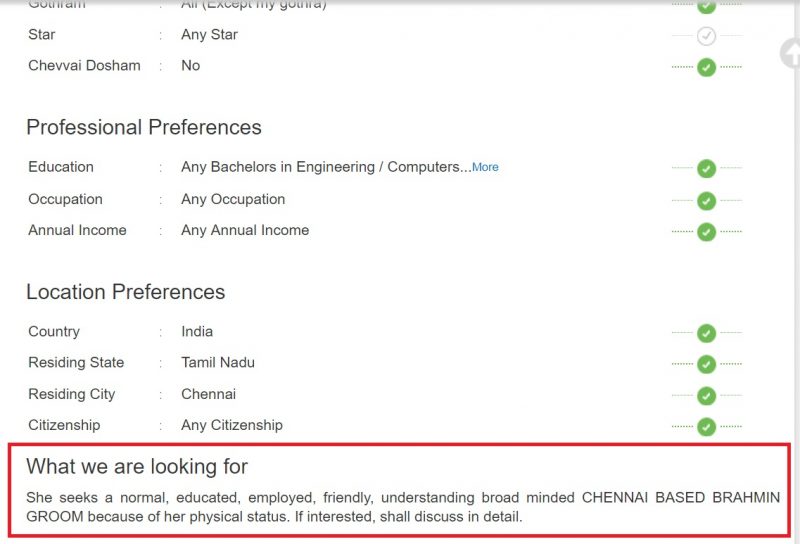 While the profile itself is clear and precise, notice the expectations. The family wants responses from "normal" grooms. In other words, a groom with a disability need not respond.
The two examples show two different issues when writing a profile for a handicapped bride or groom in matrimonial sites.
On one hand, there is a tendency to brush the fact aside and on the other hand, some families don't want their son or daughters to marry a handicapped person.
Broadly, here are some of the issues in writing a profile for a disabled bride or groom.
Challenge 1: Your disability hijacks your personality!
Some handicapped matrimony profiles make the disability the focus of the profile. In an attempt to highlight the disability, they end up completely ignoring the fact that like any human being planning on getting married, the person with a disability has interests, goals, expectations, and dreams.
Challenge 2: Impact of your disability on your lifestyle
Some matrimonial profile includes a technical definition of the disability and pretty much nothing else.
Some of these terms are not commonly understood and you will probably need to research the condition a little more to make sense of what it actually means in terms of lifestyle.
Does the person need a wheelchair, can they drive, or can they walk?
Most matrimony profiles of disabled brides and grooms don't really tell you how the disability affects their lifestyle.
Challenge 3: How to sound reasonable without being desperate?
Disability is seen as a big negative factor in finding a suitable match for handicapped brides and grooms. Some of the profiles in matchmaking sites seem to be devoid of anything other than the fact that the son or the daughter is handicapped and they need someone to look after them and their aged parents!
Here is an example.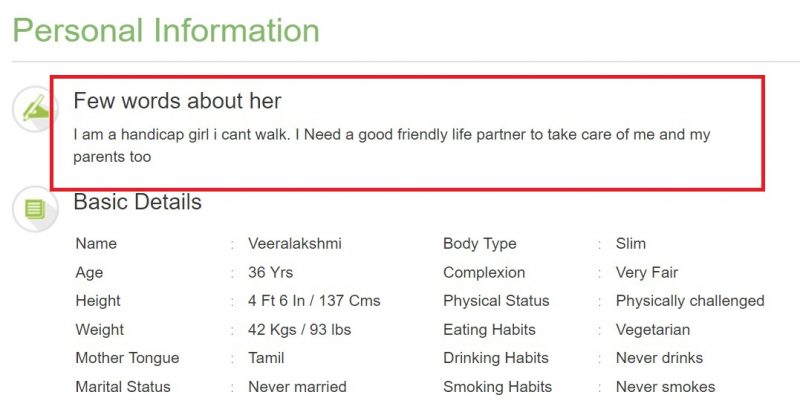 Challenge 4: How to turn a negative into a positive?
While it is advisable to keep the focus of the matrimonial profile description of the lifestyle, personality and the interests of the person, some people just go overboard with making the person with a disability a superhero!
You certainly need to strike a balance between keeping the focus on the individual's personality and stating the facts about the disability.
Here are five sample handicapped matrimony profile descriptions for brides and grooms who have a disability.
1. Profile of a handicapped girl for marriage written by a parent

My daughter is a cheerful, ambitious and smart person who believes this is the right time to find a suitable person to spend her life with. She lost her legs in an accident over a decade ago and wears prosthetic limbs. She is completely mobile and leads a normal life. She has an engineering degree from Anna University and works as a project manager at TCS in Chennai.
My daughter is an active person and believes in keeping herself fit. She hits the gym every day and watches what she eats carefully. Being an extrovert, she loves interacting with people. She will go out of the way to help others and can easily empathise with anyone she meets. She is a big fan of AR Rehman's music and makes it a point to attend his concerts as well.
We belong to an upper-middle-class Mudaliar family based out of Chennai. I am a retired civil servant from the central government tax department. My wife runs a non-profit organisation in Chennai for street children. My younger daughter is doing her graduation course in Chennai. Our extended relatives are all based out of Chennai and the US.
We are looking for a Tamil Mudaliar boy who is around 30 years of age. He should be well educated, professionally successful with clean habits and a healthy lifestyle. Of course, he should have the maturity to appreciate our daughter for who she is. My daughter is very particular about pursuing her career after marriage. The location shouldn't be a constraint as she can easily get a transfer but she prefers someone who lives in a major city in India.

2. Profile of a handicapped groom written by a parent

My son is 5'6″ tall, 32 years old, a good-looking person with a big smile and a big heart. He has a bachelor's degree in commerce and an MBA from Symbiosis, Pune. He is working as a branch manager at ICICI Bank, Pune. He had polio when he was a toddler and this has left him with a limp.
We belong to a middle-class, orthodox Brahmin family based out of Allahabad in UP. My husband was working as a school teacher and he passed away a few years after our son was born. I started working as an accountant for a private firm to support my son and continue to remain employed even now. I share a special bond with my son and together we have rebuilt our lives.
My son values education a lot as it really helped him overcome the many challenges he faced. He has a deep sense of commitment to family and friends. He is a very responsible individual and is always committed to anything he takes up. When he gets a chance, he loves cooking traditional food items at home and watches movies. He hopes to find a loving person who appreciates honesty, the virtue of leading a simple life, and values culture. He is a strict vegetarian and doesn't drink or smoke.

Matrimony profile of a hearing-impaired girl

I am 32 years old, 5'6″ tall, a soft-spoken, down-to-earth person born and brought up in Mumbai. I completed my Master's degree in Visual Arts from Mumbai University and I am currently running my own online business that offers customised artwork.
I come from a middle-class Marathi Hindu family. My father is a retired engineer from a private company and my mother is a homemaker. My parents dedicated their lives to make sure I get a proper education and the ability to communicate clearly. They gave me the freedom and the opportunity to express my creative side through art and I owe my current success as an entrepreneur to their unwavering support. I don't have any siblings.
I am very happy about my accomplishments and proud of the fact that I never let my hearing disability come in the way of my professional and personal life. I am a foodie and love to cook as well. I have a special place in my heart (should I say stomach?) for Thai cuisine. I enjoy watching Hollywood action movies and a big fan of Tom Cruise. I also teach arts at a school for hearing-impaired children.
I am looking for someone in the 30 to 35 years age group who is mature, understanding and progressive. Caste is not a consideration and you are welcome to respond if you have a disability or have a hearing impairment.

4. Profile of a physically challenged girl for marriage
Hello, thank you for reading my profile. I am a 29-year-old, 5'4″ tall career-oriented girl based out of Hyderabad. After completing my bachelor's degree in arts, I started working for a Startup as one of its founding members and continue to work for the same company.
I was diagnosed with arthrogryposis at birth. This condition has limited my range of motion. Other than running, I can pretty much do everything else without any assistance and I lead a completely independent life.
I come from a middle-class Telugu Reddy family. My father is working as a consultant for Hyderabad Metro and my mother is a homemaker. I have an elder brother who is married and settled in Bangalore. My younger sister is in her first year of B.Com at a local college. We are a close-knit family and support each other in everything we do. We are a progressive family and don't believe in following rituals
When I was a child, my physical limitations did not allow me to actively play with other children. So I ended up spending a lot of time reading books. Even now, I am a big fan of books ranging from fiction to biographies. I also enjoy Tollywood movies and music when I get a chance. I am a social drinker and do not smoke.
My ideal match will be someone who is based out of Hyderabad in my age group with a good educational background with decent career prospects. I plan to continue working after marriage and cannot relocate to any other place. Religion and caste are not important. The only thing that really matters is the willingness to commit to a relationship, a positive frame of mind, progressive thoughts and sincerity.

5. Matrimonial profile of an autistic groom

I have reached a point in my life where I believe it is the right time to get married. Coming from a forward-looking, enlightened family of lawyers, I am probably the odd woman out 🙂 I am a 35-year-old professional baker who runs a small pastry shop in Delhi. It's just me and my assistant and we built our business just by word of mouth.
I have an autism spectrum disorder (ASD). What does this mean? I am intensely introverted, don't easily make eye contact with people and find it extremely difficult to carry on a lengthy conversation. Other than it, I can communicate and lead a normal life. No, I don't have any anti-social behavioural traits and I am perfectly "normal" in my interactions with family, friends, and colleagues. Baking is my world and I am laser-focused on it. In some ways, my condition is a blessing. I am very creative and experiment with baking techniques and pastry recipes. Have won several awards for my work.
I grew up in Delhi and after school enrolled in a local culinary institute. Have never looked back since then and I am very happy with what I have accomplished so far. Other than baking, I read books and listen to Bollywood songs. My parents are the coolest people I have ever known! They understand me well and have given me the tools and the freedom to be successful. Father is a retired Brigadier from the Indian Army and my mother is a School principal. I have an elder brother who is married.
Looking for someone who is neurotypical and understands ASD or someone with ASD. Prefer my age-group and someone who lives in and around Delhi. Everything else can be discussed in person.

How should you write and refer to people with disabilities?
REACH – Resource centre for Independent living, Texas, has listed the proper way people with a disability should be addressed.
Wrong – Afflicted with, affected with, suffering from
Right – Person who has a disability
Wrong – Handicapped, disabled, deaf, retarded
Right – Person who has the name of the disability
Wrong – Confined to a wheelchair, partially blind
Right – Uses a wheelchair, partially sighted
Wrong: Mute
Right: No hearing
Wrong: Normal, able-bodied, healthy
Right: Non-disabled
Wrong: Normal mind
Right: Neurotypical

Want to create a marriage biodata that gets you noticed? Choose from our library of biodata for marriage templates to showcase your personality and interests. Stop using Word documents. Create and download your Jodi Logik biodata.
Read this next