What is a Biodata Format for Marriage?
Biodata format for marriage is a concise document that outlines a brief profile of the man or woman who is interested in getting married through an arranged marriage. This document may include details such as vital statistics (height/body type/skin colour), religion and/or caste, educational qualifications, professional background, family background, contact details along with a summary of partner expectations.

Check out this informative video on how to create an attractive resume for marriage in 3 steps!

---
Marriage biodata format in Word – FREE Download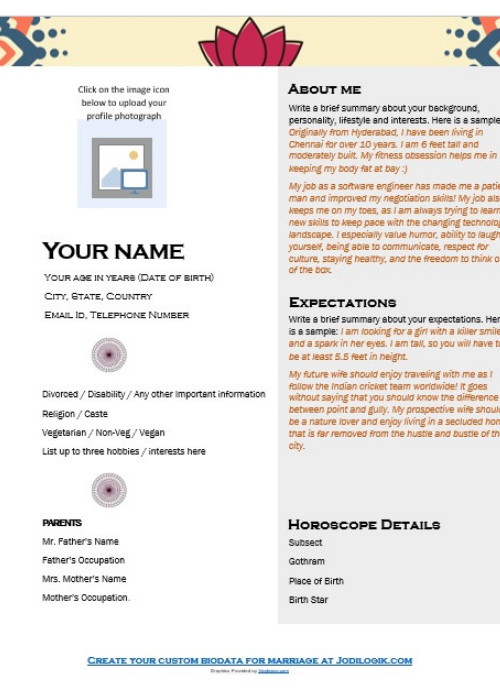 Modern biodata format for marriage in Word – FREE Download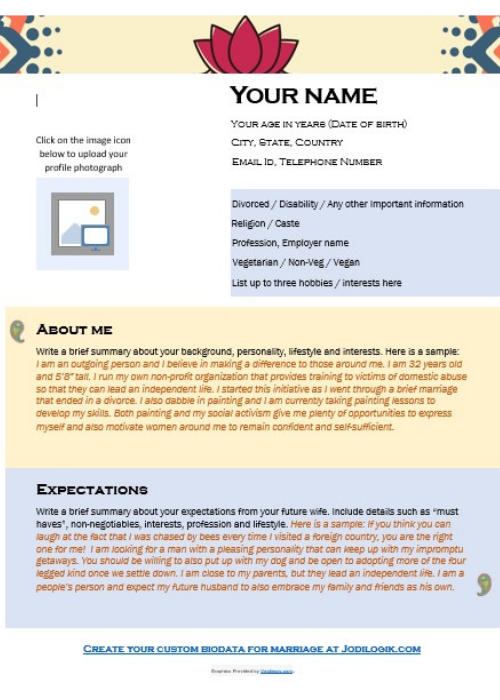 Contemporary marriage biodata Word format – FREE Download
We created a contemporary biodata format in Word that you can download to create your own biodata. Please note that this biodata format is applicable to all religions. The profile photograph is excluded in this biodata format.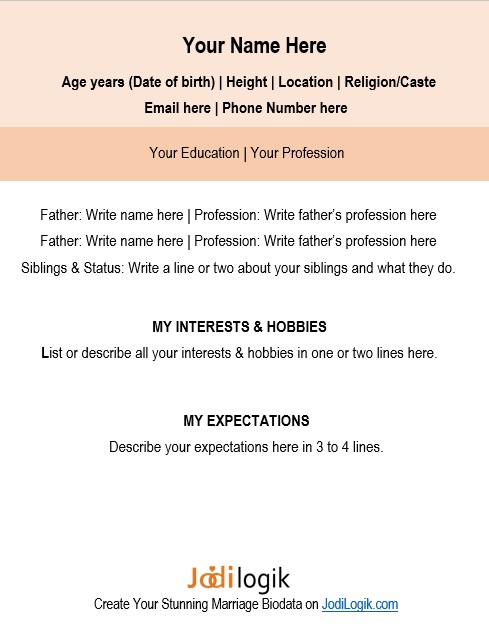 Hindu marriage biodata format in word (With Horoscope) – FREE Download
This Hindu biodata format for marriage is applicable for traditional Hindus who want to include horoscope/Kundli details. This biodata template has no profile photograph.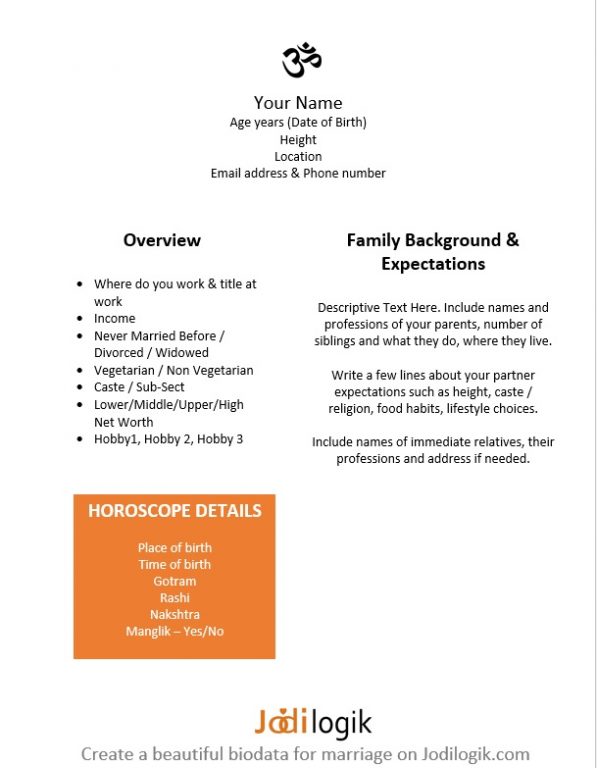 Marriage biodata in word format (No horoscope) – FREE Download
This marriage biodata format is applicable to all religions. This biodata format has no profile photograph.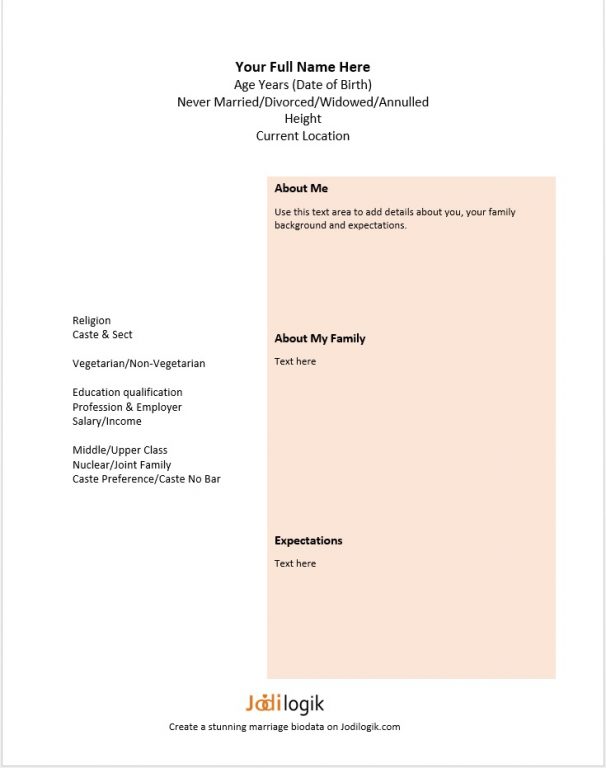 Once you download a biodata format for marriage template, you can click on the relevant sections to fill in the information based on the labels or instructions.
---
Marriage biodata format in PDF
If you want your biodata in PDF format with handcrafted designs to suit your background, consider creating your biodata for marriage online on Jodi Logik and download the biodata as a PDF file.
Jodi Logik marriage biodata formats require a one-time payment for download. However, you get to edit your biodata on Jodi Logik and download the updated PDF file any number of times.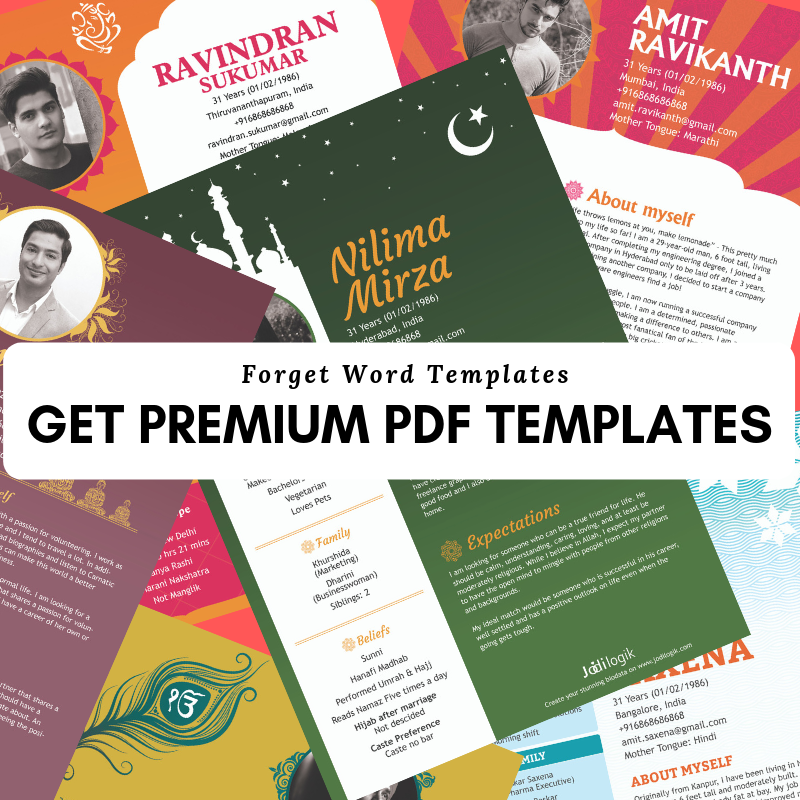 ---
Why is your biodata format for marriage important?
Your biodata for marriage is as important as a job resume. It performs three critical roles:
1. A marriage biodata communicates who you are and your background to a prospective match.
2. It can create a good impression and possibly get you a response.
3. A biodata saves you time and effort in meeting people who may not even meet your basic requirements such as religion, caste, or social status.
Creating a great first impression always gives you an advantage in every walk of life.
You may be attending a job interview, you may be walking into a store, or you may approach a stranger for directions when you are lost, people end up deciding if you are a likable person or not in a fraction of a second.
If you create a good impression, you be treated with respect and you may get what you want. In fact, people will even disregard negative facts to justify their first impression.
That's why your biodata for marriage is very important. After all, you are looking to find someone to get married to and you definitely want to create a good first impression.
In reality, not everyone pays attention to their marriage biodata. Most of them look like a job resume and are devoid of any emotion. They almost appear like a product specification of some lifeless thing sitting in a warehouse!
Why don't most people pay attention to their marriage biodata?
The boy or the girl getting married may not be interested in getting married so the parents end up creating a biodata. Parents may not know how to create an attractive biodata or maybe clueless about their children's personality or expectations.
Most people expect to create their biodata for marriage in the English language. Indians take pride in communicating in English (possibly a colonial legacy) and speaking/writing in English is seen as a sign of sophistication or social status. However, not all of us have the privilege of studying in schools that teach in English. Lack of command over the language hampers some people's ability to express themselves properly through their biodata.
Some of us see marriage as an opportunity to improve social status and gain more wealth or financial security. Hence, the focus of the marriage biodata is mostly on listing vital statistics and a list of expectations.
---
How to write your biodata for marriage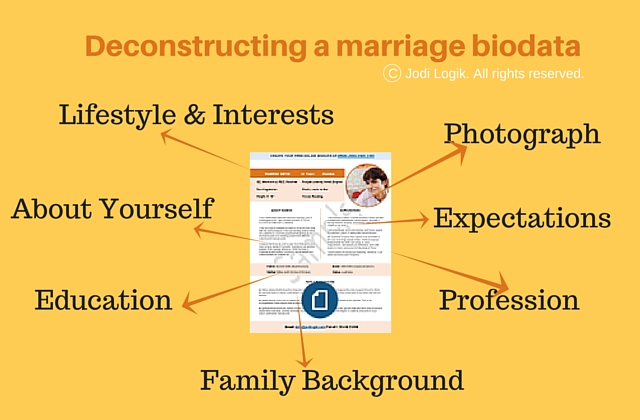 We have lined up 14 tips for coming up with an attractive marriage biodata.
1. Write your biodata in a language you are good at
First, choose a language in which you will create your biodata. Stick to a language that you are comfortable writing in. It's OK to write in your mother tongue. After all, language is a medium for communication as long as the person reading your biodata also knows the language.
2. Include all the basic details needed in a marriage biodata
Include the minimum information people expect to see in a marriage biodata. See the list below.
Name, Age, Date of Birth, Height, Current Location, Religion/Caste, Education, Profession, Food Preference, Names & Professions of Parents, Status of Siblings, Family type (Nuclear/Joint), Family Status (Lower-Class/Middle-Class/Upper-Class), Horoscope Details (if relevant), Expectations from the prospective match, and Contact Details.
3. Choose the right template for biodata for marriage
Yes, there are different ways of presenting yourself through your marriage biodata. This depends on what information you want to project. If you choose the wrong biodata model for marriage, you will end up discounting everything you value.
4. Pay attention to spelling and grammar
Use tools like Grammarly (their free version is good enough) when writing your marriage biodata. Grammar mistakes and spelling errors can get your marriage biodata straight to the trash can.
Jodi Logik offers biodata for marriage in the English language only. However, there are free biodata templates in Word for those who prefer Tamil or Hindi languages.
5. Writing about yourself for marriage
Writing about yourself is probably the most important section in any marriage biodata format. Write about your personality, lifestyle, interests, talents, aspirations, and hobbies to name a few. Listing hobbies in marriage biodata for the sake of listing them is no good. Provide specific examples or details such as the name of your favourite book that you enjoy reading as a hobby.

Watch this video to learn how to write about yourself for marriage biodata in 6 easy steps.

6. About family for marriage biodata
While it is OK to list the names and occupations of your parents, keep in mind that this is your marriage biodata and not a family biodata for marriage! Listing gory details about your parents and grandparents don't really make a difference at this stage of the arranged marriage.

We created 7 different family description samples for your marriage biodata that you can reuse! Click here to read the samples.

Watch this short video if you are a parent creating a matrimonial profile for your son or daughter.
7. Use a proper matrimonial profile photograph
Before you take your profile photo, log onto as many matrimony sites as possible and shortlist the profile photos that you consider attractive.
Now look for cues from these photos such as dress, makeup, hairstyle, the extent of your smile, photo dimensions, the background to name a few.
Try replicating these elements into your photograph.
A study found that a slight tilt of the head and a genuine smile makes your biodata for marriage more attractive!

Read our in-depth article on taking an attractive matrimonial profile photograph. This article has video demonstrations and expert advice you wouldn't want to miss.
Click here
to read the article.
8. Writing about expectations from life partner
Being honest and upfront in expressing expectations through your biodata for marriage is a good way to screen people that don't match your expectations. Please do not list only your dislikes, but don't shy away from listing non-negotiable (such as smoking, drinking habits).
"Interested only in teetotalers and non-smokers."
"I expect my partner to be a vegetarian."
"Horoscope match is required. Please share your horoscope if you are interested."
Here are three examples of descriptive partner expectations for your biodata.
Please use the descriptive partner preference samples below in addition to the basic expectations such as religion/caste, professional/education background, horoscope match, food habits, financial status to name a few. We have excluded the basic details in the sample descriptions below. We have included profile headlines as well.

Looking for a Game of Thrones Fan
The person I have in my mind should be comfortable interacting with people. He should be ready to roll up his sleeves and pitch in with household work when required. I am not a big fan of cats or dogs as pets. I am looking to marry someone who should have likes and interests that he is passionate about and have a positive outlook on life. If he is a GOT fan, it's an added bonus!

No pomp and glitter
I come from a progressive family, and we are not orthodox or religious. Someone who loves Indian traditions and culture yet can have an open mind about other cultures and practices will be a good match. A horoscope match is not required at our end. I am also open to a simple wedding ceremony devoid of all the pomp and glitter.

Clutter-free living
She should be a college-educated Rajput, independent, smart woman who is good-looking and has a great personality. I am looking for someone who can manage the day-to-day challenges on her own. She should be well-groomed and appreciate cleanliness at home. Keeping things organized and clutter-free is very important to me.
Note: The content for sample matrimonial biodata is meant for personal use only and cannot be used for any commercial purpose or by any organisation that stands to profit from it directly or indirectly in any form.

Watch this short video with step-by-step instructions for writing partner expectations.

9. Matrimonial profile headline
If you are wondering what a headline is supposed to mean, it's not actually complicated. When you create your resume for marriage, instead of just writing a couple of paragraphs about yourself, try also including a headline that summarizes who you are.
Here are a couple of examples:
Adventurous and Active Professional
Dancer Who Loves to Cook
The whole point of writing a proper headline for your biodata for marriage is to make the reader stop and read more about you and thereby see your profile photo for a longer duration!
10. Calling out sensitive information
First of all, going through bad relationships and separating is not a crime. It can happen to anyone.
Having a physical handicap is also not something that you can control and you should not be embarrassed about it. In fact, these issues demonstrate your resolve and your ability to face life's challenges and should be projected as such.
Don't try to write anything that will make you sound desperate.
Only in India, phrases such as "innocent divorcee" can be acceptable phrases. This may be true, but your credibility has just taken a beating.
If you are wheelchair-bound, don't insist on marrying only a wheelchair-bound person, unless you have a specific reason for it.
Bonus Tip! Check out these sample profile descriptions for a divorced woman with a child and a handicapped man.
11. Horoscope for marriage matchmaking
if you believe in astrology and a horoscope match, include basic information such as your birth star, sub-sect, gothra, place, and time of birth. A detailed horoscope can be exchanged if there are a preliminary match and interest. Also, call out if you are a Manglik or not.
12. Is it important to include skin colour in your marriage biodata?
While it is OK to include height and body type (lean, medium built, toned to name a few), do not include your skin colour and steer clear of "wheatish complexion" as you are only reinforcing racism and stereotypes! In short, avoid mentioning complexion in marriage biodata. Let your profile photograph speak for itself.
13. Should you mention salary in your marriage biodata?
Steer clear of your salary or your bank balance in your marriage biodata. You don't want prospective matches attaching too much importance to your bank balance and marriages should happen for the right reasons.
14. Write a covering note
When you send your biodata, write a covering note. The covering note should be used even when you are sending your biodata via WhatsApp. You can scroll down to see some samples.
---
Biodata format for Marriage – Examples
Here are some examples of marriage biodata created on the basis of religious background. These templates are available on Jodi Logik for a fee and can be downloaded as PDF files or printed.
The unique aspect of these biodata formats is the emphasis on aesthetics. Jodi Logik hired artists to create these biodata templates by hand and then converted them into downloadable biodata formats.
A lot of thought went into choosing the design elements for every biodata. Every design pattern, symbol, and colour is a representation of the religious and social customs associated with the religion. You can read more about these biodata formats here.
Biodata format for marriage with Kundli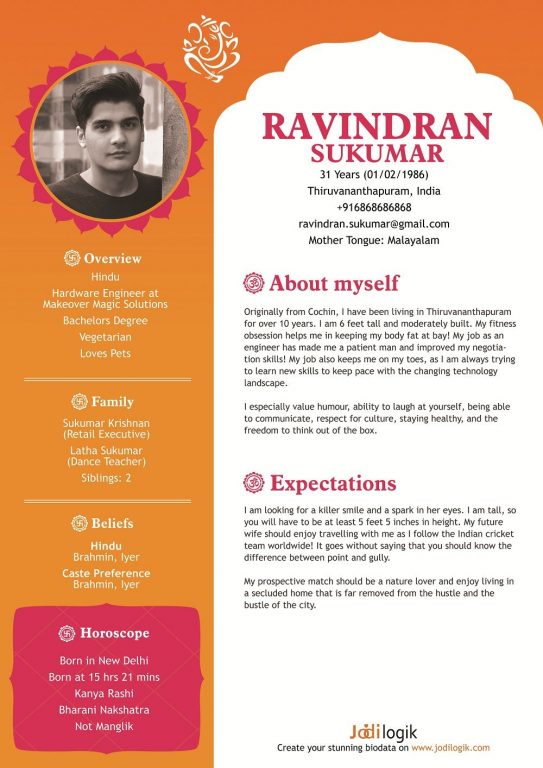 This is a biodata for marriage of a Hindu boy. This biodata format comes with a kundli/horoscope. The Ganesh and Swastika symbols are considered auspicious by Hindus cutting across case/community/regions.
Biodata format for marriage with family details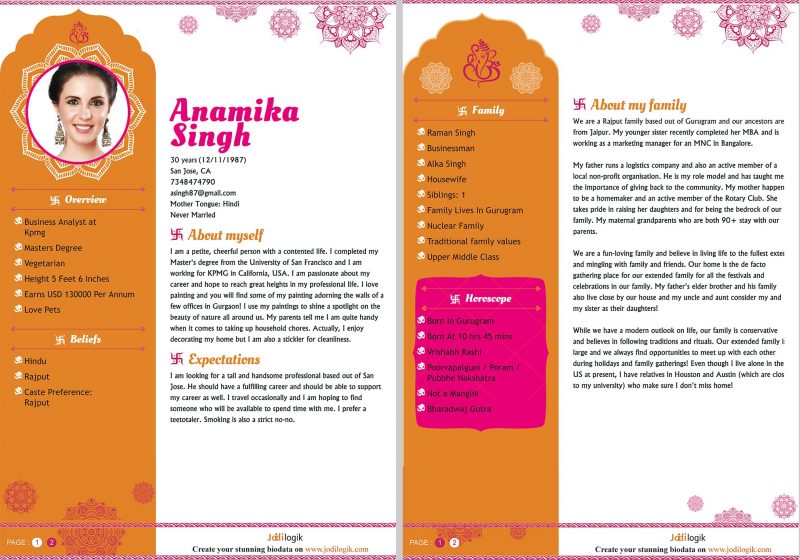 This is a biodata for marriage of a Hindu girl. In addition to the Kundli, this biodata has a second page dedicated to sharing family details. Some people may not add descriptive information about their family and instead add the names and professions of all the aunts and uncles along with the immediate family members.
Biodata format for marriage for a Muslim boy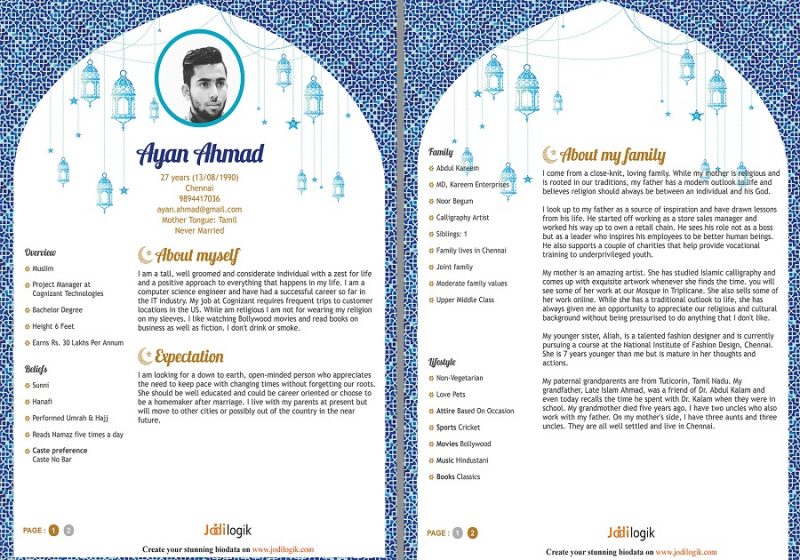 This a detailed biodata of a Muslim boy in a 2-page format. The design of this biodata is inspired by the Blue Mosque of Istanbul and the lanterns commonly seen in the Middle Eastern countries during the month of Ramadan.
Biodata format for marriage for a Muslim girl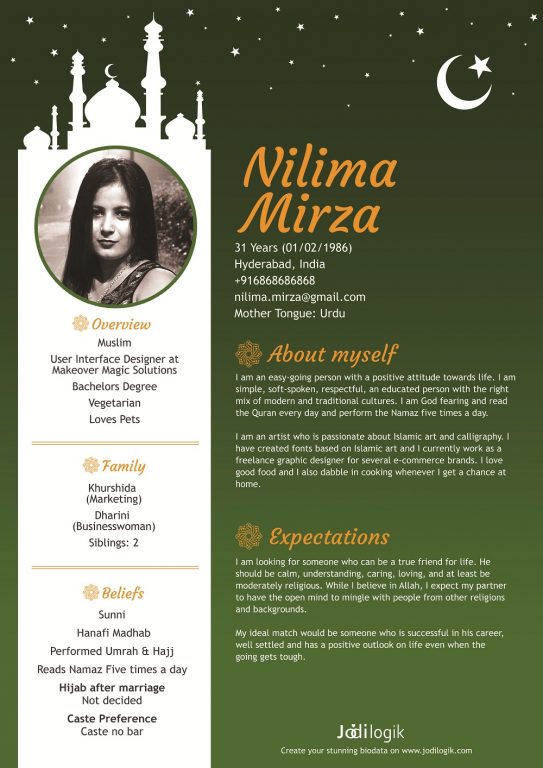 This is a one-page biodata for marriage of a Muslim girl. The design of the biodata includes the use of silhouette of a minaret and the moon and the predominant use of the green colour commonly associated with the religion.
Biodata for marriage designed for Sikh men and women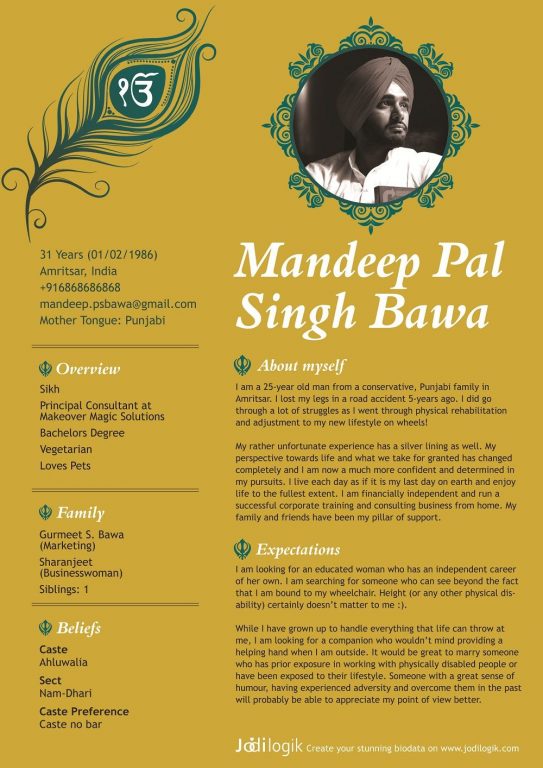 The Sikh biodata format of marriage is inspired by the mustard fields of Punjab. The peacock feather and the Khanda symbol have religious significance in Sikhism and find a place in this biodata template.
Biodata format for the Sindhi community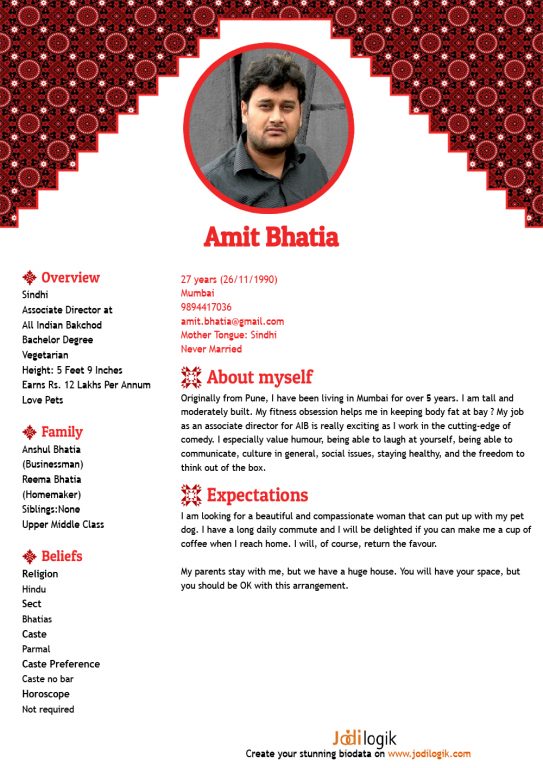 This Sindhi biodata for marriage is inspired by the famous ajrak prints of Sindh in Pakistan. This biodata format is focussed on incorporating a key tradition of the community and does not have a religious significance.
Biodata for marriage for Jains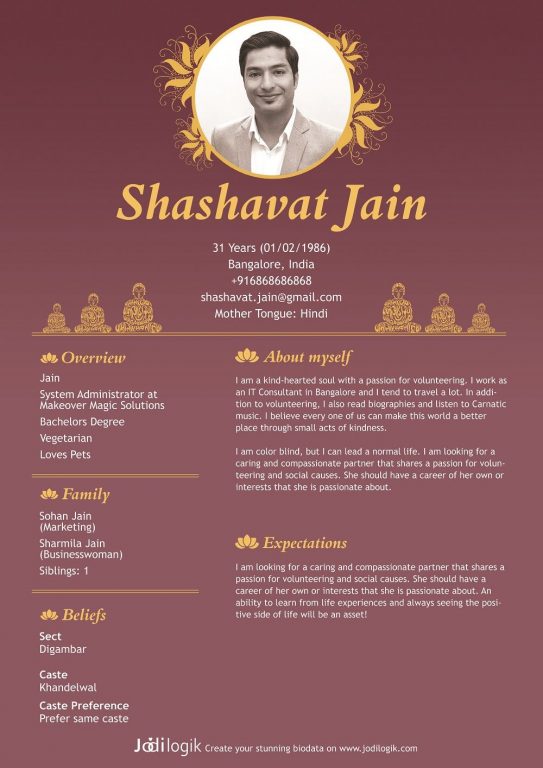 The Jain marriage biodata has religious symbols associated with Jainism and is designed in a 1-page format. If you want a more detailed Jain marriage biodata, you can find it here.
Biodata format for marriage for Christians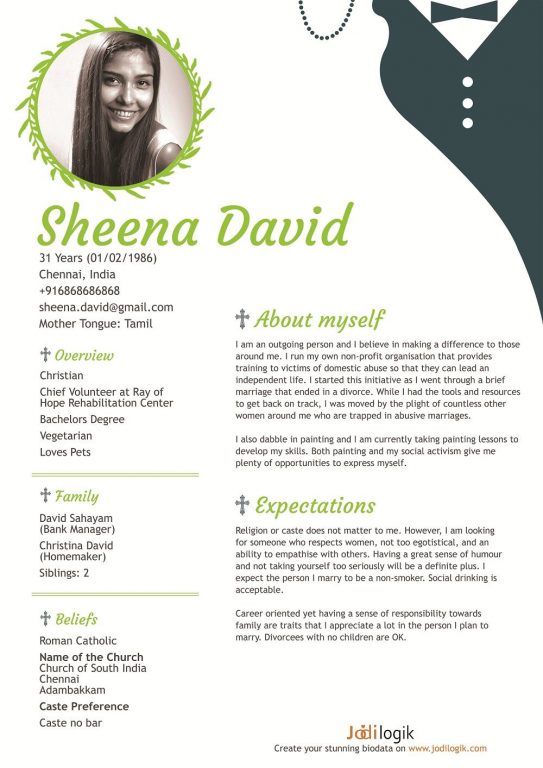 The Christian marriage biodata format is restrained and showcases the wedding gown and the tuxedo. In addition to the holy cross, you need to look closely at the biodata to see the wedding gown outline.
---
Biodata Format For Marriage – Sample Content for About Myself & Expectations
Need help with writing the descriptions for "About Myself" and "Expectations" in your matrimonial biodata?
We have created 7 different examples that you can copy and modify for your personal use.
Biodata for matrimony for a girl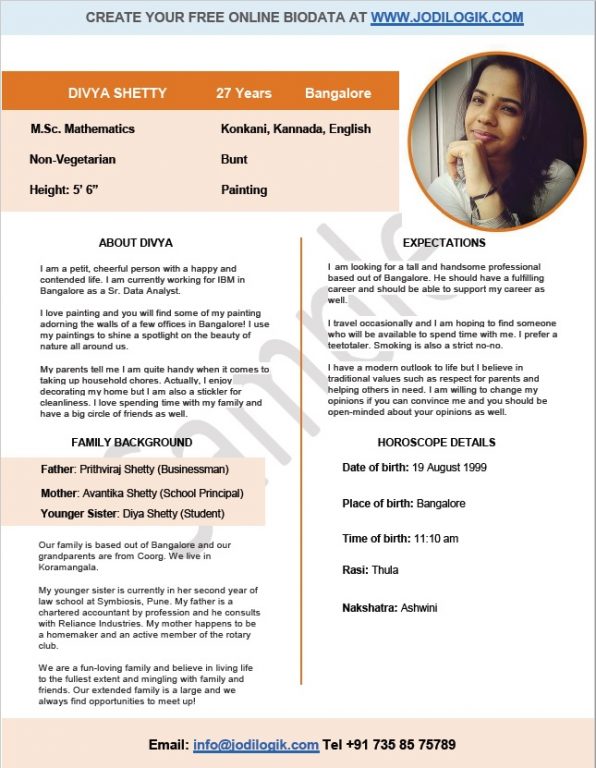 Biodata format for marriage – Working girl from a traditional family
If you like the sample biodata, we just made it easy for you to copy the transcripts for the About Myself and Expectations sections. Make sure you modify it for your own biodata.

About myself
I am a petite, cheerful person with a happy and contented life. I am currently working for IBM in Bangalore as a Sr. Data Analyst.
I love painting and you will find some of my paintings adorning the walls of a few offices in Bangalore! I use my paintings to shine a spotlight on the beauty of nature all around us.
My parents tell me I am quite handy when it comes to taking up household chores. Actually, I enjoy decorating my home but I am also a stickler for cleanliness. I love spending time with my family and have a big circle of friends as well.
Partner expectations
I am looking for a tall and handsome professional based out of Bangalore. He should have a fulfilling career and should be able to support my career as well.
I travel occasionally and I am hoping to find someone who will be available to spend time with me. I prefer a teetotaler. Smoking is also a strict no-no.
I have a modern outlook on life but I believe in traditional values such as respect for parents and helping others in need. I am willing to change my opinions if you can convince me and you should be open-minded about your opinions as well.

Why we love this biodata format?
This biodata format for marriage achieves two important goals that most of us ignore – 1. The layout and the organisation of content don't make it look like another job resume format, 2. The biodata format highlights all the key information and the photo to allow for a quick review of the document.
Sample biodata for marriage for a man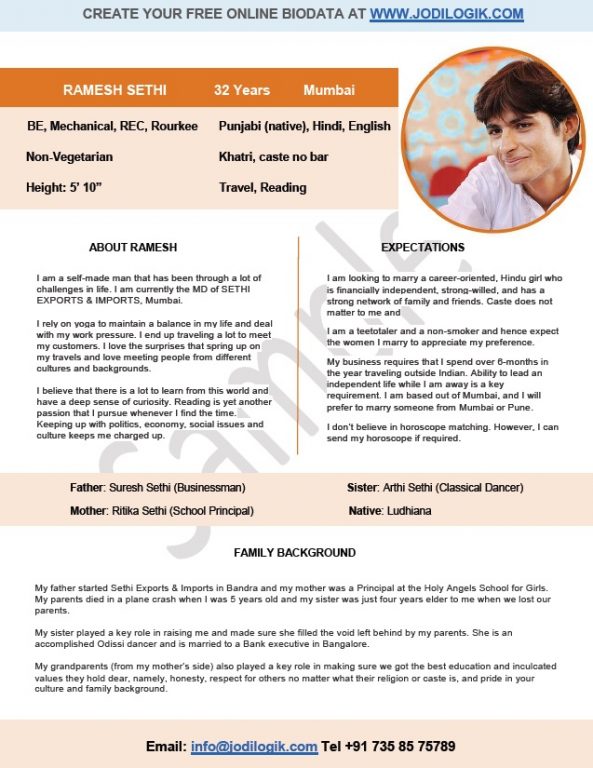 Biodata format for marriage – Businessman, parents no more
If you like the sample marriage biodata, just copy the transcripts for the About Myself and Expectations sections. Make sure you modify it to suit your personal situation.

About myself
I am a self-made man that has been through a lot of challenges in life. I am currently the MD of Sethi Exports & Imports, Mumbai.
I rely on yoga to maintain a balance in my life and deal with my work pressure. I end up travelling a lot to meet my customers. I love the surprises that spring up on my travels and love meeting people from different cultures and backgrounds.
I believe that there is a lot to learn from this world and have a deep sense of curiosity. Reading is yet another passion that I pursue whenever I find the time. Keeping up with politics, economy, social issues and culture keep me charged up.
Partner expectations
I am looking to marry a career-oriented, Hindu girl who is financially independent, strong-willed, and has a strong network of family and friends. Caste does not matter to me and
I am a teetotaler and a non-smoker and hence expect the women I marry to appreciate my preference.
My business requires that I spend over 6-months in the year travelling outside Indian. The ability to lead an independent life while I am away is a key requirement. I am based out of Mumbai, and I will prefer to marry someone from Mumbai or Pune.
I don't believe in horoscope matching. However, I can send my horoscope if required.

Why we love this marriage biodata sample?
This biodata sample has exceptionally
well-written partner expectations
. The boy clearly brings out the fact that he travels a lot and hence expects his future wife to be career-oriented and have the ability to lead an independent life during his absence.

Easy biodata formats with stunning designs
Creating an attractive marriage biodata is no longer difficult! Use our easy, premium templates to quickly add your information and download the biodata in PDF format.

Marriage biodata sample for a handicapped man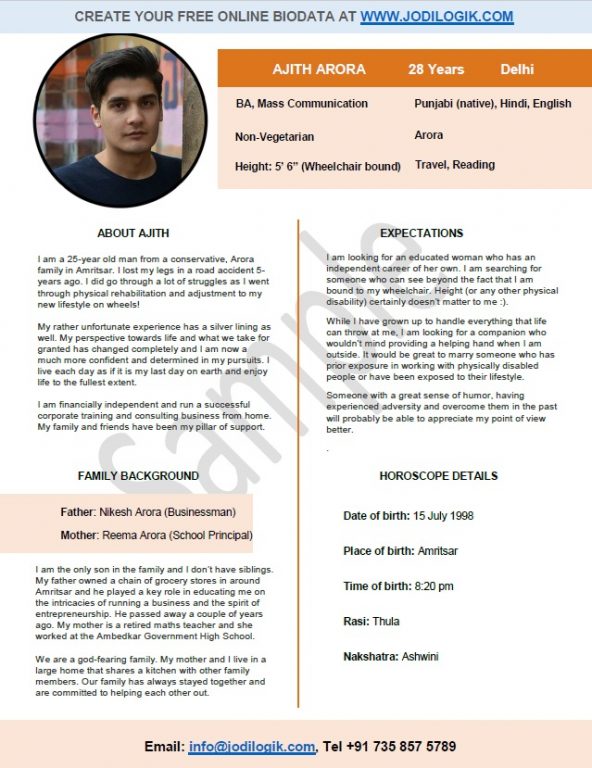 Biodata format for marriage – Handicapped boy living with parents
Just copy the transcripts for the About Myself and Partner Expectations sections from this sample and use it for your own biodata for marriage.

About myself
I am a 25-year old man from a conservative, Arora family in Amritsar. I lost my legs in a road accident 5-years ago. I did go through a lot of struggles as I went through physical rehabilitation and adjustment to my new lifestyle on wheels!
My rather unfortunate experience has a silver lining as well. My perspective towards life and what we take for granted has changed completely and I am now a much more confident and determined in my pursuits. I live each day as if it is my last day on earth and enjoy life to the fullest extent.
I am financially independent and run a successful corporate training and consulting business from home. My family and friends have been my pillar of support.
Partner preference
I am looking for an educated woman who has an independent career of her own. I am searching for someone who can see beyond the fact that I am bound to my wheelchair. Height (or any other physical disability) certainly doesn't matter to me :).
While I have grown up to handle everything that life can throw at me, I am looking for a companion who wouldn't mind providing a helping hand when I am outside. It would be great to marry someone who has prior exposure to working with physically disabled people or has been exposed to their lifestyle.
Someone with a great sense of humour, having experienced adversity and overcome them in the past will probably be able to appreciate my point of view better.

Why we love this marriage biodata?
Handicapped people face twin challenges in arranged marriages. First of all, their self-esteem has already taken a beating and they are defined by their handicapped. The second challenge is that their options to look for a prospective match are limited (for all practical purposes) to other physically challenged men or women.
In some cases, women from economically weaker sections of the society may marry a handicapped man because of their personal situation. This biodata sample brings out the personality of the man without resorting to using phrases that demonstrate self-pity or defensiveness.

Want more responses for your marriage biodata? These 5 simple tips can make people want to talk to you! Watch this short video.
Marriage biodata sample for a software engineer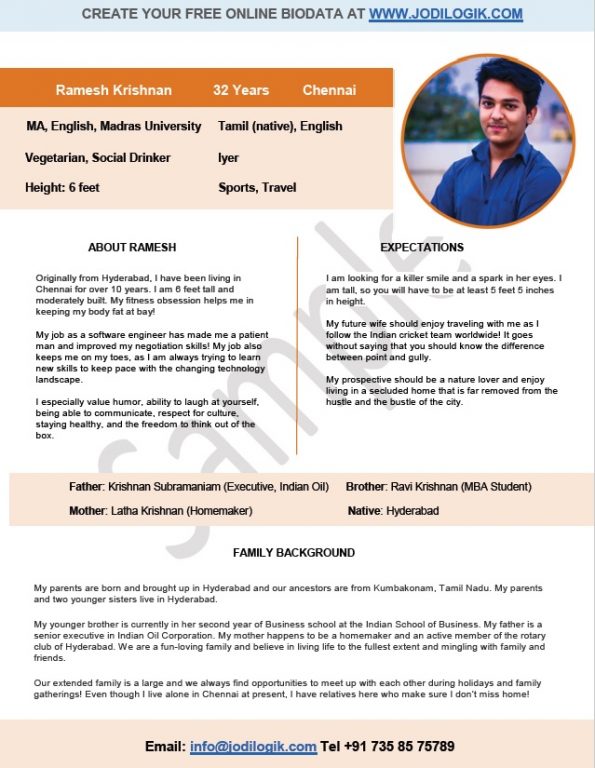 Biodata format for marriage – a software engineer who enjoys travelling
We made it easy for you to use the content of this sample marriage biodata. Copy the transcripts below and make it your own.

About myself
Originally from Hyderabad, I have been living in Chennai for over 10 years. I am 6 feet tall and moderately built. My fitness obsession helps me in keeping my body fat at bay!
My job as a software engineer has made me a patient man and improved my negotiation skills! My job also keeps me on my toes, as I am always trying to learn new skills to keep pace with the changing technology landscape.
I especially value humour, the ability to laugh at yourself, being able to communicate, respect for culture, staying healthy, and the freedom to think out of the box.
About my match
I am looking for a killer smile and a spark in her eyes. I am tall, so you will have to be at least 5 feet 5 inches in height.
My future wife should enjoy travelling with me as I follow the Indian cricket team worldwide! It goes without saying that you should know the difference between point and gully.
My prospective match should be a nature lover and enjoy living in a secluded home that is far removed from the hustle and the bustle of the city.

Why we love this biodata format?
In this sample biodata, you will notice that the boy has called out all of his likes and dislikes clearly not only in the expectations section but also in the about myself section. The highlight of this biodata is the fact that your expectations and interests have a direct bearing on the person reading your biodata. Calling out how your lifestyle could change or influence the lifestyle of the person that you intend to marry is something that we can learn from.
Indian marriage biodata format for a girl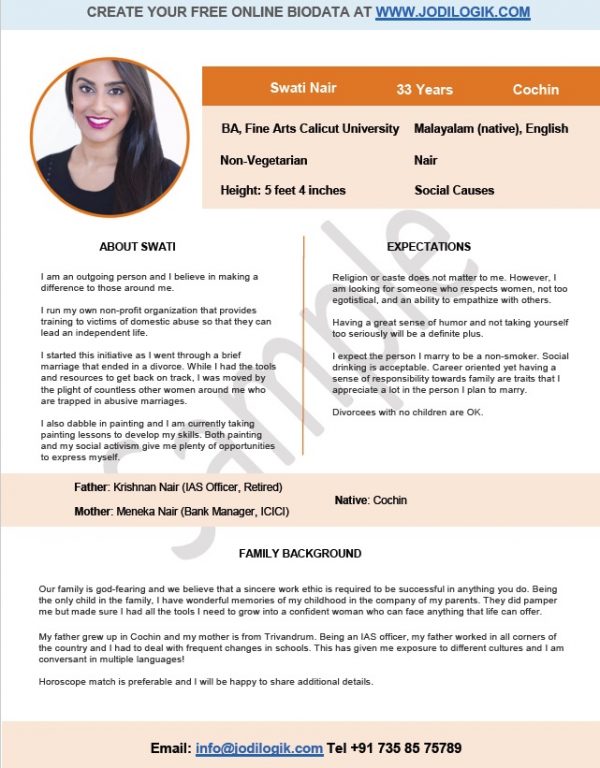 Biodata format for marriage – Divorced girl
Copy and reuse the written descriptions for this sample marriage biodata.

About myself
I am an outgoing person and I believe in making a difference to those around me.
I run my own non-profit organisation that provides training to victims of domestic abuse so that they can lead an independent life.
I started this initiative as I went through a brief marriage that ended in a divorce. While I had the tools and resources to get back on track, I was moved by the plight of countless other women around me who are trapped in abusive marriages.
I also dabble in painting and I am currently taking painting lessons to develop my skills. Both painting and my social activism give me plenty of opportunities to express myself.
Partner description
Religion or caste does not matter to me. However, I am looking for someone who respects women, not too egotistical, and the ability to empathize with others.
Having a great sense of humour and not taking yourself too seriously will be a definite plus.
I expect the person I marry to be a non-smoker. Social drinking is acceptable. Career-oriented yet having a sense of responsibility towards family are traits that I appreciate a lot in the person I plan to marry.
Divorcees with no children are OK.

Why we love this matrimonial biodata sample?
While
second marriages
are definitely on the rise in India, women, as well as men, tend to get defensive about why they got divorced when writing their biodata for marriage. In this sample, you will notice that the girl has confidently highlighted the positive outcome that came out of her divorce.

Marriage biodata format for a Muslim girl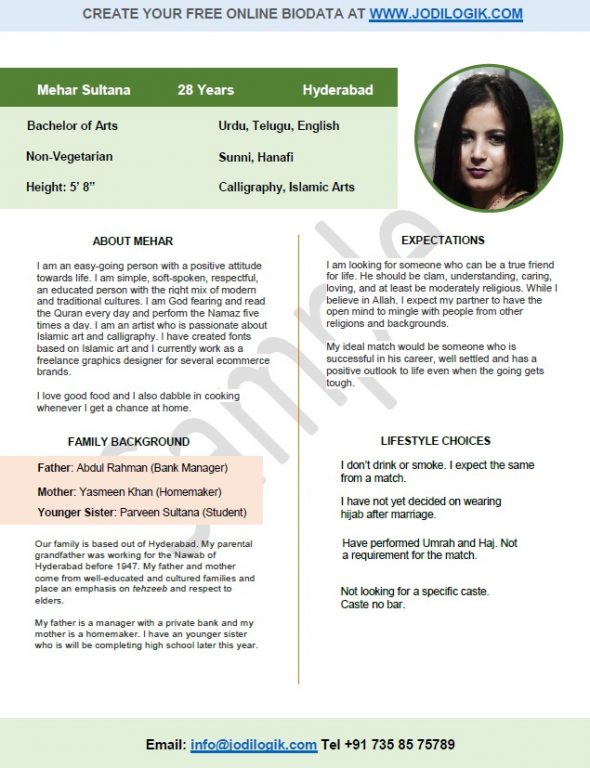 Biodata format for marriage – Muslim girl
Go ahead, copy and use the descriptions below to create your biodata for marriage.

About myself
I am an easy-going person with a positive attitude towards life. I am simple, soft-spoken, and respectful with the right mix of modern and traditional cultures. I am God-fearing and read the Quran every day and perform the Namaz five times a day.
I am an artist who is passionate about Islamic art and calligraphy. I have created fonts based on Islamic art and I currently work as a freelance graphics designer for several e-commerce brands.
I love good food and I also dabble in cooking whenever I get a chance at home.
Partner preference
I am looking for someone who can be a true friend for life. He should be calm, understanding, caring, loving, and at least be moderately religious. While I believe in Allah, I expect my partner to have an open mind to mingle with people from other religions and backgrounds.
My ideal match would be someone who is successful in his career, well settled, and has a positive outlook on life even when the going gets tough.

Why we love this marriage biodata sample?
Notice how this Muslim girl has cleverly managed to include details about her
religious belief
without sounding too traditional. She has indicated how many times she performs namaz, her Umrah and Hajj trips, and has left her decision open regarding hijab after marriage.
Marriage biodata format for Christian girl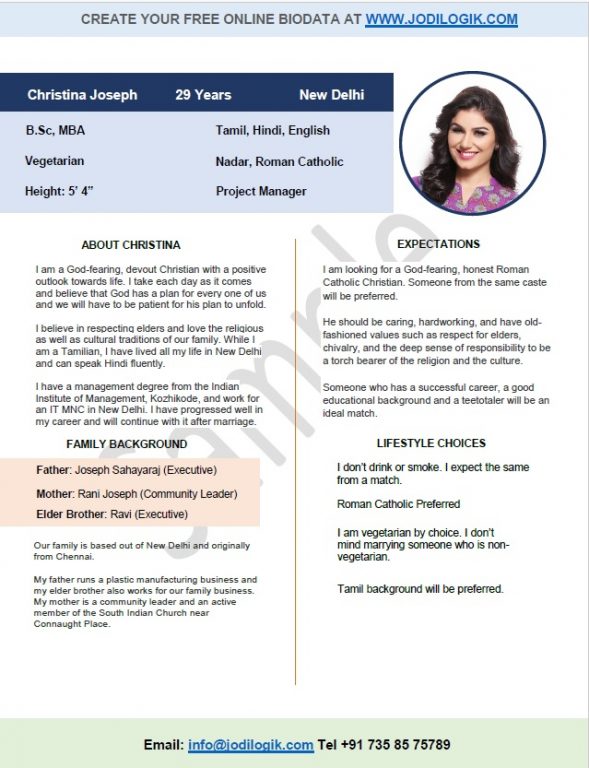 Biodata format for marriage – Christian girl
Go ahead, copy and use the descriptions below to create your biodata for marriage.

About myself
I am a God-fearing, devout Christian with a positive outlook towards life. I take each day as it comes and believes that God has a plan for every one of us and we will have to be patient with his plan to unfold.
I believe in respecting elders and love the religious as well as cultural traditions of our family. While I am a Tamilian, I have lived all my life in New Delhi and can speak Hindi fluently.
I have a management degree from the Indian Institute of Management, Kozhikode, and work for an IT MNC in New Delhi. I have progressed well in my career and will continue with it after marriage.
Partner expectations
I am looking for a God-fearing, honest Roman Catholic Christian. Someone from the same caste will be preferred.
He should be caring, hardworking, and have old-fashioned values such as respect for elders, chivalry, and the deep sense of responsibility to be a torchbearer of the religion and the culture.
Someone who has a successful career, a good educational background and a teetotaler will be an ideal match.

Why we love this template for marriage biodata?
This
biodata format
for marriage is an example of how a Christian girl projects her beliefs and value systems and at the same time striking a balance with a contemporary lifestyle. She calls out lifestyle choices and expectations very clearly including offbeat choices such as choosing to be a vegetarian lifestyle when her family is non-vegetarian.
---
​Free marriage biodata guides for men & women
Your biodata for marriage should be impressive and for that, you need a matrimonial biodata format that's professional and comprehensive!
So we set about deconstructing the matrimonial biodata into various subsections.
For example, every marriage biodata is expected to have a photograph, a description about yourself and your expectations, a brief write-up about your family, your educational and professional background, and your lifestyle and interests.
Then we decided to look for proven best practices for each of the above categories based on common sense, personal experiences, and most importantly, based on expert opinion.
We created an in-depth guide on writing marriage biodata!
We created a guide packed with tips, insights, examples, and advice to help you create a winning marriage biodata or matrimony profile description on any site.
It's all available for free.
Read our ebooks on Marriage Biodata
We created in-depth guides for men and women to walk you through different aspects of creating a compelling marriage biodata. Our ebooks have 7 chapters and packed with practical tips to help you project your true personality and expectations to a prospective match.

---
Email and WhatsApp covering note samples for your marriage biodata
When you forward your biodata for marriage via email or WhatsApp, make sure you include a brief covering note. Here are a few samples:
Email format: Parent forwarding a marriage biodata to another parent
Dear Sir/Madam
I am forwarding the biodata of my son/daughter, <name of the son/daughter>. He/she is a <profession (example: software engineer, bank manager)> at <name of the employer> and is currently based out of <name of the location>. I will be glad if you can please review my daughter's/son's biodata and forward a copy of your son's/daughter's biodata along with a photograph.
Regards
<name of the parent>
Email format: Sending a biodata directly to the girl's father
Dear Sir
I am responding to the newspaper matrimonial ad for your daughter. Please review my biodata and let me know if you are interested in proceeding further. As requested in your ad, I have enclosed my photograph and horoscope as well.
Sincerely yours
<name>
WhatsApp message samples
1. Dear Sir/Madam, Here is my biodata. Please review and let me know if you have additional questions.
2. Here is a copy of my marriage biodata. Please share the biodata of your son/daughter as well. Will be happy to share more details once mutual interest is established.
3. Dear Sir/Madam, forwarding the biodata for my son/daughter. Please review and let me know your interest in proceeding further.


---
What is the difference between a marriage biodata and a CV?
A marriage biodata provides a summary of the individual's age, religious/social background, profession, likes, or interests for the purpose of finding a match for marriage. A CV or Curriculum Vitae is meant for showcasing a skill or experience for the purpose of finding a job.
What should I include my marriage biodata?
Name, age, date of birth, height, marital status (divorced, annulled, never married) or handicap (if any), religion, caste/sub-caste, education, profession, names and professions of parents and siblings, partner expectations, horoscope (Kundli) details if needed, contact information.
How should I describe myself in my marriage biodata?
Your description should include information about your personality, lifestyle choices (food, tradition, attire, pets) likes, interests/hobbies, your goals, and your vision for married life.
What is the best way to describe my physical attributes in my biodata for marriage?
People tend to either highlight what they consider as a positive attribute (example: being tall) or end up hiding what they consider as a negative attribute (example: big build). Embracing this strategy may get you responses but you will end up disappointing people who may then jump to a conclusion that you look nothing like what your biodata described!
Mentioning your height in your biodata is easy. Just say "I am 5'8″ tall". When talking about expectations, it's better to either say "looking for a tall girl/boy" or "someone who is at least 5'5″ tall".
To describe your physical status, you can use these examples:
"I am a tall, handsome person with a medium build and…"
"I am 6'2″ tall, hefty man…"
"I am a petite girl…"
Having a great profile photograph can help you much more than words. Just indicate what you think is essential but spend a lot of effort in getting proper profile photographs. After all the proof of your description is in the photo.
Employ a professional photographer or get it done properly with help from your family and friends.
How should I describe my profession?
The best strategy for describing your profession when writing biodata for marriage should be to focus on what you do at work (in addition to who you work for), provide an indication of your commitment to work-life balance, and describe in a few lines your expectation in terms of the potential match's career.
Here is an example:
"I work as a software engineer for Jodi Logik, a Chennai-based startup. I am very keen on pursuing my career in building startups and have a fairly hectic schedule. At the same time, I like to unwind during the weekends and love spending time with my family. Looking for someone who can be supportive of my career choice and also have a career of her own."
How should I write about my family in my marriage biodata?
Include the names and the professions of your parents and siblings. Call out your family's orientation (orthodox/moderately traditional/modern), family structure (nuclear/joint family), and any notable highlights or accomplishments of your immediate family members. Include the hometowns of your parents.
Should I include my salary/income in my marriage biodata?
You can choose to include your salary/income depending on the accepted norms in your community. If you do not want to mention salary, you can describe your income using phrases such as "well-earning job", "successful career", or "well-settled".
How should I write about my hobbies for marriage biodata?
The purpose of writing biodata for marriage is to showcase your personality and specify what you are looking for in the other person. Make sure you spend some time thinking about what you truly like doing when you are not at your workplace and put in some effort to describe it.
Visualise how you want to spend your days and weekends after marriage and write about your expectations in terms of your potential match's personality.
If you love reading books, talk about the recent book you read and what you learn from it. Connect this with your personalities such as your curious nature or inquisitiveness.
Here is an example of how a movie lover shares his interest in movies:
"I love watching diverse movies from around the world. I see movies as a great way to understand different cultures and also see the world from a different perspective."
---
Why should you create your marriage biodata on Jodi Logik?
The traditional biodata format for marriage is useless!
The first step in any arranged marriage is to create a marriage biodata or biodata for marriage. The marriage data comes in handy in the following scenarios:
Parents can circulate a printed copy of the marriage biodata among family and friends.
People who express interest through online matrimony expect to see a marriage biodata before initiating a conversation or an arranged marriage first meeting.
But, the challenge is in finding the right format for your marriage biodata. While there is a big demand for a marriage biodata format, the options available on the Internet fall short of requirements.
Here are a few reasons why biodata formats for marriage available elsewhere are inadequate!
Most of the marriage biodata formats available online resemble a job resume. They are devoid of any character (in other words, design) and are boring!
If you use a generic marriage biodata format, you will end up doing your best to hide your personality and make yourself a part of the "crowd" of marriage biodata that people use.
Focussing only on hard facts with the aim of shortlisting a prospective match and then sharing more details is a great idea. The only problem is that it's a huge waste of your time and invariably sets you up for disappointment. You will realise that when you meet a shortlisted match, they will not meet your expectations or vice versa!
Not having a custom biodata for marriage makes you a great candidate for outright rejection. Would you buy a soap wrapped in white paper and has no label on it?
Here is what you will see when you search for a marriage biodata format!
If you look closely, you will fall asleep!

That's why we believe not having a proper marriage biodata format is a lost opportunity for:
Standing out from the crowd – Differentiate yourself by sharing a marriage biodata form that is significantly different from what others typically use.
Creating a great first impression – Scientists have found that people form an impression in 1/10th of a second. Use an attractive marriage biodata format for getting noticed and most importantly get more responses from prospective matches.
Interacting with the right matches – Use the right marriage biodata format to share all the information you will need to weed out responses from people who may not be suitable. There is no value in wasting time with people that cannot meet your expectations or vice versa.
With Jodi Logik, you have two different options to share your stunning marriage biodata.
1. You can create a detailed and stunning online biodata that you can then circulate via email invitations or even WhatsApp.
2. You can also choose from one of our stunningly beautiful biodata templates and download a PDF copy of your marriage biodata.