About me in matrimony sites or marriage biodata
Use these About myself for marriage biodata or matrimonial profile samples to write a good paragraph about yourself that summarises your educational background, profession, personality, lifestyle, and interests.
1. About myself in marriage biodata – NRI
I am a research scientist with a Pharma company in Philadelphia, United States. I am a green card holder and have been living in the US for over 7 years now. I have a Master's degree in molecular biology and I am passionate about my work and the impact it has on curing serious diseases. I plan to become a US citizen and settle down here.
I was born and brought up in New Delhi and my parents live there. I don't have siblings. I belong to the <name of the caste> my native village is <name of the village>, UP.
People say I am an introvert. I love reading books, especially those about plants and trees! I am a volunteer at the local nature club and I lead a small group of like-minded nature enthusiasts to document different trees and plans in the parks surrounding Philadelphia.
I also love watching independent movies and short films. I cook on my own and have become good at making something out of whatever I find in my kitchen cabinet! I am a social drinker (I enjoy good wine occasionally) and don't smoke.
2. About me for marriage profile – Software Engineer
I am a software engineer with an MNC based out of Bangalore. I am a Kamma Reddy and my ancestors were based out of Guntur in Andhra Pradesh.
I have been living and working in Bangalore for 5 years now. I was born and brought up in Hyderabad and my parents and sisters continue to live there.
I have a hectic schedule at work and travel to the US often for project work. I have a handful of close friends and we enjoy trekking on the weekends whenever time permits. Having lived in Bangalore for a while, I have picked up Kannada and I am fairly conversant in the language.
I care deeply for my family and friends and cherish the time I spend with them. I dabble in poetry once in a while and have been doing so since high school. I love the idea of drinking filter coffee with reading the newspaper first thing in the morning.
Vital Stats: Height – 5'9″, Weight – 60 Kgs
3. About yourself for marriage biodata – Joint family
I am a sales executive working for an advertising agency in Mumbai. I am a Mumbaikar and live in a joint family. I belong to the <caste name> and our grandparents were from <name of the village>.
Because I am always surrounded by my extended family members, I enjoy the company of people and also have a big circle of friends. My father passed away when I was a toddler and my mother (with help from our large family) brought me up.
I am about 5'11" inches with a medium build. I don't drink or smoke. I love good food and indulge in junk food occasionally! I believe tasty food is probably not healthy and vice versa.
People say I am extroverted and that's probably a reason I do very well as a sales executive. I love the hustle and bustle of Mumbai and grab every opportunity to I get to hang out with my friends on weekends. I am also a big-time fan of the Game of Thrones (GOT) and have read the books in addition to watching the TV series.

Are you a parent? Here is how you can write about your son or daughter for a matrimony profile. Check out this video!
4. About myself for matrimony – No parents
I am a straightforward and sincere person with strong work ethics. I am a <caste> but caste is not an issue for me. I am 5'7″ inches tall and slim. I wear contact lenses.
I come from a middle-class background and my parents have taught me the importance of not taking anything for granted. My parents passed away while I was in college. I took up a job immediately after graduation in order to support my younger brother. I have done well in my banking career and I believe it is time for me to settle down.
I have a few close friends who have stood by me through all the ups and downs of life. I dabble in the stock market as a hobby and one day hope to become a serious investor. I love watching international news channels and read newspapers.
I love eating seafood and try my hand in making some of my favourite preparations at home when I get a chance. I am fairly hands-on in managing household chores and grocery shopping. I am a teetotaler and I don't smoke.
5. Describe myself for marriage – Self-employed
I am 26 years old, 5 feet 9 inches tall, an athletic young woman from a middle-class family.
I own a small business in Bangalore and live with my parents and a younger sister. I belong to <caste> and my native village is <name>.
I am the first person from our family to complete school. I started working for a garment company after school and now own an apparel shop for toddlers. My father and sister help me out at the shop.
I have been active in sports from childhood and even now participate in amateur track and field events. I am a Shah Rukh Khan fan and never miss any of his movies.
I have big goals in life and want to become a successful businesswoman. I would like to give back to my village by building a school and helping the people in my village get a better education. In the future, I would like to enroll in a college for a part-time course.
I don't drink or smoke and I am a non-vegetarian.



6. Marriage profile sample – Air hostess
I am a 26 years old senior stewardess with Indigo Airlines, based out of Cochin. I am a Parsi by choice as my parents had an inter-religion marriage and my mother happens to be a Catholic Christian.
I am tall (6 feet) and fit and take my personal grooming and fitness seriously. I was once out of shape but worked hard to regain my fitness.
My love for flying started at a young age and I enrolled at the local flying club when I was in high school. I started flying gliders, however, my dream to become a pilot was cut short because of my colour-blindness. Setbacks in my life have made me stronger and I decided early on that I will work in the aviation sector.
Apart from flying, playing cricket is my favourite weekend activity. I play for the Indigo women's cricket team and thoroughly enjoy playing competitive cricket.
I am a friendly person and I find it easy to strike up a conversation with complete strangers. While I enjoy interacting with people, I also enjoy solitude and the opportunity to make myself comfortable on my favourite couch and read a novel. I am a happy go-to lucky person and have developed a knack for taking things in my stride. Hope to meet a friend and soulmate for life.
7. Sample matrimonial profile description – a wheelchair-bound woman
I am a 28-year-old librarian living in Lucknow. I am wheelchair bound but I am completely independent and can lead a fairly normal life. I even drive around the town in my modified car. I belong to the <caste> community from Madhya Pradesh.
My handicap hasn't stopped me from leading a full and complete life so far. I completed my Bachelor's degree with a specialization in library management from the <name of university> and started working for the Public Library five years ago. I am a book lover and my job at the library is a dream come true indeed. I am currently reading <name of the book> by <name of the author>.
In addition to reading books, I love playing the keyboard and learnt to play it when I was a kid. The keyboard allows me to channel my creative energies and my love for Bollywood songs. I even have a dozen albums of my own keyboard compositions.
Facing hardships and overcoming them has been liberating for me and gives me the confidence that I can face any challenge that life can throw at me. I am caring and affectionate and love the company of family and friends. I look forward to finding someone who will enrich my life and join me in the journey ahead.
8. About my son for matrimony – Written by a father
My son is a well-settled mechanical engineer working as a product designer for a major Indian automobile MNC in Pune. He grew up in Mumbai and completed his engineering degree from IIT Kanpur in 2015.
My son has always been academically inclined and a voracious reader. He is truly passionate about his career and hopes to make a name for himself as an automobile designer. While work is important he also believes in maintaining a balanced and healthy lifestyle. He is an avid runner and likes to keep himself fit.
We see him as an easygoing, down-to-earth person who is sincere in his thoughts and actions. While I am taking the initiative to create his profile for marriage, he will be happy to discuss further if interested.
9. About my daughter for marriage biodata – Written by a parent
Vivacious, bold, and joyous – these are the words that best describe our eldest daughter. After completing her education as an apparel designer at the National Institute of Fashion Technology in Chennai in 2017, she joined Amazon as a merchandising manager. She is currently rising in Bangalore and plans to continue her career after marriage.
Our daughter grew up in a moderately orthodox home and maintains a balance between traditions and keeping up with the times. She is very talented and creative by nature be it in the kitchen or at work. Being an extrovert, she has a big circle of friends and can strike up a conversation with anyone with very little effort.
How to write about myself for marriage biodata?
Writing about yourself for marriage biodata is a challenging task.
When we spoke to people about creating matrimony profiles or biodata for marriage, a lot of our respondents felt that coming up with something clever for "about myself for marriage biodata" was the most difficult thing to do.
However, this is the first thing you will probably take up when creating your biodata for marriage is to write about yourself.
People are either clueless or they get carried away by what they see others do. The outcome is sometimes comical!
Since getting our hands on marriage biodata is difficult, we decided to review matrimony profiles in a popular matrimony site to identify do's and don'ts when writing "about myself for marriage biodata".
But before you read the rest of the article, check out this video that gives you step-by-step guidance to write about yourself for your marriage biodata or matrimonial profile.



Avoid doing this when writing about yourself
1. Avoid contradictions
Talk about yourself first and not about your work. Also, make up your mind when it comes to how traditional or modern you are.
Remember, we are all modern in terms of the tools we use such as the Internet, smartphones, television, to name a few. Doing what everybody does in this day and age doesn't make you modern!
Taking a contradictory stance in the same sentence as you see below only confuses prospective matches.
In the below example, you have very little information about the person other than a contradictory statement!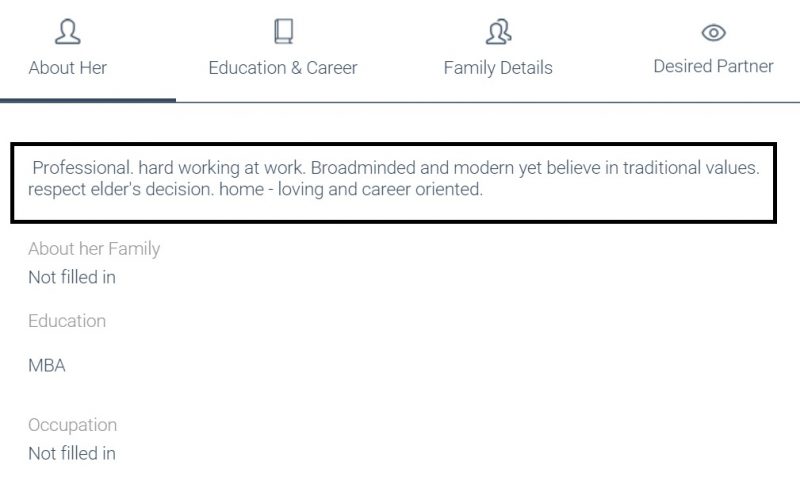 2. Actually, say something about yourself
Use the "About myself" section to actually say something meaningful to help a prospective match understand who you are.
Here is a sample description that doesn't say anything about the person! It just says, the person is working for an IT company and has a brother and sister!
Good luck getting responses.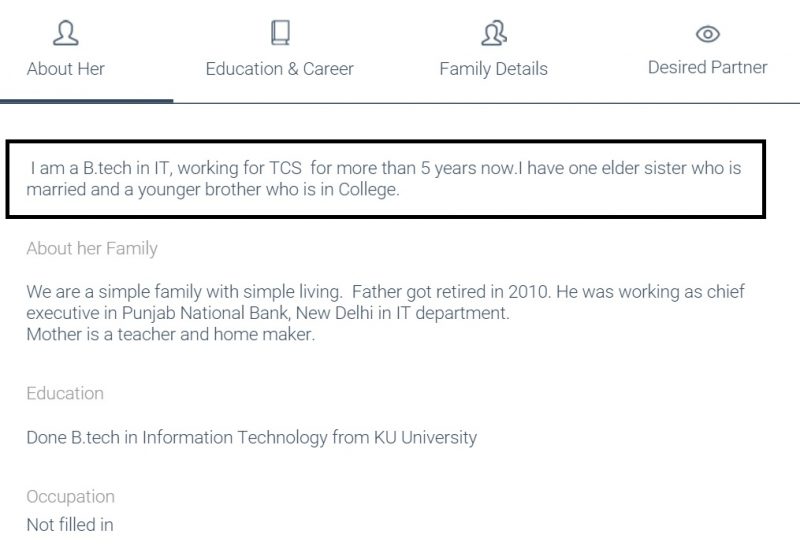 3. Avoid grammar mistakes
Spelling and grammar mistakes can convey the wrong impression about your personality. You probably don't care about anything, you did not receive a proper education, and you are probably addicted to Twitter and Facebook where grammar dies a natural death.
Here is an example of "about myself" that reads like a jumbled puzzle.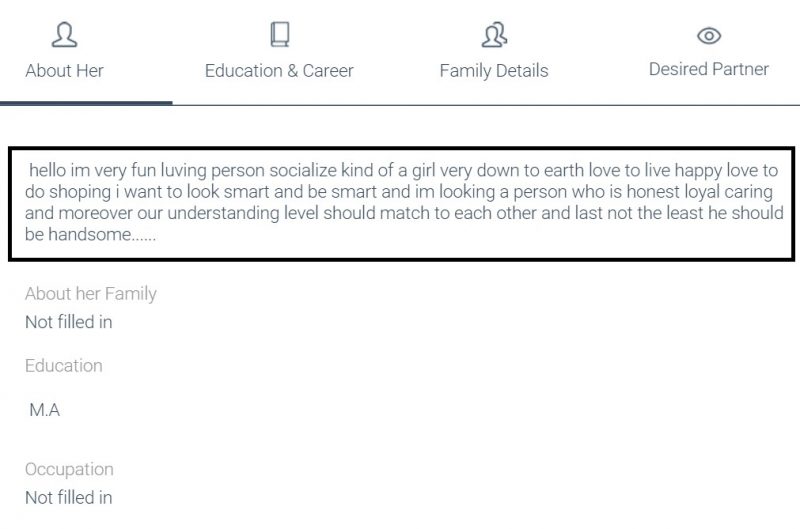 4. Don't let the family hijack your biodata
The below example shows an "about myself" description created by a sibling. It appears the sibling was seeking revenge on her and decided to write only about her family and where she works in the "about myself" section.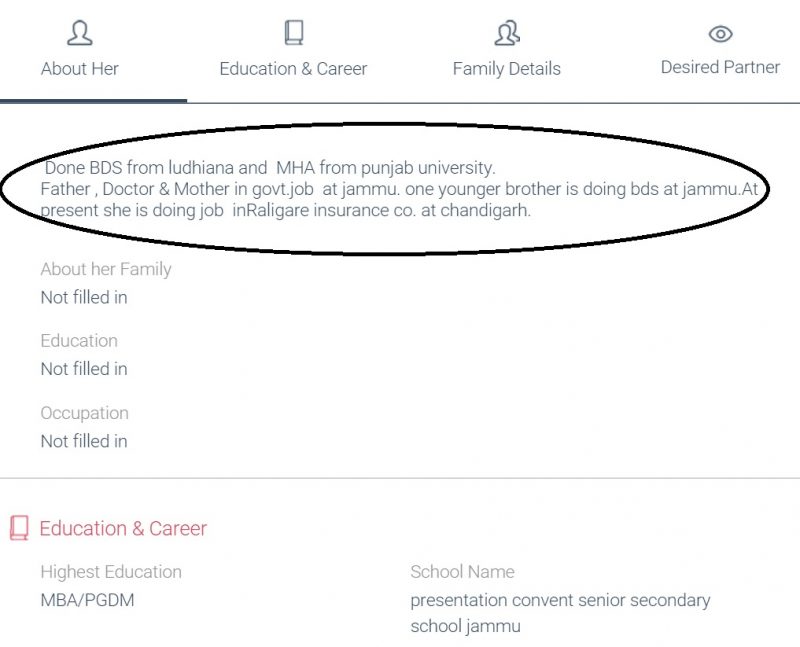 Here is another example of a hijacked profile description. Prospective matches will probably wonder if this woman lives in a cage listening to music, reading children's book (she is still innocent), and probably being fed via a tube as she is too delicate.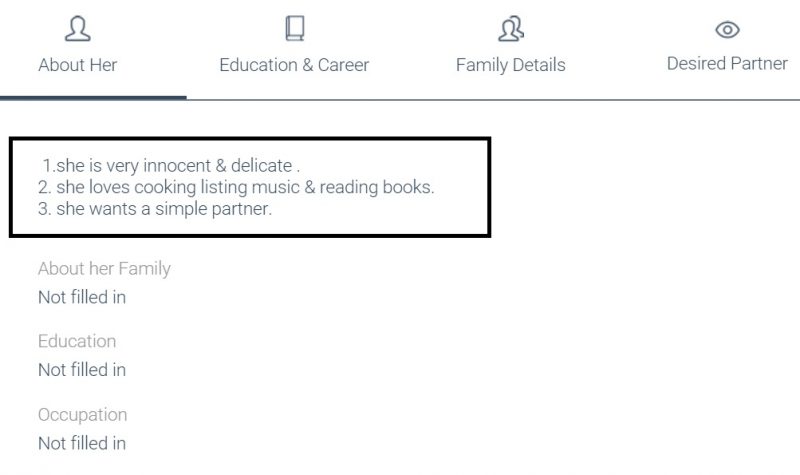 Watch this video to learn simple tips to help you get more responses to your biodata for marriage.

Do this when writing about yourself for marriage biodata
1. Showcase your personality
Take the time and effort to showcase your personality in the 'about myself' section of your biodata or matrimony profile. Here is a good example of someone who went the extra mile in making sure whoever reads her profile gets a complete picture of her personality, likes, and dislikes.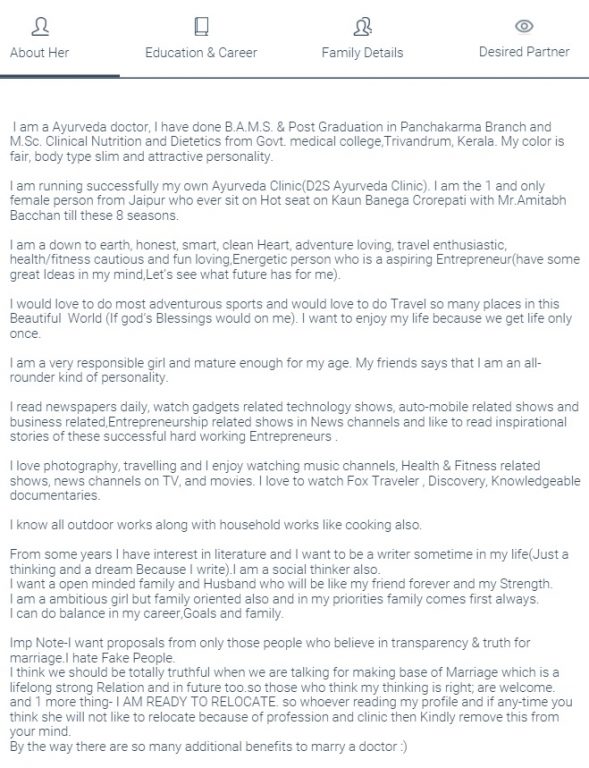 2. The art of creating interest
If you can provide just enough information about yourself and at the same time give a glimpse of your personality, you will probably have a lot of people wanting to know more about you.
The trick here is to avoid being superficial without having to write an essay!
Here is a great example of one such profile description.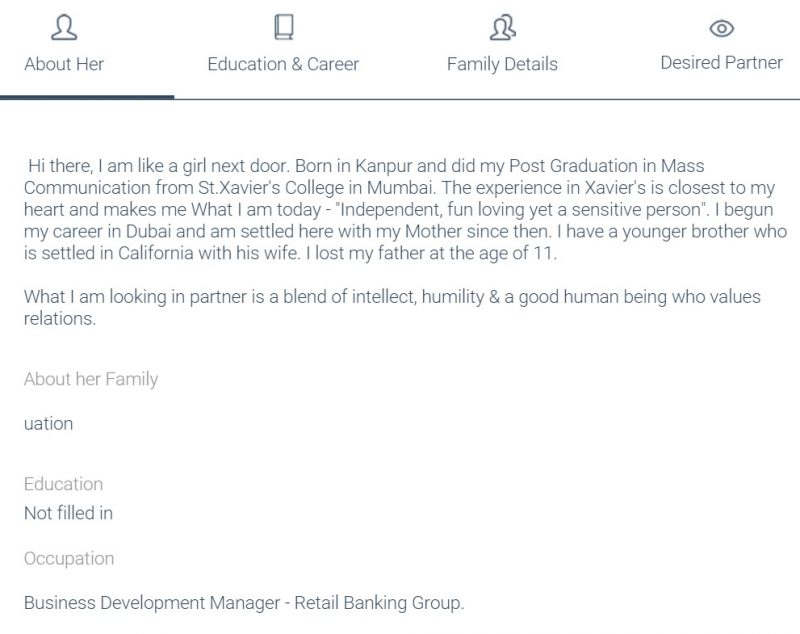 3. Be casual
It's OK to take a casual tone when writing about yourself in your biodata for matrimony profile. Casual doesn't mean poor grammar or an incomplete sentence.
Not taking yourself seriously and expressing your real likes and dislikes without sounding aggressive will attract the right set of people.
Here is a great example of the casual approach to writing about yourself.


4. Your parents can also create a great profile
Here is an example of how a father did a wonderful job in creating a compelling profile for his daughter. He wrote what he had to say, but chose to let his daughter do all the talking to describe her personality.
In summary, parents should include an "In my son/daughter's own words" section if they are creating a biodata or profile on their children's behalf.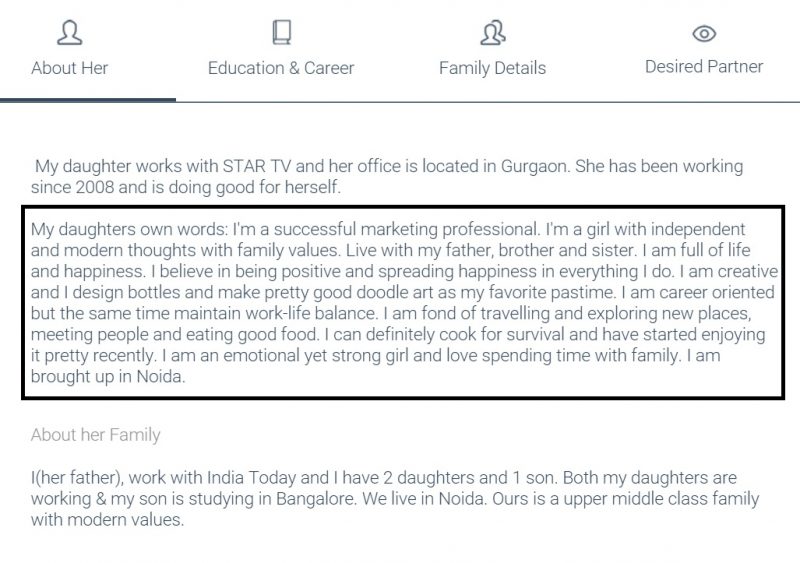 5. Who said siblings are bad?
We saw earlier how siblings can completely ruin your chances in attracting the right person. But, here is an example of a sibling that knows how to write a profile for the sister!
The profile you see below does give a glimpse of the person's personality and expectations without sounding cliched.
At the least, a well thought out description, even if written by a sibling, should get more people to respond. if your sibling is writing about yourself for marriage biodata, please make sure you verify what is written and also make sure your sibling puts in the efforts to provide a complete and accurate picture of your personality.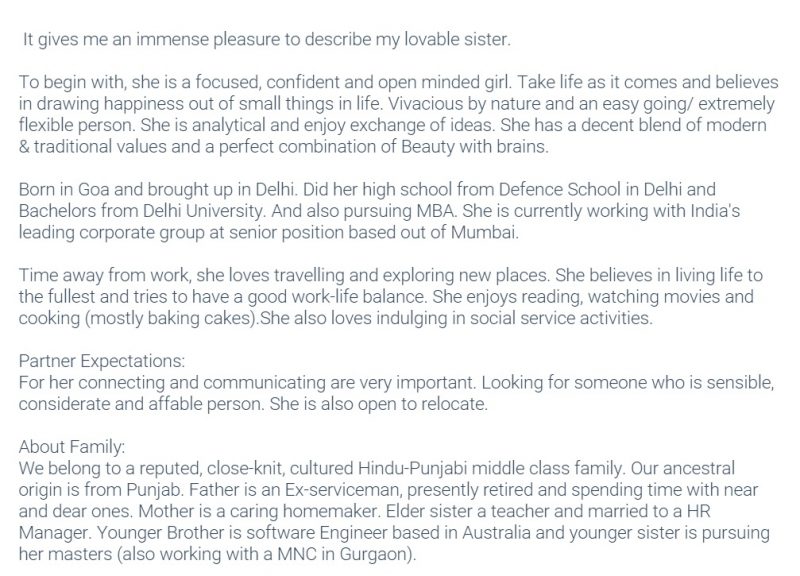 How to write a matrimonial profile for a boy?
We wrote an in-depth guide to write a matrimonial profile for a boy.
This guide has 8 chapters packed with tips and advice you can follow.
1. Why is your matrimonial biodata important?
2. The art of describing yourself
3. Writing about my partner for matrimony
4. Choosing good profile pictures for marriage
5. Showcasing your education and career for marriage
6. Writing about my family for matrimony profile
7. What women want from men?
8. Finding a perfect match
How to write a matrimonial profile for a girl?
Access our guide to get proven tips and examples of how to write a matrimonial profile for a girl. Geet you hands-on 8 chapters filled with useful information that will transform the way you think about marriage biodata.
1. Why is your matrimonial resume important?
2. The art of projecting yourself
3. Expectations from a prospective groom
4. Choosing good matrimonial profile photographs
5. How to describe a career and education?
6. What men want from women?
7. Finding your soulmate
Marriage Biodata Template: 12 Samples For Reference

Here is a marriage biodata template with a well-written "about myself for marriage biodata" section along with detailed partner preference or expectations and a family background description. This sample biodata showcases the profile of a woman who is from a conservative South Indian family and is employed in the software industry.
View this biodata for marriage sample and 8 others including free Word templates you can download.