Christian marriages and matchmaking in India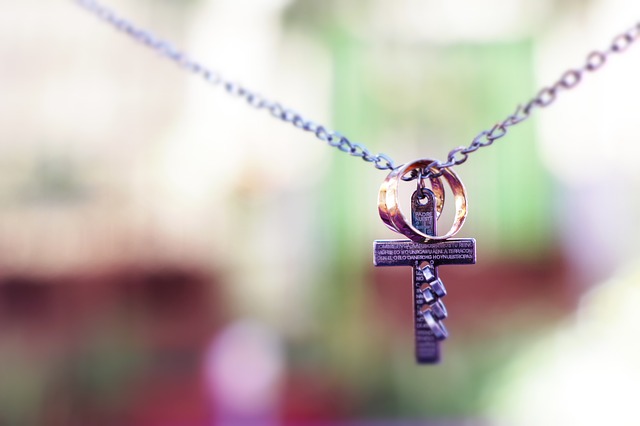 Christian biodata formats are unique to India as they are the mirror of a community that is united by religion yet rooted in Indian culture. In Christianity, marriages are one of the most intimate human relationships and have a divine hand.
Several wedding traditions such as the giving the groom and his best man a milk bath or showering the couple with vermillion coloured grains of rice are influenced by the Hindu culture that predates the advent of Christianity in India.
Arranged marriages continue to be a popular matchmaking practice among Christians in India and matchmaking happens based on economic status, language, caste, and the specific denomination or Church.
While Christianity found its way from Europe to India, the Christians of India have carved out a unique identity that's a blend of Indian cultural practices and the traditions of the religion they embraced. The Christian marriage biodata is an example of this unique blend.
What's unique in a Christian marriage biodata format?
We reviewed marriage biodata formats of Indian Christians as well as the matrimonial profiles of Indian Christians in popular matchmaking sites. Here is what we found:
1. Men and women indicate their level of belief in Christianity. Phrases such as "God Fearing", "God's Will", "Path of Jesus", will find a place in the marriage biodata of devout Christians.
2. Caste is usually not a key requirement in most Christian profiles in India. It's also a reflection of the differences in the way Christianity approaches caste differences. However, some Christians continue to associate themselves with a caste in their marriage biodata.
3. Some women, especially those that belong to the Pentecostal community, indicate their preference for wearing jewelry or ornaments. According to this article, When the Indian Pentecostal fathers came to the Christian faith, many of them came from influential and high caste families who threatened to strip them of their inheritance for embracing a new faith. The church fathers also noticed that the caste distinction inside the church was hindering fellowship between the non-ornament wearing lower caste believers and the ornament wearing higher caste believers.
4. Many Christians prefer to find prospective matches through their Church and some large Churches provide formal or informal matchmaking services. For example, The St. Mary's Co-Cathedral Church in Madras has its own Christian Marriage Bureau that uses paper-based ledgers to document the marriage biodata and snail mail (letters) to inform customers about matches.
5. Some Christian profiles include their denomination or their preferred denomination. Example, some people call out the fact that they belong to a denomination. For example, Mar Thoma Syrian Church of Kerala or Church of South India (CSI).
Our latest biodata format for marriage
To provide a unique marriage biodata format for download, we came up with a template that provides space for meeting the general expectations of most Christians and also reflect the Christian ethos through the use of symbols and design language.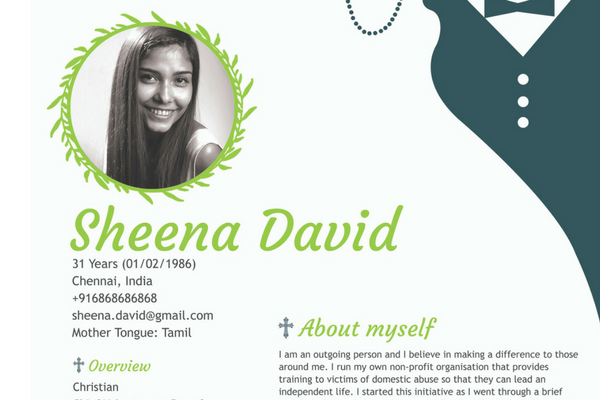 This biodata template has a sense of restrained elegance. The focus of the design is the tuxedo and the wedding gown that you may not notice if you don't look carefully at the design! We have used the holy cross as anchors for various sections of the biodata.
We used our Christian marriage biodata format to create sample biodata that you can download for your reference or just copy paste the about myself and expectations descriptions.
Marriage biodata format for Christian boy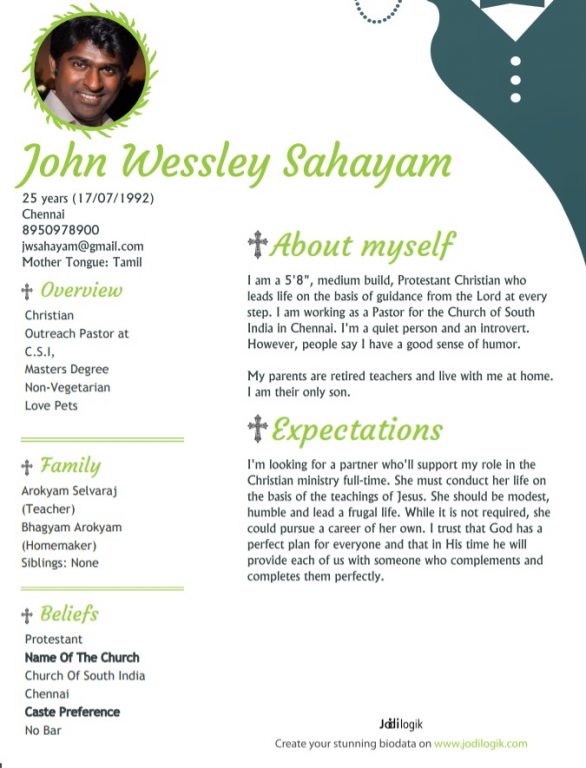 About Myself – Copy & Use
I am a 5'8″, medium build, Protestant Christian who leads life on the basis of guidance from the Lord at every step. I am working as a Pastor for the Church of South India in Chennai. I'm a quiet person and an introvert. However, people say I have a good sense of humor.
My parents are retired teachers and live with me at home. I am their only son.
Expectations – Copy & Use
I'm looking for a partner who'll support my role in the Christian ministry full-time. She must conduct her life on the basis of the teachings of Jesus. She should be modest, humble and lead a frugal life. While it is not required, she could pursue a career of her own. I trust that God has a perfect plan for everyone and that in His time he will provide each of us with someone who complements and completes them perfectly.

Here are a couple of things we like about this sample:
1. The biodata clearly indicates the religious path taken by the man and his expectations from his future wife are clearly written.
2. He has brought out basic elements of his personality and has a good understanding of the need for compatibility in any marriage.
Marriage biodata format for Christian Girl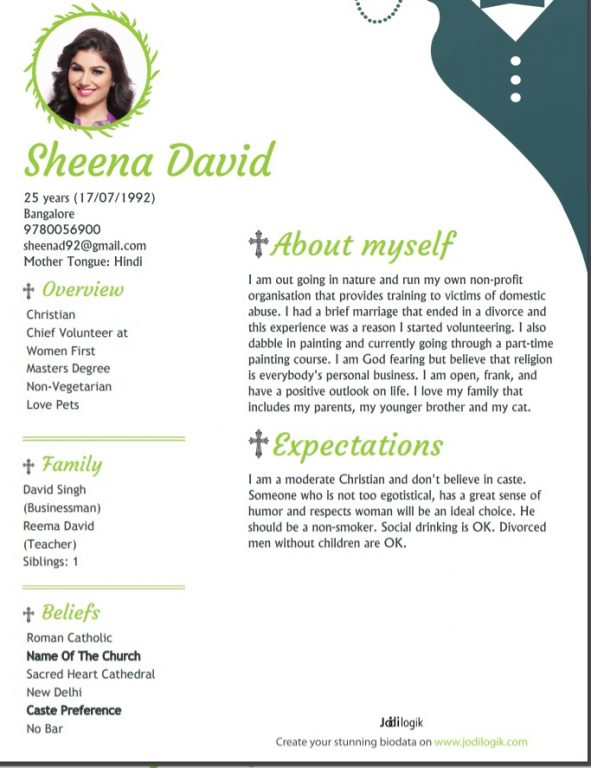 About Myself – Copy & Use
I am out going in nature and run my own non-profit organisation that provides training to victims of domestic abuse. I had a brief marriage that ended in a divorce and this experience was a reason I started volunteering. I also dabble in painting and currently going through a part-time painting course.
I am God fearing but believe that religion is everybody's personal business. I am open, frank, and have a positive outlook on life. I love my family that includes my parents, my younger brother and my cat.
Expectations – Copy & Use
I am a moderate Christian and don't believe in caste. Someone who is not too egotistical, has a great sense of humor and respects woman will be an ideal choice. He should be a non-smoker. Social drinking is OK. Divorced men without children are OK.

Here are a few things we like about this sample:
1. Often women end up apologising for the divorce. In this sample marriage biodata, divorce is presented as an event that brought about a positive change in the life of the woman. Perhaps, divorced women should consider focusing on how divorce helped them discover their true worth or forced them to take charge of their life.
2. The woman clearly calls out the extent of her religious belief and clearly drawing the line on what is acceptable from a prospective match.
Like the Christian biodata template in the above samples? Here is how you can get the same template.
Click here to sign up for Jodi Logik.
Once you login to your account, click on PRINT BIODATA button.
Select the Christian template or any other template you like.
Add your information and preview.
Make a payment and download your stunning biodata in PDF format.
Note: The content for sample profiles is meant for personal use only and cannot be used for any commercial purpose or by any organisation that stands to profit from it directly or indirectly in any form. All template designs belong to Jodi Logik. They are meant to be used by customers of Jodi Logik and cannot be used for commercial purposes.
Read this next
Do you need more marriage biodata samples? We came up with nine different samples that you can copy and reuse for your marriage biodata.