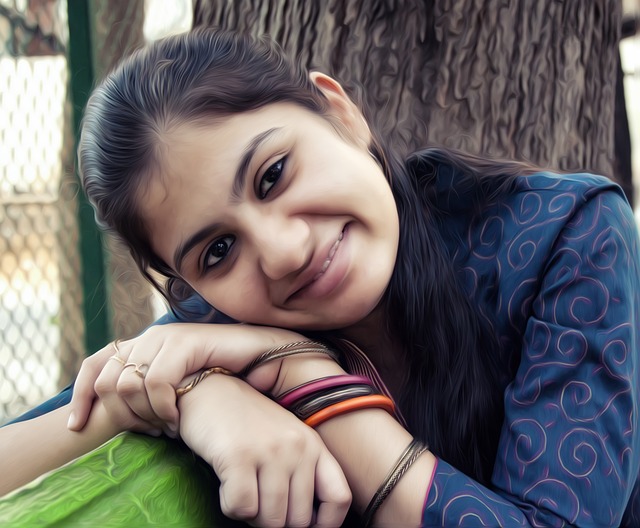 Marriage biodata or a bride profile comes into play the moment you declare your inability to find a man on your own!
One of the biggest advantages of finding romantic love before your parents start pushing you to get married is the fact that you can do away with creating a biodata for matrimony!
That leads us to a fundamental question – What is a marriage biodata or biodata for matrimony and why is it the start of a painful process of going through matchmaking that will eventually result in an arranged marriage?
What is a biodata for matrimony?
The biodata for matrimony as we know it now is a summary of everything about the man or the woman planning to get married. It's the resume for marriage and becomes a central point of focus for all arranged marriages in India.
While there is no law or Government-mandated rule that specifies the format and content for biodata for matrimony (very similar to the fact that there is no single recommended approach to writing a resume for a job interview), there is a general expectation or understanding of what a biodata format for matrimony should look like.
Interestingly this very notion of "understanding" of what goes into the biodata for matrimony gives rise to lots of other issues and confusion.
Your biodata for matrimony has three key components

A resume for marriage that includes basic details considered to be important criteria for marriage. This includes name, age, date of birth, religion, caste, education, profession, names of parents and their professions, height, weight, skin colour, and shallow description of "hobbies". In some cases, people also include a few lines about what their expectation is from a prospective bridegroom.

The second component is the horoscope. This is usually printed as a separate document or incorporated seamlessly with the rest of the personal data. There are many related data points that are explicitly called out such as time of birth, birth star to name a few.

The third component is usually a hard copy of a
postcard-sized photograph
. In some cases, a passport-sized copy of the photograph is stuck to the marriage resume.
In summary, it's either one piece of paper or three separate items clipped together.
Here is an example of a 1-page biodata for marriage found floating around on the Internet with personal data! Being good citizens, we masked the personal details in this bride profile found online.
Notice that there is next to no effort to make it attractive. It looks like a page from a product catalogue and is full of grammar mistakes.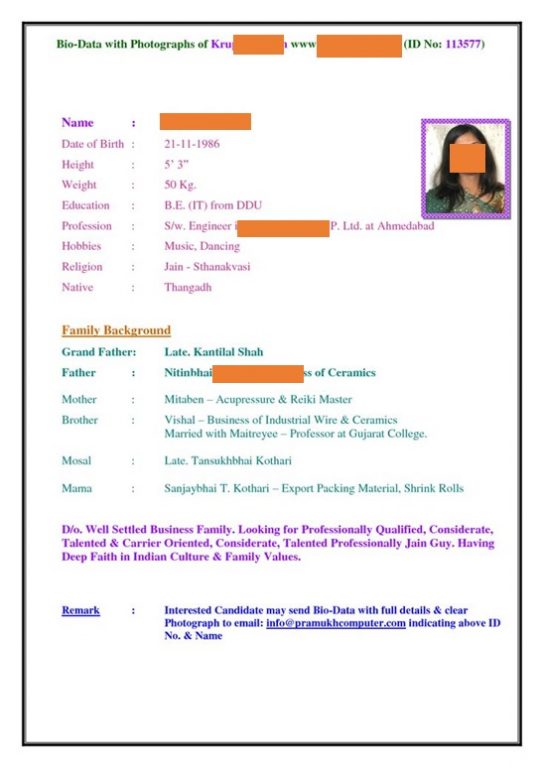 What's wrong with the biodata for matrimony?
So what's wrong with this approach of writing your biodata for matrimony? There are plenty of issues.
Here are four important challenges:
1. Your biodata for marriage in its traditional understanding reinforces stereotypes and puts you at a disadvantage. This is especially true if you are a woman. These stereotypes are to do with your skin colour, height/weight, where you work (there is a general consensus that MNCs are good!), and how much money you make.
2. Your biodata for marriage is probably no different from that of your friend! When you put two biodata for marriage together, there is very little to choose from other than hard data points. For example, you may be considered "fairer" or taller or of a more acceptable body type (weight) or maybe you work for an MNC and making more money than your friend. None of these factors will help you find your soulmate.
3. If you use your biodata for marriage as a tool to attract the right group of men, they fall short miserably. There is no way a biodata for marriage that only showcases hard data can improve your chances of finding your soulmate as you will have to wade through a large volume of responses with very few real matches showing up.
4. If you think you can use your biodata for marriage just to shortlist men from a similar background and then go through a detailed evaluation process, you will be disappointed once again. Going back to point 1 on this list, it is unwise to be willingly treated as a product or a commodity and then hope that the person that participates in "shopping for a bride" actually turns out to be your soulmate.
How to find out if you are ready to create your matrimonial biodata?
1. If your parents have already created your matrimonial biodata, you know you are ready. You may want to make sure the biodata is properly written and your expectations are written accurately.
2. You are receiving marriage biodata from potential matches. This is probably the right time to create your biodata so you can respond to people with the right information.
3. If your friends or family members in your age group are all married, you may want to think about marriage as well. While everyone has the right to decide the right age for marriage, you should consider looking out as well.
4. When you are tired of meaningless relationships and dating has become a dead end, a traditional approach to finding a partner might be a worthy alternative to consider.
How to write a matrimonial profile for a girl?
We created three bride profile samples along with our comments on what makes them special. Feel free to copy and modify these samples to create your own biodata or profile.
1. A journalist who is a book lover and a travel addict
I am a tall (5'7"), medium-built, with a pleasant demeanour from a traditional Tamil Brahmin family. I graduated from Loyola College, majoring in Literature. Reading classic Tamil literature is my hobby and that's why you will find me buried in my books. Reading has also stoked my passion for travel as I end up discovering new books everywhere I go! Long train journeys in the company of my books are what I live for. My job as a journalist for The Hindu allows me to pursue the twin interests of books and travel, and I consider it a blessing to have a career aligned with my interests. As you can imagine, reading books and travelling has made me a happy-go-lucky person with a positive outlook towards life.
Why we love this profile?
This is a great example of steering clear of listing hobbies such as watching TV or reading magazines. When we read the profile, we see how interested or keen the woman is in pursuing her passions for books and travel. The fact that she works as a journalist also aligns completely with her pursuits. On the whole, this profile shows that the woman has a positive outlook on life and has the chops and intelligence to make her dreams come true.
2. A self-employed software engineer who loves family

I am a self-made, confident girl with a great sense of humour. I am 5'5" tall and have a well-balanced physique. I got hooked to computers very early in childhood. What started out as casual gaming, morphed into a passion for web development. I am having the time of my life helping startups build cool software products. I always make time for my family and plan my work schedule around my family commitments. I am a regular at the local stand-up comedy club and try my hand at impromptu stand-up shows for my friends and family. Several of my family members work for the armed forces and I value their sense of commitment, honesty, and love for the country.
Why we love this profile?
This is no ordinary woman. She is a software entrepreneur and a software whiz kid that channelled her talent into a productive career. She talks about her interest in comedy. What is unique is her ability to deliver stand-up comedy. This is a refreshing change from seeing profiles that list a whole bunch of activities as hobbies only to be counted among a sea of similar profiles. This profile certainly stands out and attracts a lot of attention from men.

Watch this video to learn 5 tips that can help you get more responses to your biodata!

3. A social activist who is a divorcee
I am an outgoing person and I believe in making a difference to those around me. I am 32 years old and 5'8″ tall. I run my own non-profit organisation that provides training to victims of domestic abuse so that they can lead an independent life. I started this initiative as I went through a brief marriage that ended in a divorce. While I had the tools and resources to get back on track, I was moved by the plight of countless other women around me who are trapped in abusive marriages. I also dabble in painting and I am currently taking painting lessons to develop my skills. Both painting and my social activism give me plenty of opportunities to express myself and also motivate women around me to remain confident and self-sufficient.
Why we love this profile?
Divorce is challenging especially for the Indian woman. In addition to the trauma of going through the divorce, remarriage also becomes a big challenge. Every matrimony ad by a divorcee talks about being an "innocent divorcee". This profile, however, gives a glimpse of the positive approach the woman took after her divorce. Through her profile, she demonstrates that she believes in taking practical steps not only to get her life back on track but also to make a positive difference to others. Her profile stands out in a sea of "innocent divorcees"!
Check out this short video to find out how you should create a matrimonial profile for a second marriage.
Note: The content for sample profiles is meant for personal use only and cannot be used for any commercial purpose or by any organisation that stands to profit from it directly or indirectly in any form.
Bonus profile descriptions for marriage biodata!

If you have a unique personal situation such as a disability or a divorce in the past, or you consider yourself to be very different from the crowd, you may want to check out these sample matrimony profile descriptions based on personal situations.
Samples cover the following scenarios:

An educated woman who is not employed
A divorced woman with a child
Visually impaired women
Career-oriented woman
Click here to read sample profile descriptions for matrimonial sites.

Tips for parents: How to write a matrimonial profile for your daughter or son?
Are you a parent planning to create a matrimonial profile for your daughter? Watch this video first!
Simple guidelines to create a boy or girl's profile for marriage
Avoid surprises: Don't surprise your son or daughter with photos and bio-data of prospective matches all of a sudden. First, find out from your son or daughter if they are ready to get married and not force them into a marriage.
Know who they are: When you create a matrimony profile for your son or daughter, don't just add a generic set of hobbies to make the profile look interesting. Talk to your son or daughter first to understand what their goals and aspirations are.
Keep it simple: Avoid using complicated words and write in simple and clear language.
Don't make it into a business: Unlike love marriages, arranged marriages are not emotional decisions and are based on hard facts. However, arranged marriage is not a business deal to secure a better future for your son or daughter. Don't make it all about your family's net worth or take-home pay of your son or daughter.
Seek commitment: Please remember that the boy and the girl should be emotionally committed to each other if their marriage is to be successful. Everything else may not matter.
Avoid blackmail: Parents everywhere are anxious to get their sons and daughters married before it is too late. But marriage is a big decision. If after the first meeting, your son or daughter is not in a position to take a decision don't force them into marriage through emotional blackmail.
Need more sample biodata format for marriage?

Want help in creating your biodata for marriage?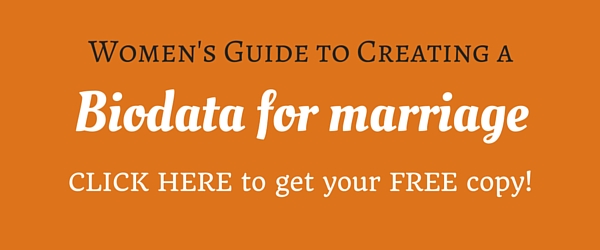 You deserve a beautiful marriage biodata. Click below to find out why!