Matrimonial ads are nothing new!
If you want to find India's best comics, just sign up with any matrimonial site or open up the matrimony ads in the newspaper under the Brides / Bridegrooms Wanted section.
Things get really funny due to a combination of bad grammar, parochial traditions, caste, and dowry.
But if you thought the idea of matrimonial ads is unique to India, think again! The concept of printing matrimonial ads in newspapers started in the late 1600s in England according to the book Classified: The Secret History of the Personal Column by H.G. Cocks. According to this book, the earliest ads were not just about marriage but rather personal ads for "companionship" or women of questionable morals soliciting clients!
However, by the turn of the 18th century, matrimonial ads were popular and here is one published in 1750.

In fact, many in Britain saw matrimonial ads and matrimonial agency as a means to protect and safeguard the institution of marriage and stop people from taking up immoral activities.
In an interview with LiveScience, H.G. Cocks said, "Being single passed the age of 21 was considered almost shameful in that era, and the ads were often a last resort for the men who advertised and the women who read them. If a match resulted, it is unlikely that you boasted the fact to your friends!"
Stinging commentary on matrimonial ads!
Melvin Durai asks probing questions about matrimonial ads. Here are some of the questions we fell in love with!
What the heck is an innocent divorcee?
I've never heard anyone say they had a guilty divorcee. Maybe that's because people consider marriage a life sentence. You have to be innocent to be released.
Or perhaps the divorce court judge made a ruling like this: "After considering all the evidence, I find you, Mohan, completely innocent. You have been unjustly punished. Guards, please set him free from this marriage. But I find you, Sharmila, guilty as charged. You deserve to be punished. I sentence you to three more marriages. Guards, introduce her immediately to Mike Tyson."
Are single doctors interested in marriage or looking to open a clinic?
If you're a single doctor, is there some kind of law that requires you to marry another doctor? I've come across so many ads in which doctors say they are seeking other doctors. This confuses me. Do they want to get married or are they trying to open a clinic?
Doctors marrying doctors seems so unfair because it deprives the rest of us of free medical attention. All of us deserve a spouse who knows how to work on us. Medically speaking, that is. Some doctors, perhaps desperate to get married, are willing to consider engineers, computer programmers and other professionals who fall into the category of "not doctors but still making tonnes of money".
Homely and attractive girl?
If a woman is attractive, can she also be homely? And if she is homely, can she also be outgoing? And if she is outgoing, can she also be reserved? And if she is reserved, do I need to knock off the guy who has reserved her?
Rajyasree Sen, in her scathing article (published here), has unearthed gems of wisdom by researching the matrimonial advertisements in Time of India and Hindustan Times newspapers. Here are some pearls of wisdom:
There's also a nomenclature and code which I think I've cracked. I'less is issueless. Which doesn't mean that you are tolerant and have no issues with anything. But signifies that while you may have been married before, you don't have children or encumbrances. Lpa stands for lakh per annum. BHP stands for bio-data, horoscope, picture. PQM stands for professionally qualified match. I still haven't figured out what Pb means—although it could be pompous bigot. Or SM4. If anyone knows, please mail me.
Even newspapers have caught on!
Believe it or not, the very newspapers that publish these hilarious matrimony ads have caught on to the joke. They have now started trolling each other over poorly written matrimonial ads. The Hindu decided to publish this ad in a newspaper run by The Time of India (if you believe what's on the Internet).

15 hilarious matrimonial ads
We collected 15 hilarious matrimonial ads from Quora, blogs, iDiva, New Love Times, Forums, and News That Matters Not. In fact, video versions of some of these matrimonial ads are available here.

1. I will marry, but I like to party alone
Jai Sri Krishna. My self Tarun, I am working as Deputy Manager, I am like party animal, I am looking for outdoor girl who not part of this culture, but she should not accompany me. She should also be having job and decent package. Caste, colour, education, horoscope no bar. She should know Gujarati cuisines. If interested mail me.

2. Long height and long hair boys only
Hi, am Yashoda, I passed my marriageable age, I seek for the perfect match for me. The boy should be long in height, He can have long hairs also, but he should not have animals in house. Everything else is ok, north and west Indian please excuse me. If you are my man, I long for your partnership. I you want we can chat on facebook also, you can poke me if you want.

3. People with big bank balances may apply
Namaste namaste, We seek a BRIDE for our son who is clean shaven, educated, very enterprising, handsome, he's got a height of 5'10″ and he just turned 26 having trained abroad he manages his own business. We are high status affluent family with 2 bank accounts in private BANK and we are very liberal in our outlook. He seeks a life partner who is 21, minimum height 5'4″ and IQ of 80 and very modern outlook. If agreeable please send a recent profile with recent photograph and please send photos with front profiles only, please do not send side profiles and it is too inconvenient to judge girls beauty. Thank you.

4. Girls – This guy is a standup comic
HYE I AM A GOOD LOKING BOY, WHO HAS THE CAPABILITY TO MAKE ANY BODY TO LOUGH.I BELIEVE IN GOD AND ACCORDING TO ME FRIENDS ARE THE REAL MESSENGER OF GOD. THE 3 THINGS I AM LOOKING FROM A GIRL, THEY ARE 1.THEY MUST BELIEVE IN GOD.2. THEY HAVE TO LIKE MY PROFFESION AND THEY SHOULD NOT GET BORED WITH ME WHEN I WILL TRY TO MAKE THEM LOUGH.


5. This girl is not a desert
Hello Good morning, myself Ridhima and I am looking for a suitable groom, who will never call me any pet name. Boy should strictly remember that he don't call me PUMPKIN, HONEY, SUGAR any other sweet name because I am not a desert. The boy should understand that I know calling me any pet name means forgetting me and giving me different personality. He should also keep in mind that comparing me with HER toy will not be tolerated. He should never call me TEDDY, KITTY, DOLLY because I am not going to play with him. Only interested MAILS (Males) can apply with resume.

6. Fancy a man from a well to do family with cattle and equipment?
Hello, I am Manohar. We are from WELL DO FAMILY, having cattle and farming equipments. We are looking for a girl suitable girl she has lot of land, land should be fertile, should be private, should give calf once a year. She should not know computers, should be willing to cook twice a day with SMILE. I promise to take you for film for watching purposes. if interested you can contact me.

7. Guruji says she has beautiful spots on her body!
Hello, my name is Alka from a nice family and also good characterized women. My friends and family say that I am quite beautiful and even my guruji says me that. I have a some beauty spots on my body and I wiling to show every thing to man who steals my heart. Am looking for a dashing man who can speak in English and living in a metro. He should be shaving regularly and ideally and he should be physically strong. So if interested please mail me a photo.

8. I don't know English, but let's speak in C++ and Java
Myself Sridhar, working in infosoft as assistant technician. I am good faring vegetarian, looking for a like minded girl, who's profession is c++ and java. She should be slim with 7 figure salary, should must be issue less and must be from cultured family having no special demands should handle kitchen well should must visit holy shrine with me two times a year caste no bar, religion no bar, no dowry only some gifting items will do. If interested please mailing me.


9. Normal girl only
I want one girl who love me or my mother. she love me heartly or she havea frank she's skin colour 'normal'not a black or not a whitey. IThink the main think is heart if your heart is beautiful then you are beautiful. but iam not a handsome guy or not a good looking. but my Mom say that I am a good guy. My father already expired . THE CHOICE IS YOUR. Bye bye. :-))

10. Matrimonial ads for sailors – Shore, ahoy!
I am a focussed person who want to reach the shore of success with hard work and persistence. The most important thing for me in a person is her moral value which makes one a true individual a person relly good at heart. Sky is the limit. I always aspire to lend a helping hard to anyone in need. I love listening music, travelling beauty of any place be it near far can be source of joy!

11. Are you her dream boy?
I am a happy-go-lucky kind of person. Enjoys every moments of life. I love to make friendship. Becauese friendship is a first step of love. I am looking for my dreamboy who will love me more than i. Because i love myself a lot. If u think that is u then why to late come on ……..hold my hand forever !!!

12. We have a 4 BHK apartment with 2 kitchens
"Mr. and Mrs. Gupta own a 2 floor bungalow with 2 modular kitchens and are looking for a very fair and beautiful girl for their only son with a married sister. Please contact: 981XXXXXXX."

13. Excessively pretty girl wanted
Wanted an extremely beautiful and excessively pretty, cultured and well-mannered girl or a highly qualified, working woman for a 42 year old, very handsome man who looks much younger. Please send your details to the following address. Photographs are a must!"

14. Matrimonial ads the tell nothing but the brutal truth
This matrimony ad should not be clubbed with other funny matrimonial ads. In fact, this ad is on the opposite end of the spectrum. It is brutally honest and shames the man and calls out the inability of the man and the prospective bride to find a partner on their own!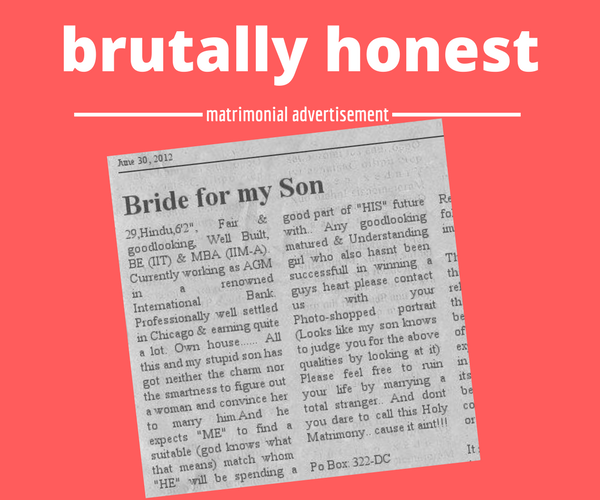 15. Real men
Here are three ads that show what real men are made of.
– Good looking life partner for a 52 year old, unmarried young looking man. Tel 9840XXXXXX.
– MBA, industrialist, Rajastan, Agarwal, age around 55. Looking for educated, beautiful, spiritual, caring lady free from family and job. Prefer Agarwal.
– MBA, 45+, straight forward, seeks affluent, business woman who could support with a career.
---
You will love reading this!