People find love in the unlikeliest of places. Some people find love in their office, some find love in college and some other find love through family and friends. Of late, lots of people seem to find love through social media and dating sites. Some people find love 30 years after marriage. I guess you get the idea. Love can strike you anywhere and any time of its choosing.
Train journeys in India are romantic (as long as you are not traveling in the unreserved coach). Even if cupid doesn't strike you, you are bound to be mesmerized by the constantly changing scenery outside. Trains are also integral to many popular Bollywood movies and by default becomes the setting for the hero and heroine to meet each other or fall in love. We have lined-up a list of memorable movies where romance blossoms in the train. Read on and who knows, you may get a few tips on how to find love the next time you take a train journey!
How to find love in trains – 1960s Bollywood style
We are rewinding to 1960s. You were probably not even born then. But remember, your parents and your grandparents were young, wild and reckless once. Let's begin our journey of discovery and weird stories of how people find love on trains.
Kala Bazaar (1960) – Eve teasing, the first step to finding love?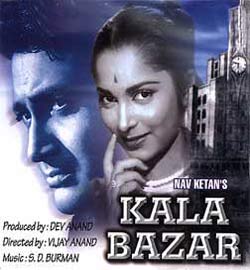 Raghu (Dev Anand) sells movie tickets in the black market. He is smitten with Alka (Waheeda Rehman) who also happens to have a boyfriend, Nand (Vijay Anand, Dev Anand's brother in real life). When Nand gets a scholarship and travels overseas, Alka's parents decide to take her to Ooty to take her mind off Nand. Raghu sees this as a perfect opportunity and gets on the same cabin as her family. He sings "Apni To Har Aah Ek Toofan Hai", trying to flirt with Alka while the song itself was veiled as a prayer. He also helps to cure Alka's father's back pain with a massage, and soon, he becomes friends with the family. So if you want to chase a girl, learn the art of massage!
Half Ticket (1962) – Finding love dressed as a child (Creepy)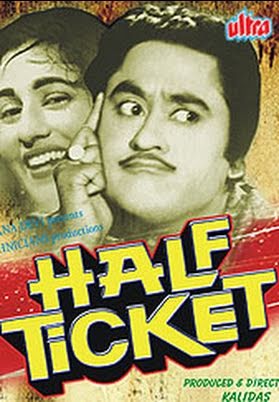 Here is the plot. Our man, Vijay (Kishore Kumar), masquerades as a child in order to get a discounted railway ticket. He gets on a train, but the villain in this movie (Pran) decides to use Munnah as an unwitting courier to smuggle a diamond!On the train, Vijay also meets Rajnidevi (Madhubala) and falls in love with her. The next time you board a train, remember that there are ways to pay less for your ticket and also fall in love!
https://www.youtube.com/watch?v=OXxj1Q7YytQ
Mere Huzoor – Misdirected love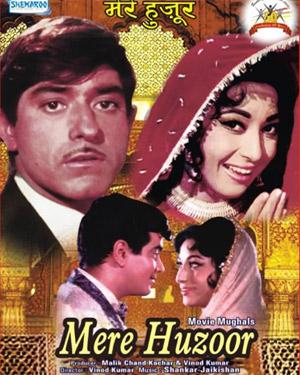 In this movie, set in Lucknow's nawab society, we have Raaj Kumar and Jitendra competing for the affection of Mala Sinha. One of the songs (which became very popular) was set on a train. Jitendra starts singing in the train begging the heroine to lift her veil while all along pretending to address his song to another fellow passenger. Certainly a great approach to finding love as long as your decoy plays ball when you break into a song.
http://www.webmallindia.com/buy-dvd-online-movie-mere-huzoor-p-5357.html
How to find love – 1970s Bollywood style
In our earlier post, we took a journey back to 1960s (in a train of course), to see how cupid strikes the hero and heroine (mostly the hero) on a train. We continue this journey on our time traveling train. This time, it's the 1970s. Finding love has never been so easy, just get inspired by our matinee idols.
Aradhana (1969) – Chasing trains and violating traffic rules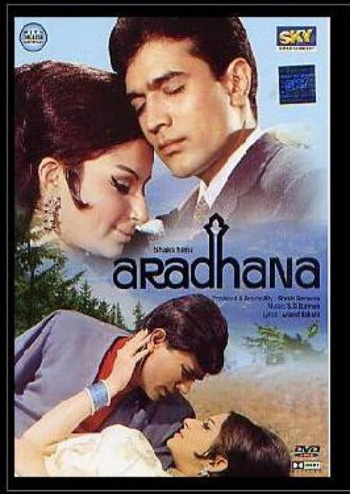 If there is one movie that continues to be a permanent billboard for the Darjeeling Himalayan Railway, it is the movie Aradhana. Sharmila Tagore is a passenger in the train and Rajesh Kanna decides that the best way to express his love for Sharmila Tagore is by singing a song while driving a Wiley Jeep side by side with the train. He weaves through narrow roads and crossed the tracks multiple times to make sure Sharmila has a good view of his antics.
Pakeezah (1972) – Your feet are not meant for walking!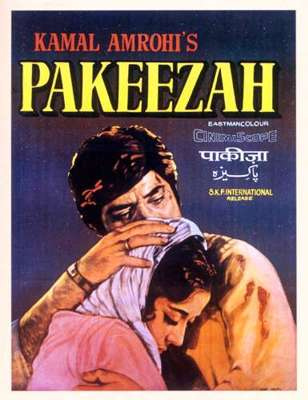 Meena Kumari is a courtesan traveling by train. Raaj Kumar is another passenger who apparently cannot read the reservation chart or his ticket status is still RAC! Raaj Kumar gets into the heroine's compartment and gets a glimpse of her beautiful feet. He realizes his mistake but gets out only after leaving her a note begging her not to keep her feet on the ground, for they would be sullied!
Rafoo Chakkar (1975) – Cheesy gay love anyone?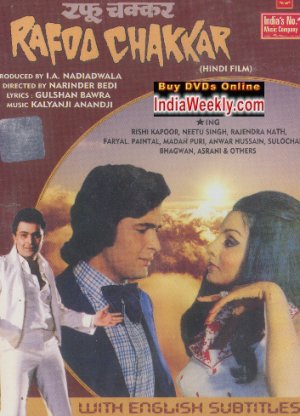 This is a hilarious Bollywood version of a Hollywood movie, "Some Like It Hot". Rishi Kapoor and Paintal disguise as women and board a train to Kashmir to escape the clutches of a villain who was seen by our dynamic duo committing a murder. It's a laugh riot all through the rest of the journey. Rishi falls in love with Neetu, who is a part of a girl band traveling to Kashmir and we also have another man falling in love with Paintal!
How to find love – 1980s & 1990s Bollywood style
The train of love continues into the 1990s. This time, we are entering the 80s and beyond.
The Burning Train (1979) – Leaves nothing to imagination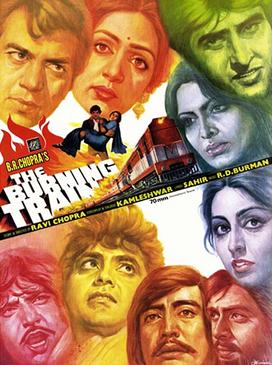 The plot is as obvious as it can get. One of the heroes in the movie (yes, it has a big list of leading men and women) builds a train, the villain hates it and decides to bomb it. On top of that, bumbling cooks in the train burn whatever is left of the train after it is bombed. Not a great advertisement for Indian Railway's safety record. But there is a lot of emotion, love and heartbreak. After all, the heroine(s) need to do something!
Dilwale Dulhania Le Jayenge (1995) – How to board a running train and other tricks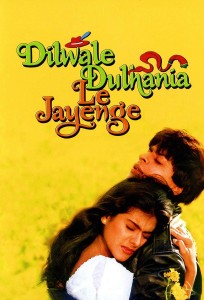 The movie starts with a train in London and ends with the Indian Railways in the climax. What a letdown! Anyways, trains play a key role in helping the hero meet the heroine at the start of the movie and also help bring the two together after a melodramatic climax. This is a movie that firmly established the train as the perfect place to find love and other movies copied this idea.
Dil Se (1998) – Dancing on a train is always fun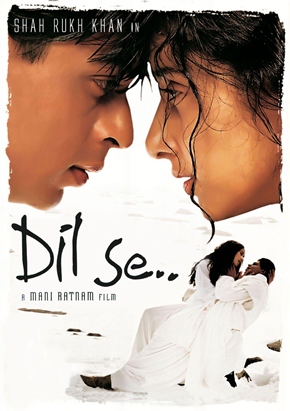 What do you do when you fall in love? If you are Shah Rukh Khan, you enlist Malaika Arora and start dancing on top of a moving train! Shah Rukh meets Manisha Koirala in a train station and tries his best to strike a conversation. This movie is different from other movies in that the heroine actually doesn't curse or abuse the hero in the first scene and instead asks for a cup of tea! But by the time Shah Rukh returns with a cup of tea, Manisha boards the train and disappears. So what does Shah Rukh do? He dances on top of the train of course. Moral of the story, always go to the train station with a flask full of hot tea.
Are you good at boarding running trains or dancing on top of them?
Showcase your true personality through a Jodi Logik profile.
Other awesome posts