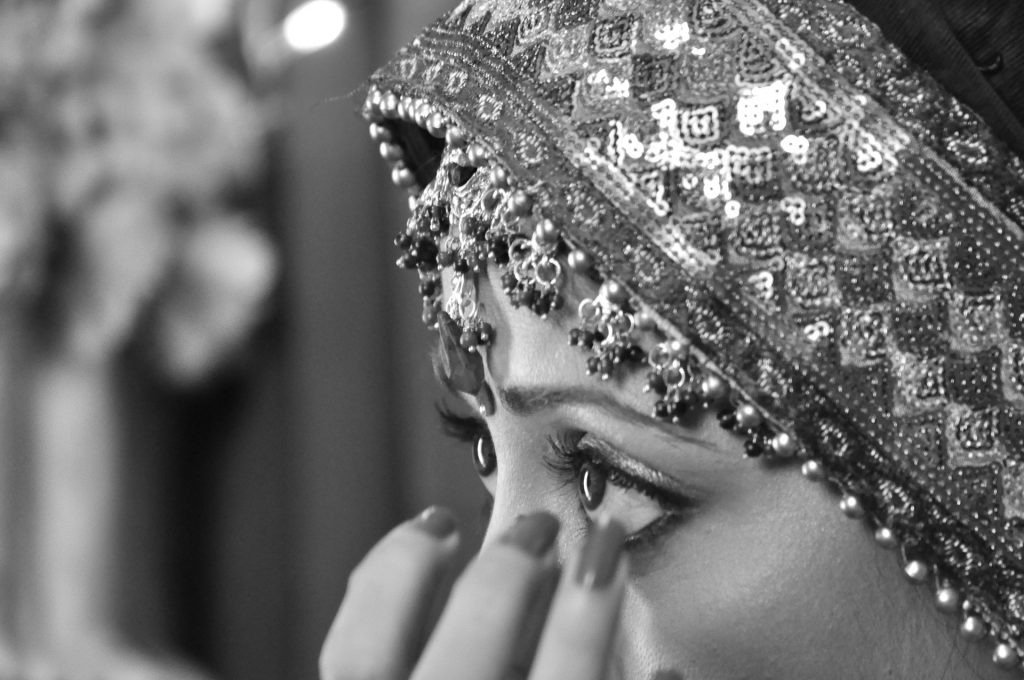 What makes a Sindhi marriage biodata unique?
When we wanted to create a biodata template for the Sindhi community of India, we found that there was a shortage of symbols and cultural identities in the mainstream media.
After further research, we realised why Sindhis's have lost their cultural identity as we know it in a traditional sense.
The Sindhi community of India traces its roots to the Sindh province of pre-partition India. In 1947, the Hindu Sindhis were forced to leave their homes and businesses and move to India.
They came to India with nothing other than a handful of personal belongings. However, over the next several decades, they rebuilt their lives by working hard and by sticking together as a community.
One of the striking aspects of the Sindhi community is their focus on creating prosperity for their families and for the community around them.
Of course, it's not all business.
Sindhi excel in every aspect of life in contemporary India and that includes the movies, politics, academics, law, media to name a few.
So what's unique about the Sindhi biodata?
1. Sindhi is not a religion, but a community that is bound by common language and customs. The majority of Sindhis of India are Hindus. However, there are Muslim Sindhis as well. The Sindhi marriage biodata is not very different from any other Hindu marriage biodata.
2. Sindhis do have different castes or "zaats" based on the profession, ancestry, cultural beliefs and place of origin. These are called out as caste or sect in the Sindhi biodata. For example, the Amils worked as accountants in the princely state of Sindh, the Chappurs or Sapurs lived in the mountainous region of Sindh, the Masands were involved in spreading Sikhism, and the Bhatias were the descendants of Lord Krishna. Reference –
We reimagined the Sindhi marriage biodata
One of the objectives we had, when we set out to design a Sindhi biodata, was to provide an opportunity for Sindhis of India to get in touch with their roots through our biodata template.
So we decided to get our design inspiration from the two traditional art form of Sindh – Ajrak and Rilli prints.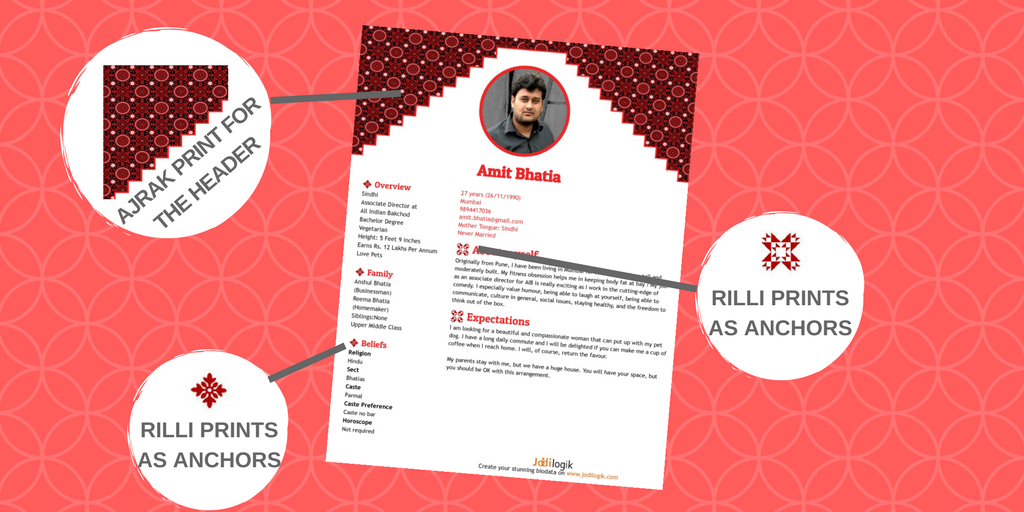 1. The first inspiration was the art of Ajrak block printing. Ajrak printing involves carving out teak blocks with intricate patterns and then using dye on the blocks to create exquisite patterns on fabric.
Check out the video that shows how the Ajrak fabric is designed.
The art of Ajrak block printing is unique to the Sindh region and is also practised in Gujarat. Every piece of Ajrak fabric may require about 30 separate blocks and with countless master craftsmen working together.
We chose this traditional art form to don the header of our reimagined Sindhi marriage biodata as it is a symbolic testimony to the sense of community and the willingness to stick together even when the times are tough.
2. The second key element in designing the Sindhi marriage biodata template was the Rilli artwork from Sindh. Rilli refers to handmade quilts with bold colours and patterns made by women in villages dotting the Sindh region.
The Rilli patterns are used to anchor key sections of the Sindhi marriage biodata.
Sample marriage biodata format for a Sindhi girl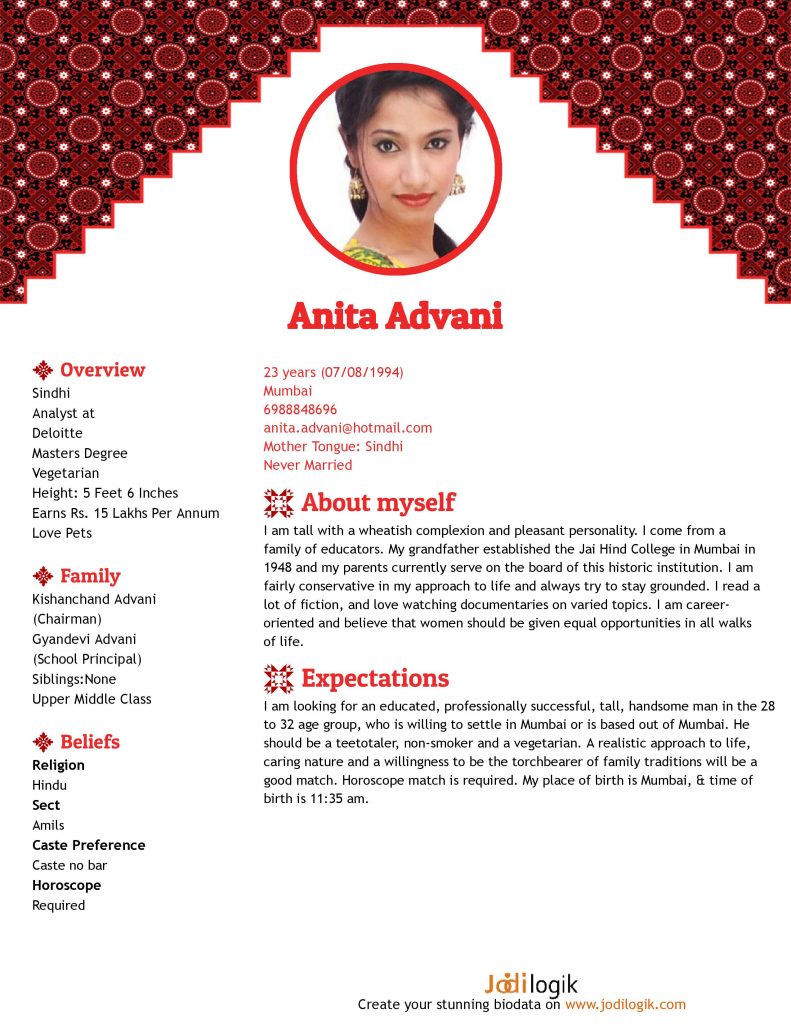 About myself – Copy & Use
I am looking for a beautiful and compassionate woman that can put up with my pet dog. I have a long daily commute and I will be delighted if I am tall with a wheatish complexion and pleasant personality. I come from a family of educators. My grandfather established the Jai Hind College in Mumbai in 1948 and my parents currently serve on the board of this historic institution.
I am fairly conservative in my approach to life and always try to stay grounded. I read a lot of fiction, and love watching documentaries on varied topics. I am career-oriented and believe that women should be given equal opportunities in all walks of life.
Expectations – Copy & Use
I am looking for an educated, professionally successful, tall, handsome man in the 28 to 32 age group, who is willing to settle in Mumbai or is based out of Mumbai. He should be a teetotaler, non-smoker and a vegetarian. A realistic approach to life, caring nature and a willingness to be the torchbearer of family traditions will be a good match. Horoscope match is required. My place of birth is Mumbai, & time of birth is 11:35 am.
Sample Sindhi marriage biodata for a boy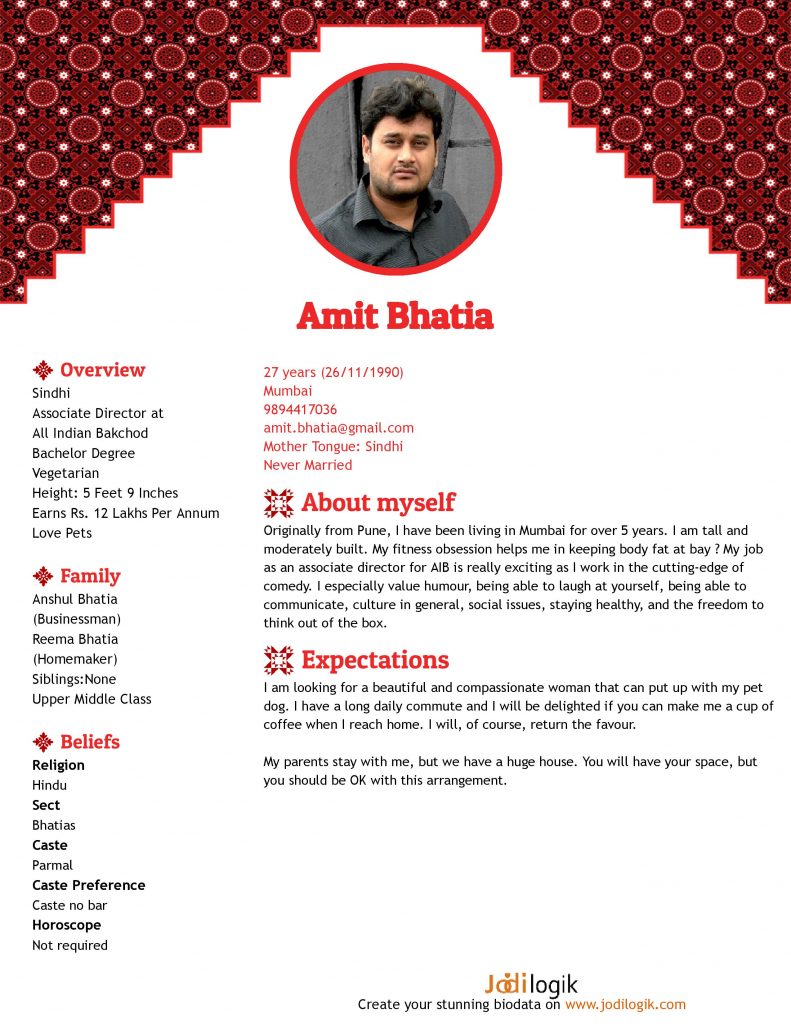 About Myself – Copy & Use
Originally from Pune, I have been living in Mumbai for over 5 years. I am tall and moderately built. My fitness obsession helps me in keeping body fat at bay! My job as an associate director for AIB is really exciting as I work in the cutting-edge of comedy. I especially value humour, being able to laugh at yourself, being able to communicate, culture in general, social issues, staying healthy, and the freedom to think out of the box.
Expectations – Copy & Use
I am looking for a beautiful and compassionate woman that can put up with my pet dog. I have a long daily commute and I will be delighted if you can make me a cup of coffee when I reach home. I will, of course, return the favour. My parents stay with me, but we have a huge house. You will have your space, but you should be OK with this arrangement.
Like the Sindhi biodata template in the above samples? Here is how you can download template.
Click here to sign up for Jodi Logik.
Once you login to your account, click on PRINT BIODATA button.
Select the Sindhi template or any other template you like.
Add your information and preview.
Make a payment and download your stunning biodata in PDF format.
Note: The content for sample profiles is meant for personal use only and cannot be used for any commercial purpose or by any organisation that stands to profit from it directly or indirectly in any form. All template designs belong to Jodi Logik. They are meant to be used by customers of Jodi Logik and cannot be used for commercial purposes.
Read this next
Do you need more marriage biodata samples? We came up with nine different biodata for marriage samples that you can copy and reuse for your marriage biodata.