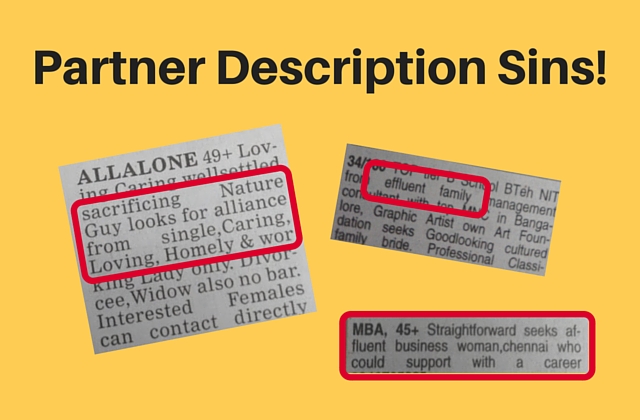 Ban these from partner description for matrimony
One of the difficulties of creating a marriage biodata is to create something meaningful to express your partner preferences when writing the partner description for marriage.
Most often than not, we come up with a partner description for biodata for marriage based on what we have seen in other matrimony profiles or newspaper advertisements and end up committing the 3 sins of writing about your partner description for marriage.

1. The First Sin – Not calling out the non-negotiable
When we think of getting married, we automatically define terms of personal characteristics and background that will fall under the "no go" category. For example, most Indian men may never accept a woman who smokes or is a social drinker (is there a better example of double standards?).
You are setting yourself up for disappointment if you choose to ignore these non-negotiables in your matrimony profile. Why take the risk of talking to or meeting prospective matches and their families only to discover basic incompatibility?
Stating what your deal-breakers are in your biodata for marriage, will (hopefully) discourage prospective matches who don't meet your requirements from responding to you. This will save you time and heartache down the line.
Also, deal-breakers need not always include preferences around habits such as drinking or smoking, certain professions, or religion/caste. Don't shy away from listing other aspects such as love for pets, your own career, and other lifestyle parameters that you consider as critical.
In short, be candid and forthright.

2. The Second Sin – Sounding out of touch with changing times
One of the biggest mistakes you may end up making when expressing expectations or talking about your partner preference is using clichéd phrases.
Avoid phrases such as "Looking for a well-settled girl" (as opposed to unstable ones?), "Girl must be from a God-fearing family" (looks like you are looking for a bunch of sinners in perpetual fear of God), "Looking for a like-minded girl…" (Thank God, you are not looking for a mismatched wife).
The idea here is to make you belong to the 21st century.

3. The Third Sin – Treating your partner preference like a shopping trip
While it is important to call out the non-negotiable, nobody likes a biodata for marriage that is filled with don'ts and dislikes!
Of specific importance is the need to avoid listing out expectations that would make you look like a pampered boy, living in a bubble.
Here are some phrases to avoid: "Should wear traditional clothes only. No jeans or lipstick.", "…should be willing to handle grocery shopping and household chores."

Include these in partner description for marriage
According to Tina Gilbertson, author of "Constructive Wallowing: How to Beat Bad Feelings By Letting Yourself Have Them", we should look for 8 qualities of a good life partner.
When we scan matrimony profile descriptions and partner preference for marriage in matrimony sites, a majority of the partner descriptions miss out on the primary traits!
Let's understand what these traits are and how to include them in when writing partner description for marriage.

1. Affection
Your partner should show and demonstrate affection to you after marriage. When you are writing your partner description for marriage, do use phrases like "looking for an affectionate man/ woman". However, please remember to look for signs of affection that your partner demonstrates with his family during the arranged marriage first meeting or subsequent interactions.

2. Compassion
An ability to show compassion or empathise with others is also a basic requirement you should have in your marriage partner search. Do include phrases such as "looking for a compassionate young man…" in your profile description or biodata for marriage. However, remember to watch for signs that demonstrate compassion when you meet a prospective match.

3. Respect
A respectful partner will always admire your strengths and is gracious about your weakness. In India, respect is often associated with our behaviour to elders. While respecting elders is good quality, please remember that you have the right to expect your prospective match to treat you with respect as well. "Someone who will treat me with respect and appreciates my boundaries" is a great way to express your desire to be treated with respect.


4. Consideration
"An ability to see other's point of view before acting or coming to a conclusion" is a key requirement for any successful relationship. Why not make it one of the primary expectations when you write your partner description for marriage?

5. Time
Work-life balance is a key factor that will determine if a relationship will be successful. When you write your profile description for marriage, remember to call out your preference for marrying someone who also appreciates the work-life balance. "I believe in work-life balance and I am looking for someone who is not always wedded to work." is an example of how you can call out your expectation.


6. Interest
Common interests always create an opportunity for bonding and sustaining a relationship for the long term. If you are into classical music, call it out in your profile and make sure your future husband or wife appreciates your interests. Don't write about hobbies for the sake of including them in your marriage biodata.
7. Intimacy
Intimacy is not sex and it is certainly not appropriate to create a matrimony profile that says "he/ she should be good in bed!" Intimacy is about sharing your deepest fears, likes, dislikes and any other thought with your partner. Our recommendation is to leave this out in your matrimony profile description and instead find out if your potential match can lower his / her guard when you meet them for one-on-one conversations before marriage.

8. Generosity
Generosity in a relationship doesn't denote material gifts. It denotes that your partner is completely committed to the relationship and meets all the above 7 expectations you may have! Once again, it's OK not to call "generosity" out and keep your eyes open for all the above expectations.
Read this next
We created awesome sample matrimony profile descriptions. Click below to review the samples.